In Q3 130,000 sq m of new office space was completed in Poland. Office development activity continues across the country, triggered by sound occupier demand both in Warsaw and in the key office hubs outside the capital city. An increasingly important trend is the refurbishment of older office properties in Warsaw.
Warsaw, 30 October 2014 – International advisory company JLL presents its Q3 summary and key trends for Poland's office market.
Demand
In Q3, tenant demand in Warsaw stood at approximately 163,000 sq m, bringing the total for 2014 up to 422,000 sq m. Net take up [1] amounted to almost 115,000 sq m of leased space. The most notable transactions were signed by Raiffeisen (pre-let for 19,500 sq m) in Prime Corporate Center; Media Saturn Holding (renewal for 8,000 sq m) in Blue City Offices; Moneygram (new deal for 7,300 sq m) in Konstruktorska Business Center; and also by public sector institutions - Główny Inspektorat Transportu Drogowego (new deal for 7,100 sq m) in Equator I; and Urząd Lotnictwa Cywilnego (renewal for 6,600 sq m) in Flanders Business Park A; which shows increasing interest from the public sector in leasing the best quality office space in Warsaw.
Tenants were also active on the major office markets outside Warsaw [2].
Anna Bartoszewicz-Wnuk, Head of Research and Consultancy, JLL, commented: "It was a very good quarter for the office markets outside Warsaw, with approximately 117,000 sq m of modern office space leased in Q3, and a total of 320,000 sq m  for the year so far. It is worth noting that this high demand was generated by companies from the business services sector, with examples of HP GBC and Infosys signing very large lease agreements in Wrocław and Łódź. Total demand in regional markets overall for the first three quarters of 2014 accounts for 88% of last year's demand".
The biggest transactions in Q3 were the 21,000 sq m renewal and expansion by Infosys in Green Horizon in Łódź, a 16,400 sq m pre-let in Dominikański in Wrocław by HP GBC and the renewal of almost 4,400 sq m in Diamante Plaza in Kraków by AON Hewitt. As a result, Łódź has already exceeded last year's total take up by 95%. Kraków shows stable and strong take-up volumes, which are already greater than in the whole of 2013.
Stock and supply
Anna Młyniec, Head of Office Agency and Tenant Representation, JLL, said: "Construction activity in Warsaw remains high. In Q3, the total modern office stock amounted to almost 4,365,000 sq m and developers have announced completions of another 90,000 sq m in Q4 2014. Almost 640,000 sq m is in the construction stage across the city, which will be fairly evenly delivered to the market in 2015 and 2016. An increasingly important trend is the refurbishment of older office properties to enhance their position in an increasingly competitive Warsaw market. At the moment, almost 60,000 sq m of office space is under refurbishment".
Office Completions (sq m), Future Supply (sq m) and Vacancy Rate (%) in Warsaw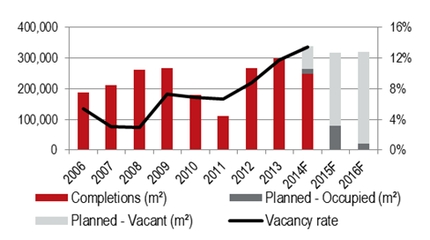 Source: JLL, WRF, Q3 2014, F-forecast
In Q3, a total of 130,000 sq m of new office supply was completed across Poland. In Warsaw, Q3 saw the completion of four office blocks: Warsaw Spire B (20,000 sq m), Nimbus (19,000 sq m), Małachowskiego Square (12,000 sq m), and Garden Plaza (8,500 sq m). The largest office projects completed in Q3 outside Warsaw were Kapelanka A (17,300 sq m), Enterprise Park C (13,600 sq m) and Quattro Business Park D (12,200 sq m), all in Kraków.
"Developer activity is high in regional cities: currently more than 520,000 sq m of office space is under active construction. Interestingly, a large proportion of this volume consists of large office buildings with an area of over 20,000 sq m. Together Wrocław, Kraków and the Tri-City account for 64% of all projects", Anna Bartoszewicz-Wnuk added.
Vacancy rates
The vacancy rate in Warsaw has increased to 13.8%, indicating an ongoing upward trend. Cooling demand combined with increasing supply will soon trigger a sharper increase. Kraków still registers the lowest vacancy rate (6.0%) and Szczecin the highest (17.7%).
Stock (sq m) and Vacancy Rate (%) outside Warsaw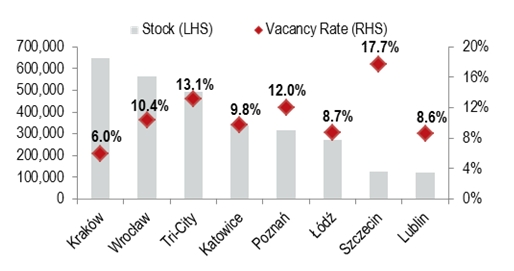 Source: JLL, Q3 2014
Rents
Currently, the prime headline rents in Warsaw City Centre range between €22 and €24 / sq m / month, the best Non-Central locations (Mokotów is a benchmark) are between €14.50 and €14.75 / sq m / month.
Prime headline rents in regional cities currently range between €11 to €12 / sq m / month in Lublin and €14 to €15 / sq m / month in Wrocław and Poznań.
"There is no common picture for all the major cities outside of Warsaw in terms of both rents and vacancy. One large lease agreement can still change the balance on the market. Due to such a change Łódź saw one of the lowest vacancy rates in the history of the city", Anna Bartoszewicz-Wnuk summarised.
---
[1] Excluding renewals
[2] Kraków, Wrocław, Tri-City, Katowice, Poznań, Łódź, Szczecin and Lublin