Tri-City, 10 June 2015 – BEST S.A., one of largest companies operating in the debt collection industry in Poland, has leased over 2,000 sq m of office space in building X being developed within the Tensor complex in Gdynia. With this transaction, the scheme X's commercialization level has now reached 50%, nine months before its scheduled commissioning for use.
Ewa Szabuniewicz, HR Director at BEST S.A., informs: "We have, for a long time, been searching for an office that not only could match the company's dynamic development but also improve the quality of its headquarters. Tensor X office building meets our requirements and its developer had a flexible approach towards negotiations. These positive aspects led to the signing of the lease agreement. We are sure that our employees will be satisfied with the location and the numerous amenities offered within the Tensor project."
BEST S.A.'s transaction follows Maersk Polska who has also signed a lease agreement within the project.
Mikołaj Konopka, Vice President, EURO STYL, comments: "The Tensor office complex meets the needs of tenants looking for modern, employee-friendly and conveniently communicated office space. A Tri-City Fast Urban Railway station, numerous bus and trolleybus stops as well as 'Stadion', a newly-developed station of the Pomeranian Metropolitan Railway, are located within a five- minute walk from the investment."
International advisory firm JLL acts as an exclusive leasing agent for Tensor.
Magdalena Reńska, Associate Director, Office Agency and Tenant Representation at JLL adds: "With the BEST S.A. lease agreement, the commercialization level of building X has now reached 50%. This is a great result for a scheme that is being developed on such a competitive office market as Tri-City."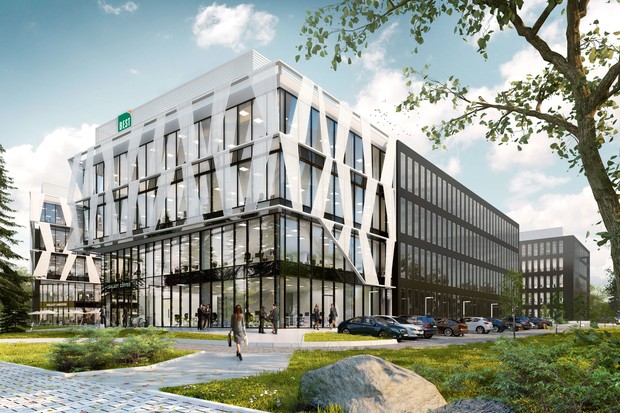 Tensor is being developed in Gdynia at Łużycka 8 Street. It will comprise three modern, class A office buildings named X, Y and Z respectively and offer in total 19,750 sq m of leasable area. The first phase of the investment - building X – will be completed by the beginning of 2016. Its leasable area will reach 4,960 sq m, while building Y will offer 8,190 sq m and building Z – 6,600 sq m. Furthermore, Tensor complex will provide 450 parking bays. Among the office parks' amenities, besides its well -connected location, is its excellent functionality supported by an energy-efficient façade, BMS installations, UPS emergency power system along with a power generator, modern HVAC installation and free-cooling type systems as well as an abundance of pro-ecological solutions (minimum BREEAM certification expected to be at a "Very Good" level).
Furthermore, the buildings will provide high-quality common spaces, while their surrounding areas will comprise user-friendly places with street furniture and relaxation areas for employees, including boule courts. For cyclists, there will also be numerous amenities available for tenants without charge and consisting of both surface and underground parking bays, locker rooms with designated shower cubicles for men and women, special points for bike cleaning and self-service repairing stations.
Another crucial aspect is the possibility of flexible office space arrangement and the vast architectural support from the scheme's developer in terms of arrangement and office finishing for tenants.