The office market in Warsaw maintains momentum – demand for office space was nearly 194,000 sq m in Q1 2017. Due to the changing business map of the city, the Polish Office Research Forum has decided to revise the borders of Warsaw's office districts.
Warsaw, 27 April 2017 – JLL summarizes Q1 2017 on the office market in Warsaw.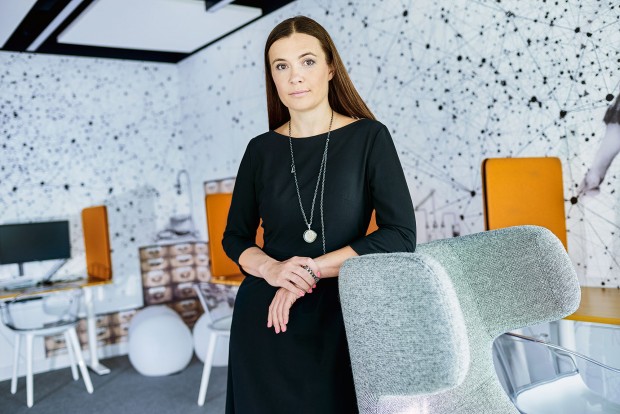 Anna Młyniec, Head of Office Agency and Tenant Representation at JLL, says: "The first three months of 2017 on Warsaw's office market could be said to have been very successful. Demand was nearly 194,000 sq m, major projects have been delivered to market with the vacancy rate dropping to 14%. Developers are rightly confident about the market's absorption, which has resulted in some impressive developments that are currently under construction throughout the city centre".
Demand
The first three months of 2017 saw a significant surge in leasing activity in Warsaw. This was due to the outstanding performance of the city centre, where almost 93,500 sq m was leased out.
"For several quarters in succession, the city centre has surprised us with stellar levels of demand, which are in part driven by corporates which have decided to start operations in Warsaw and have chosen the city centre as a new base. Global brands are attracted to the city centre due to excellent transport infrastructure, access to modern office buildings as well as the prestige of launching a department in the very heart of the city", adds Anna Młyniec.
Nevertheless, areas outside the city centre also fared well in Q1, particularly Mokotów, and the Jerozolimskie corridor, which together accounted for 72% of total demand outside of the city centre. 
"In Q1 2017, several companies, such as AstraZeneca, signed big lease agreements in Warsaw. We expect a continuation of this trend, which was recently exemplified by the transaction concluded by Citi in Generation Park in April. This is on a par with last year's result, when transactions for approx. 10,000 sq m or more were signed by just two companies - Lux Med and BGŻ BNP Paribas", says Łukasz Dziedzic, Consultant, Research and Consulting at JLL.
The biggest lease agreements in Warsaw in Q1 2017
| | | |
| --- | --- | --- |
| Company | Building | Space (sq m) |
| AstraZeneca | | 13,200 |
| Diebold Nixdorf | | 9,800 |
| Public Transport Authority in Warsaw | | 7,300 |
| Company from the public sector | | 7,200 |

"Companies from the manufacturing, services, IT, and public sectors were the most active in terms of leasing office space in Q1 2017. These sectors accounted for up to 75% of office demand registered in the first three months of 2017", adds Łukasz Dziedzic.Source: JLL, PORF, Q1 2017
Supply
In 2017, around 310,000 sq m of office space may be completed, a volume lower than 2016's extraordinary result. A total of ten buildings with a total of approximately 84,200 sq m was delivered to market in Q1.
The biggest office buildings delivered to market in Warsaw in Q1 2017
| | | |
| --- | --- | --- |
| Building | Space | Developer |
| | 54,800 | Vastint Poland |
| | 9,900 | Grupa Waryński |
| | 6,700 | Juma |
Source: JLL, PORF, Q1 2017
"Construction activity in Warsaw is quite extensive (approximately 700,000 sq m) although almost 40% of that space is concentrated in four large-scale developments that will be completed in 2019-2020.", adds Łukasz Dziedzic.
The largest investments under construction include: Varso Place (HB Reavis), The Warsaw Hub (Ghelamco Poland), Mennica Legacy Tower (Golub Gethouse), Spinnaker (Ghelamco Poland), West Station (HB Reavis) and D48 (Penta Investments).
Vacancy rate
In Q1 2017, vacancy rate dropped to 14% (11,8% in the City Centre; 14,8% in Central Business District; 14,7% in Non-Central Locations).
Rents
Prime headline rents remained relatively stable during Q1 2017. Currently rents range from €20.5 and €23.5 / sq m / month in Central locations and between €11 to €16 / sq m / month in Non-Central areas.
New business division of Warsaw Office market
Economic development and infrastructural changes in Warsaw has encouraged the PORF (Polish Office Research Forum – a forum for advisory firms researching the office sector in Poland) to update Warsaw's business map and adapt the division of districts to the current market conditions. The biggest change was reassessing what was the office Centre of Warsaw. In the north it now extends as far as Dworzec Gdański railway station. To the west it now ends at Karolkowa Street, instead of Towarowa, as it did before. In the south, the City Centre extends to Plac Unii Lubelskiej square. The eastern border remains unchanged and is still marked by the Vistula river. Moreover, there is now a new subzone in the Mokotów district: Służewiec, the major business hub in the area. The previous South West district is now divided into the Jerozolimskie corridor and the Żwirki i Wigury corridor. The Lower South district has been renamed Puławska corridor.