An interview with Ewelina Kałużna, Business Link Board Member for Poland and Czech Republic and Leasing & Asset Management Director at Skanska Property Poland, about the synergy between the developer and operator of serviced offices, the seeds of proptech, how the first digital twin in the industry was born as well as the adrenaline rush at work and relaxing workouts at 6 am.
Anna Wasilewska-Dąbek, JLL: Business Link has changed its owner this year. How did this affect the company's offer? There are opinions on the market that if you are looking for a quiet flex office without a beer after 4 pm (laughs), then you go to work at Business Link.
Ewelina Kałużna: Yes, this is in fact true. Since January 2019, Skanska has been the sole owner of Business Link. This fact predominantly changed the perception of Business Link on the market. Today there are a significant number of companies offering flex office spaces. Some of these companies are relatively new to the market which means that they do not have a long financial track record. Therefore, they find it difficult to become a reliable partner for many developers. The position of Business Link has changed radically since Skanska has begun to act as its guarantor. The management of the company and its teams have changed, as well as the nature of its cooperation with partners. The customer base of Business Link has also undergone a change. In the past, typical customers were young entrepreneurs and co-works, but now we cooperate more with large corporations.
To what extent does Business Link use solutions tested by Skanska?
All of the offices in our offer are located in buildings developed by Skanska. The only exception is the Astoria office building, which we purchased by acquiring 100% of the shares in J-V. Our customers can draw from the vast experience we have in interior design. In Skanska, we have executed a large number of such works and so we knew exactly how to rearrange the space of Business Link so as to adapt it to the needs of both our current and future customers.
What are the benefits of this relationship with Skanska?
This is best seen in the so-called multi-phase buildings, in which the first phase is already available while the second is under construction. Sometimes tenants waiting for their target space use the services of Business Link and lease temporary space. Often, such a transition office serves as a showroom. In this way, the developer can present the building's standard and the possibilities of office interior finishing. On the other hand, we are pleased that our smaller customers, who would not be able to lease space in a building developed by Skanska, can become tenants via Business Link, and benefit from all available solutions.

Is "proptech" also found within these solutions?
We are working on it. The construction and development industries are far behind what is currently happening in the modern technology market. I saw a survey that indicated that our industry is only above the agriculture sector when it comes to the use of modern technologies. This is mainly due to the fact that the construction process takes an average of five years from the moment of purchasing the plot to delivering the building. Bearing in mind the length of this process, it is difficult to design an office building that will be ultra modern when being commissioned for use. None of us know what the tenant's expectations will be in terms of proptech in a few years' time. However, we are trying to catch up with destiny (laughs). Today, when designing a garage, no one even thinks that the surface should include plugs for electric cars. We are already thinking about how to design a garage and what sensors are best used for autonomous cars that will be in these parking lots in the future.
Will Connected By Skanska help you with this?
We think so. It is difficult to predict all the changes that will take place on the market, which is why we decided to create an operating system that is flexible enough to incorporate future technologies just as mobile phone operating systems do with software updates. The Connected by Skanska project takes the form of a mobile application intended for users and provides access to deeper data analysis for people responsible for managing the company. It really opens many doors...
...and eliminates the use of plastic cards. Congratulations!
All access is programmed into the mobile application. An employee, who - until now - has involved various people responsible for the administration of an office or building, can now perform many tasks independently. They are able to book a conference room via a mobile application, or invite a guest to a room by sending an invitation with a QR code. The guest's QR code allows for smooth passage through the building's reception without the need for identification and directs the guest towards the designated meeting room as well as choosing the right elevator and floor. When the QR code is applied to the entrance gate reader, the employee receives a notification that the guest is on their way to the meeting. Thanks to the application, the user can also gain access to the garage. If they want to come to the office in a private car, then they just need to change the registration number in the system. They can then enter the parking lot without any problems. If the employee knows that they will be working from home on a given day, or they are on vacation or sick leave, then the employee can give the parking place to a pool so that someone else can use it.
Such applications have been widely used for some time now. What makes Connected By Skanska different?
Of course, a number of office buildings have introduced these or similar apps and made them available to their tenants. However, no one has yet conducted a full analysis of this data. Skanska has started cooperation with Microsoft in this area. We are currently waiting for the first results, and we are constantly testing the functionalities ourselves. In the Spark office building, the system is implemented both at the building level and at the fit-out level (ed. note: functions such as for example locators, a system for managing room reservations as well as controlling and optimizing work environment elements). The entire office is equipped with beacons, which top up essential data on a regular basis. Our digital twin is a unique feature.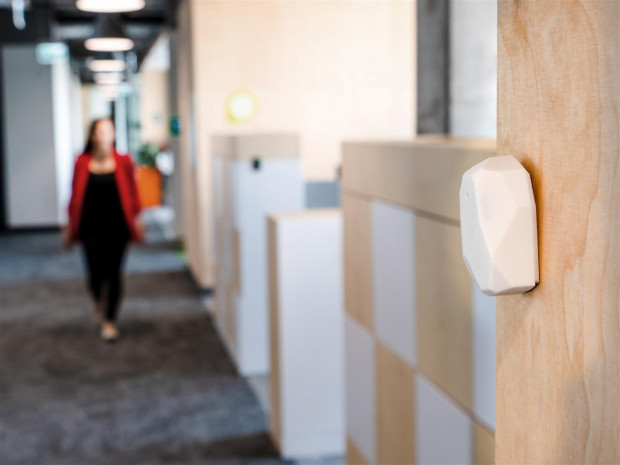 Digital twin?
All data available within the building will be transferred to its virtual double. We already have BIM (ed. note: Building Information Modeling) systems, which indicate potential issue in the building as well as necessary repairs or replacements. Information on what is happening on these floors in terms of employee activity will be superimposed on such data. The office building will be virtually copied for online building management purposes.
Does the GDPR allow you to track such data?
We are not interested in activities like "and now Kowalski is making coffee for himself in the kitchen". We focus on heatmaps that will indicate movement points and the number of people. However, if the tenant wants a function that shows who is where in the office space by name, this will make sense in case of either very large offices or a hot desking system. With the employee's consent, the tenant will be able to collect such information.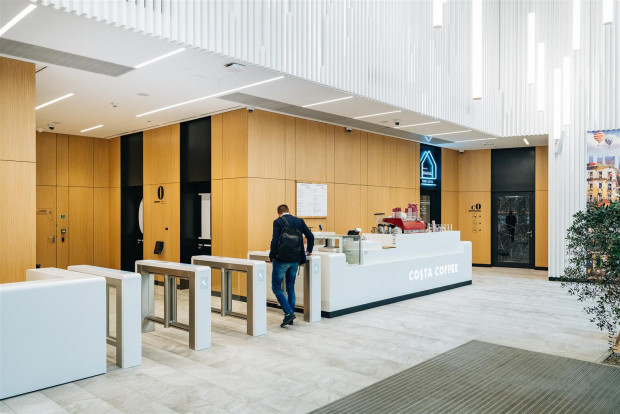 Where does the gadget end and technology that adds value to the building begin?
Due to the fact that proptech is relatively new, one should give oneself room to make mistakes. Sometimes something that is a gadget today can turn into something useful tomorrow. In many companies there is no permission to create things that may turn out to be a mistake so there is a sense of trepidation towards experimenting with new solutions.
Do you think that technologies used in a building may have an impact on a prospective tenant's selection?
Yes and no, in fact it depends on the tenant. There are companies referred to as early adopters that want to have everything new and super trendy. We all know that the struggle for employees continues, especially in IT companies. A building with state-of-the-art solutions will be more likely chosen as a company's headquarters. In addition, there is a fashion for bragging about the workplace in social media, because the way the office looks, what it has to offer and what solutions it has, shows some of the company's value and its approach towards its employees. It is of great importance for such organizations. But will it be so important for a large law firm - I think not. Hence, it depends to a large extent on the company's policy and philosophy, but also on the arguments that justify the introduction of certain solutions. If we say that we do not want plastic cards, because we want to realistically reduce the negative impact on the natural environment by reducing the use of plastic, we would instead offer the use of a mobile application. This is certainly an argument that is difficult to counter. In the future, technological innovations will be what green certificates are today. Only a few years ago these certificates were an interesting addition, but today no one can imagine a modern office building without one.
Does the forecast economic slowdown represent an opportunity or a threat to serviced offices?
During the recent economic slowdown in Poland, we did not have such a large number of flex offices, so it is difficult for us to draw any conclusions. However, we know that the financial dip taking place in the US or London, where there is the greatest concentration of flexible space, has contributed to the dynamic growth of this sector. The possibility of concluding short-term contracts with an operator has turned out to be a convenient and safe option for companies' increasingly tight budget. The ability to quickly and efficiently lease additional work places dependent on recruitment needs and project status in times of economic downturn is of great convenience. In the US, many corporations opted for more flexible forms of employment for their employees, and often these people use flex spaces. After all, not everyone likes to work from home. Furthermore, people are generally social by nature and we like to work around other people. It inspires us, gives us new ideas - it is definitely a plus in favor of flex areas.
You are very professionally active. You are a member of the Board at Skanska and Business Link, where you are responsible for the Sales and Standard Excellence Department. Maybe you will inspire other women to aim high!
In my opinion, women often underestimate their qualifications and do not take on new challenges because they think they will not be able to cope. I think that first of all you have to believe in yourself, and you need to trust your intuition.
Of course, it would be physically impossible for me to do all this by myself. I have a great team both at Skanska and Business Link. Trust is the basis of our good cooperation. Excessive control and self-imposition are not good. I do not know everything the best, I would like to think I listen and learn from my colleagues. I think that the art of management is about being surrounded, on the one hand, by people similar to each other, with similar values and approach towards work, and - on the other - to be open to different opinions, perspectives and points of view.  
I know that you do not give up in your spare time either. You swim every day before work. Where do you get this energy from?
I have always been full of energy. My parents came up with classes that helped me to use up this energy (laughs). I have been swimming for many years. I start the day between 5 and 6 am by meeting with a trainer at the pool. This time is for me. I leave the phone in the cloakroom so that I can fully concentrate. During these training sessions, I obtain peace and distance from the long day ahead.

Did you want to turn swimming into success by taking part in a competition?
For me, competition is all about adrenaline. I have enough of this in my professional life. Swimming provides me with different emotions.
So, as I see it, you do competitions at work and you relax during training?
More or less (laughs).