Richard Aboo, Chief Commercial Officer, Immobel Poland, talks about Central Point - a new building on the Warsaw office map, ecological solutions and how to create a friendly workplace.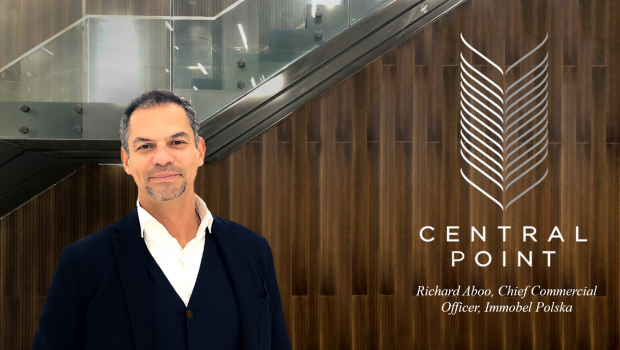 MW: We are talking just after the opening ceremony of the Central Point building. Congratulations! What emotions do you have at this particular time?
RA: It was a major accomplishment for the Immobel team, especially for the people who have been involved with the project right from its inception, particularly in these challenging pandemic times. We were successful in completing the building as per schedule and it was a great honour to host our first tenant, Wolf Theiss, and to share some bubbly with all of the people who have worked tirelessly on the project as well as those who continue to support us. For me, I am very proud indeed to be part of this outstanding project and I look forward to welcoming our future tenants to the building.
MW: Central Point was mostly built when the coronavirus pandemic became prevalent in Poland and around the world. What challenges did you face in 2020 and what are today's issues?
RA: The pandemic is still a huge challenge not only for our industry but for many other sectors. The restrictions that were introduced hindered and slowed down many of the ongoing processes linked to the construction and leasing of the building. In addition to this, we suffered from supply chain challenges that had a significant domino effect on construction and labour costs. Nonetheless, our focus was to complete the building on time and to ensure maximum safety to those people engaged in the process. And of course, luckily, we did it! I was also pleasantly surprised to see the huge amount of interest in our building. Despite the challenges linked to the Covid restrictions, I was astounded by the number of viewings we had at the building, which is testimony to the building's location and phenomenal prominence.
MW: Let's talk about the location of Central Point. The building is located in the heart of Warsaw, above the interchange of Warsaw's two metro lines, and near to the Museum of Modern Art and green areas such as Saski Park. What was behind the choice of this location?
RA: Although perhaps a cliché, real estate is all about location, location, location. The location of Central Point almost speaks for itself. It is the only building in Warsaw, that is located above the interchange of Warsaw's two metro lines and adjacent to two of the city's main arteries– Marszałkowska and Świętokrzyska. In addition, as Central Point is located in close proximity to these major streets, we are only a stone's throw from all the great amenities that the location has to offer including restaurants, cafes, theaters, retail stores, and much, much more. Our goal was to develop a project which people could easily reach from any of Warsaw's districts. In addition to this, we are surrounded by green areas and literally a two-minute walk from the beautiful Saski Gardens. We certainly believe that in today's challenging times where companies are struggling to attract talent and to motivate staff to return to the offices these elements are of paramount importance
MW: What is the advantage of Central Point over other office buildings in the area?
RA: Certainly the feeling of space and greenery around the building – the fact that you can leave the building and have a quick walk in one of the most beautiful parks to clear your mind or perhaps just take a stroll with a colleague. The fact that you can get to the building by Metro from anywhere in Warsaw is crucial, especially when environmental aspects are taken into account. The extensive choice of amazing restaurants, cafes, and shops are all within walking distance. And last but not least, the building itself and its design. Next time you pass by Central Point, take a close look at the building's façade and if you look carefully enough you will notice that the façade, designed by world-class architects Arquitectonica, is very unique – you will see that no square on the facade is exactly the same! Lastly, the breathtaking view of Warsaw from the office as well as the building's prominence - anyone who comes to visit the building will not be able to deny how wonderful Warsaw looks from Central Point!    
MW: The building has many ecological solutions - tell us a bit more about them?
RA: Ecological aspects were one of the most important foundations in the process of building Central Point. Our building offers 360° access to natural light which is phenomenal and allows for a reduction in energy consumption. Additionally, in common areas, we have installed LED lighting and motion detectors that also help to generate some savings. Our tenants also have access to a comprehensive bicycle infrastructure – parking racks, lockers, showers - so they can commute to work by bicycle without any problems. What's more, there are plenty of cycle paths around Central Point. And thanks to this convenient location in terms of public transport options, tenants who are especially environmentally conscious, can quickly get here from any part of Warsaw as well as from the city's outskirts. Additionally, we can boast BREEAM Excellent certification.  So as you can see, all of these aspects really make a difference.
MW: At a time when the home office has become a quite popular model of work, employers have to put a lot of effort into encouraging employees to return to their offices. What amenities can tenants expect at Central Point?
RA: Indeed, it is quite a challenging time for us as a building owner to encourage people to come to the office. However, thanks to the fact that Central Point is not a huge building, we can create a fairly warm and personable environment. The building has been designed with people in mind. Starting from the main lobby - we are currently working on a design to achieve the effect of warmth and coziness. So that everyone who comes here will feel at ease, as they would at home. The lobby will be supplemented with a coffee shop and a seating area. We also pay a lot of attention to the fit out of office spaces and to creating spaces where tenants will simply feel comfortable. We are convinced that these spaces will support work efficiency, creativity and give people the feeling of being in a nice and human place. Bearing in mind that we are now witnessing major changes in the labour market, where the new generation has much higher expectations, our goal is to achieve a balanced combination of intimacy and identity for our distinguished tenants.
MW: Central Point is not the only Immobel project in Poland. What other investments does the company have in Poland?
RA: We are currently considering a number of projects, however, it is still early days and I am not at liberty to reveal too much. Although what I can say is that each project that Immobel works on is very carefully chosen – as with Central Point and many other projects that we have developed, we believe in creating projects that enhance a city's fabric. One such project is our largest project to date in Poland – Granaria in Gdańsk. It is truly a unique undertaking that combines the needs of a modern European city while respecting its heritage and rich history. It is a comprehensive urban concept, which will include apartments, commercial and service facilities, an underground garage, and a modern hotel with numerous conference rooms. The project will be complete with a public square and a new pedestrian bridge connecting it with the city centre. It is no surprise that we were the proud winners of the MIPIM award for The Best Urban Project in 2020!
MW: What do you like to do in your private life? How do you relax after work?
RA: This is an easy one. I have a wonderful family – my wife, Eva, and my wonderful sons. I am generally a family man and spending time with my family brings me a lot of pleasure. My family is undoubtedly my biggest success! We love traveling together and lately one of our favorite destinations is Portugal! Other than that I do have some vices which are… good food and a glass of great wine… ok maybe two