Katarzyna Kubicka, Regional Director at Echo Investment, talks with Nina Wiater about the changes going on in the real estate market, the technologization of office buildings and developing passions under restrictions.
NW: Construction processes in this pandemic era are challenging, but Echo Investment's office schemes are still being developed on schedule. In 2020, Echo Investment completed four office buildings, including the first phase of West 4 Business Hub in Wrocław, with more projects under construction in Wrocław, Katowice, Łódź and Warsaw. What impact has the pandemic had on your business?
KK: One cannot disagree with the fact that the pandemic has raised a number of questions for the commercial real estate industry. Within the entire economy, there is probably no industry that hasn't had to face either minor or major challenges and consequences related to Covid-19. Our construction sites are nonetheless still operating. We follow strict sanitation procedures and make our employees aware of the importance of being responsible for themselves and others. Because we reacted quickly to the pandemic and implemented safety procedures, we were able to bring another office building to market in Wrocław - West 4 Business Hub - without any problems, and the construction of other projects is going according to plan.
NW: In June, you announced a "healthy office buildings" program as a response to the post-Covid needs of office workers. Now you are already talking about a new standard for office buildings - the Echo PureOffice standard. What distinguishes this solution from others?
KK: We began by responding in a quick and specific manner to the need of ensuring both the safety and comfort of our tenants as well as their employees. We introduced a "five for safety" program that governs the way our buildings are managed. We believe that remote working is just an interim measure and a temporary solution that many companies have implemented. After a few months of working from home, it is becoming increasingly clear that companies and their employees miss working from the office. They miss that stimulating interaction with other employees, the comfortable and ergonomic workspace, and the separation between personal and professional life. Indeed, some people do say yes to the "home office" model, but this is the exception not the rule. That is why we decided to intensify the works on projects so as to ensure health and safety in our facilities and make it easier for companies to either flexibly schedule their teams or decide to return to working full-time in the office. So we have recognized that the solutions we have introduced must be as standard and not only merely implemented on an ad hoc basis or put forward as an option. We began by revising our existing practices for class A office projects: we have reduced the use of finishing materials that are difficult to maintain and disinfect, we adhere to the practice of using operable windows in buildings, we introduced safer bathroom fixtures in restrooms, and we use contactless door opening systems whenever possible. We have focused most heavily on systems and equipment that are associated with a building's ventilation because it is through these channels that pathogenic microorganisms can be transmitted. We have invested in a solution that allows us to ensure healthy and clean air both during and after the pandemic. All of these tools and principles became the basis for developing the new Echo PureOffice standard.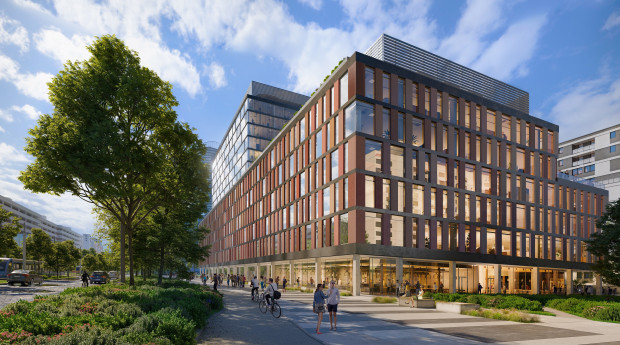 MidPoint71
NW: How will this new system work and how will it increase the personal safety of occupants in office buildings that have implemented this system? Which buildings have or will have this system?
KK: We are the only company in Poland to equip office buildings with proven RCI ActivePure technology. This method, based on processes that naturally occur in nature, is completely safe for both people and the environment. Uninterrupted system operations also guarantee its effectiveness. From the moment of installation and start-up, the devices continuously activate the purifying properties of the air throughout a building. In this way, they eliminate both existing and emerging microbiological hazards and improve indoor air quality. On average, we spend 80% of our time indoors. The improved quality of the air not only allows us to reduce the risk of exposure to pathogenic particles, but also positively affects our well-being and efficiency. We have already installed this system in the first phase of West 4 Business Hub, the next buildings to be equipped with ActivePure technology will be the Midpoint71 investment in Wrocław and the React office building in Łódź.
NW: But the air purification system is not all that the West 4 Business Hub project has to offer. You have been working on a building app that provides employees with contactless access to the workspace. What other features does the app offer?
KK: The app we introduced in the first building of the West 4 Business Hub complex allows for contactless use of the office by both employees and their guests. By using the application, our tenants' guests receive a special code authorizing them to move in designated areas within the building, reach the appropriate floor where the tenant is located, and use a specific elevator. They are also able to leave their car in a designated parking space. Other features of this app include the ability for individual tenant employees to manage parking spaces. This is quite important because tenants often indicate that they need more parking spaces or want these parking spaces to be used more efficiently. Additionally, the application provides the ability to reserve rooms available in the common areas of the building. In West 4 Business Hub there are three conference rooms available for tenants at no extra cost. Thanks to the application, the tenants are also able to quickly and directly contact the building manager. The application will be developed according to the needs of the tenants. We can expand it with additional features, such as reserving desks or resigning from the traditional access card in favor of a virtual one.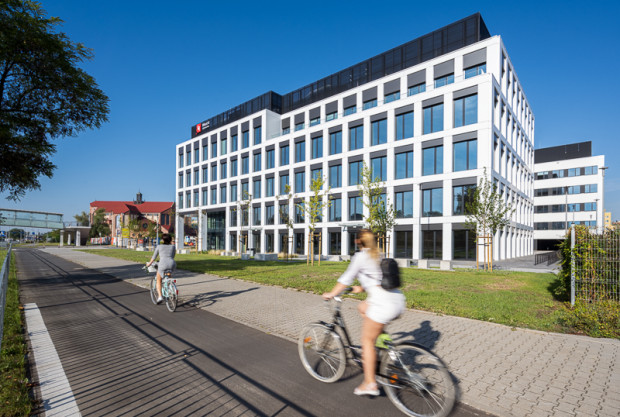 West 4 Business Hub
NW: When listening to you about all these projects and solutions, one might expect that all of this needs a lot of commitment and many hours of work. How do you find time for yourself with all this going on? Do you still find time to pursue your hobbies and interests?
KK: I have been a big handball fan for more than 15 years. I come from Kielce, where we have the Polish and European handball champion - Łomża Vive Kielce. Watching all the Polish and European league games relaxes me a lot. But I can't go to the matches at the moment because of pandemic restrictions. For the last five years, I have got into sailing. Unfortunately, due to the current situation, I had to cancel a planned sailing trip to Croatia. I must say that I also miss sailing very much. On the other hand, COVID-19 allowed me to realize some culinary ambitions - I love to bake cakes and prepare different kinds of desserts, and my family was delighted about this. I also returned to my old passion that I have not practiced for three years - yoga. I have introduced many of my friends to yoga. They caught the bug and still practice it. I am also catching up with literature and movies.
NW: I, too, am a fan of sailing and look forward to the lifting of restrictions so that I can go sailing again. We wish you all the best for the future.