Business services sector's search for new locations is driving the office market growth in Białystok, Bydgoszcz, Kielce, Olsztyn, Opole, Radom, Rzeszów and Toruń
Warsaw, 30 May 2014 – International advisory company JLL has published the second edition of its research paper analyzing new office locations in Poland. The report looks at Białystok, Bydgoszcz, Kielce, Olsztyn, Opole, Radom, Rzeszów and Toruń - emerging markets, which are attracting significant interest from developers and tenants, especially from the business services sector.
Anna Bartoszewicz-Wnuk, Head of Research and Consultancy, JLL, said: "Warsaw was the first city in Poland to witness the emergence of a modern office market. Investors and developers then gradually started to look at opportunities in other major cities, such as Kraków, Wrocław, the Tri-City, Katowice, Poznań and Łódź, and more recently in Szczecin and Lublin. Today, these nine agglomerations are the most dynamically developing office markets in Central and Eastern Europe. The natural course of further development will therefore focus on smaller urban centres and academic locations, whose potential will gain in importance and gradually attract new investments, especially ones from the business services sector, generating demand for offices. These emerging locations, with differing supply and demand, include: Białystok, Bydgoszcz, Kielce, Olsztyn, Opole, Radom, Rzeszów and Toruń".
Smaller cities in a game for new investments
Business services investors are one of the drivers of the smaller cities' development. Some companies tend to locate their new units outside the largest agglomerations, to ensure access to an untapped talent pool as well as cost effectiveness. Access to qualified labour, attractive real estate costs, improving road and office infrastructure and local authorities open to cooperation with investors are all underpinning the attractiveness of these cities. In addition, smaller locations offer excellent brand recognition opportunities, an advantage over more mature and popular destinations. Furthermore, some of these cities situated near major agglomerations are convenient locations for disaster recovery centres – special, backup units that allow operational continuity if the main centre experiences serious malfunction that prevents it from working properly.
Anna Młyniec, Head of Office Agency and Tenant Representation, JLL, commented: "Smaller office markets are attractive alternatives for business services companies, especially those looking to start operations in Poland, as well as expanding or relocating selected functions from their existing centres in the main agglomerations. Such cities attract both domestic and international outsourcing companies planning to establish smaller units employing up to 150 people. These markets now offer an increasing number of offices that are adjusted to the needs of business services sector tenants, who are seeking convenient space for typical BPO/SSC units, as well as disaster recovery centres. It is worth noting that business services companies are already driving office demand, not only in major agglomerations like Kraków or Wrocław, but in smaller cities as well".
Numerous business services centres operate in the eight analysed cities, including Intrum Justitia and Transition Technologies in Białystok, Alcatel-Lucent and Centralny Ośrodek Rozliczeniowy Poczty Polskiej in Bydgoszcz, Medicover in Kielce, Citigroup in Olsztyn, Capgemini and PZU in Opole, Ministry of Finance unit in Radom, ACP Pharma and PKO BP (Contact Center) in Rzeszów, or OpusCapita in Toruń.
Marcin Nowak, Delivery Centre Director, Infrastructure Services Eastern Europe, Capgemini, commented: "Opole is one of five cities in Poland, where Capgemini has its office. It perfectly complements other locations in south-western Poland where we operate. Excellent location and transport infrastructure, as well as good access to young, qualified people, all contribute to building a good investment climate in Opole, which attracts large, international investors, also from the business service sector".
Supply
Modern office space in the eight cities analysed by JLL, totals more than 321,500 sq m and is comparable to volume in Poznań or Katowice. This currently represents 4.4% of the entire available office stock in Poland. The vast majority of the existing modern space in these locations offers relatively moderate quality compared to larger office markets in Poland. This, however, is changing, and A class projects are being delivered to the market i.e. Cezal Business Center A (6,600 sq m) in Olsztyn and Radom Office Park A (4,850 sq m) in Radom. Due to the limited availability of speculative space, many companies in these cities (e.g. banks) built offices for their own use.
Office Stock and Completions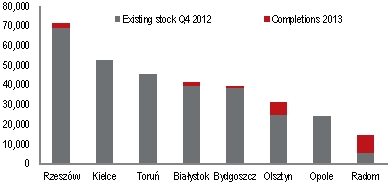 Source: JLL, Q1 2014
Currently, almost 50,300 sq m is under construction in the analysed locations, with the majority in Rzeszów (19,700 sq m), Olsztyn (11,900 sq m) and Bydgoszcz (9,800 sq m). An additional 194,400 sq m is in the pipeline, representing a 70% increase compared to Q2 2012. New projects, either planned or under construction, typically enjoy convenient locations within the cities, along with good accessibility by both private and public transport.
Vacancy rates
The immediate availability of modern office space in these cities is moderate (42,250 sq m). The majority of vacant space (62%) is found in Bydgoszcz, Rzeszów and Radom. Importantly, eight analysed markets feature a fairly limited amount of office space (1,000 sq m and above), which is of high quality and immediately available. However, such cities are most often sought after by small and medium size companies searching for smaller space. The availability of office units above 500 sq m is relatively high (24 in existing buildings and 5 in projects under construction) in eight emerging markets.
Rents
Prime headline rents in the analysed cities range between €8 and €12 /sq m/ month and are expected to remain stable. However, in some buildings rents can be slightly higher and reach up to €13 per sq m a month.
8 emerging office markets in numbers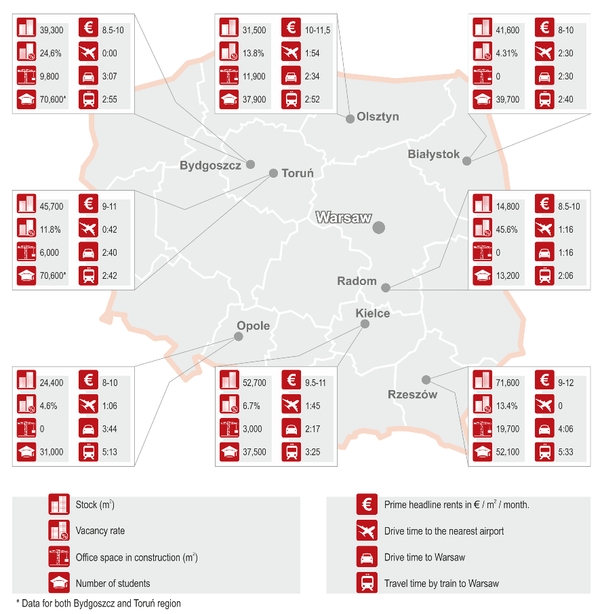 Source: JLL, Q1 2014