Nina Wiater talks with Magdalena Kowalewska, Country Manager Operations, and Member of the Management Board at IMMOFINANZ in Poland, about the myhive office brand, its new products, building a community and maintaining relationships with both tenants and business partners during the pandemic.
Nina Wiater: Offices developed under the myhive brand name operate in seven European countries  – Austria, the Czech Republic, Romania, Slovakia, Poland, Hungary, and Germany. Furthermore, six buildings from this brand are located in Warsaw. What did the beginnings of myhive look like?
Magdalena Kowalewska: What inspired us, more than four years ago, to develop a brand that puts users and their needs at the forefront, was the hotel sector – especially boutique hotels, where the emphasis was put on hospitality, first impressions, attention to detail, and an individual approach towards each guest. All these elements inspired us to work on our office concept.
Our new approach regarding space arrangement can be seen in the common areas of our buildings, where we have developed a chillout zone with space to work. The lobby has been designed so that it provides a friendly and comfortable space for communication between employees from different companies. While working on the myhive brand, we focused primarily on the quality of our services and also took steps to provide even better and friendlier customer care. It is worth mentioning that we were one of the first on the market to introduce the position of Community Manager whose task it is to nurture tenant integration, ensure good communication within the community and create a comfortable space for people working in our buildings. As part of community management, we started organizing trainings, educational workshops, professional coaching meetings, or sports activities. We knew that tenants wish to be part of an international community and would like to contact each other in a relaxed atmosphere. So this is why we created an application that became a communication platform for all of myhive's users, informing them, for example, about organized events. This is how the myhive brand started.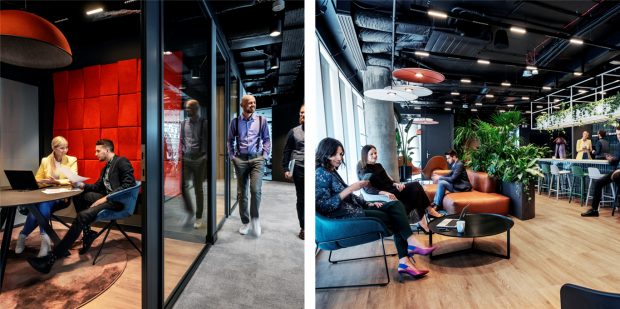 NW: You have introduced a wide range of interesting solutions for your tenants, building communities and are not afraid to use fairly unconventional methods. How does this translate into the leasing process?
MK: We receive positive feedback from our tenants all the time. From the point of view of our business, the retention level is one of our priorities, so we are proud that the level of leased space in our portfolio remains very high. The fact that companies stay with us for years is a sign of trust. The scale of our business, proper management, quality control, and the high standard of services in all our facilities translate into the success of the brand and, consequently, the leasing process.
NW: Recently, flex spaces have also been added to the myhive brand offer.
MK: That's correct. Within the myhive proposition, we currently offer both traditional and flexible leasing solutions. Thanks to our extensive offer we can respond even better to the needs of our clients.
Our new flexible office products can be divided into two categories. The first is mycowork, based on the idea of sharing coworking space. The following products are part of the mycowork brand: mydesk, i.e. the possibility of leasing a dedicated workstation which is fully equipped and connected with high-class office infrastructure, myroom –  a separate office space, e.g. for project teams or smaller companies, and myflex –  for people who wish to book their workspace in any location that suits them best at a particular time.
The second category, myoffice, is a pretty unique product on the market. A dedicated serviced office (with full infrastructure provided, i.e. kitchen, conference rooms, focus rooms, toilets, server room, reception desk) available for one month. The myoffice offer is aimed at tenants who seek flexibility but value their privacy and want to retain their own space.
NW: What sets the myhive brand apart from the competition?
MK: It was very important for us to create a cozy office space with a modern design that would offer a comfortable working environment. The myhive offices include electrically adjustable desks, lamps providing friendly lighting for work, and special materials on the walls and the ceiling for soundproofing purposes. Each workstation has its own 10 sq m space and is organized in accordance with health and safety regulations. Additionally, we offer inductive chargers built into the desks and the best coffee in the city ( J), roasted at the earliest a week before delivery to our coworking spaces. All of these elements are consistent with our philosophy, which is based on attention to detail and a personalized approach to ensure the best workspace experience for our community.
NW: Do you plan to implement the myhive brand into other IMMOFINANZ buildings?
MW: In actual fact, our entire building portfolio, to all intents and purposes, operates under the myhive brand. In the future we are planning to rebrand the Empark office complex, meaning that all of our office buildings will become part of the myhive family. In the context of our flexible offer, we have a myhive coworking space located on the 38th floor of myhive Warsaw Spire building, mycowork also operates in myhive Park Postępu and soon in myhive Nimbus. We are developing the myoffice concept throughout our entire portfolio, and the first space of this type is the new IMMOFINANZ office located in myhive Warsaw Spire.
NW: Building a community is among the core tenets of myhive. So the COVID-19 pandemic must have certainly been a big challenge. How did you execute your strategy during last year's lockdowns, and how are you doing now as we're still facing many restrictions?
MK: We are constantly observing changes on the market. This allows us to actively adjust our offer to the needs of our tenants. What is important is that they have intimated to us that they miss the active myhive community. We therefore decided to move our community activities online where we organize a range of popular workshops. For example, one workshop was hosted by Kamila Rowińska (one of the most respected business and soft skills trainer, who is also a certified trainer, author, and co-author of books on business). As part of our activities dedicated to tenants – we also try to organize activities outside – in the literal sense of the word. For example, we launched another myhive cycling season, carried out a project of repairing the bicycles of myhive employees. Moreover, last year we held a series of meetings, Discover Warsaw with myhive, during which we visited interesting places in the capital with a city guide.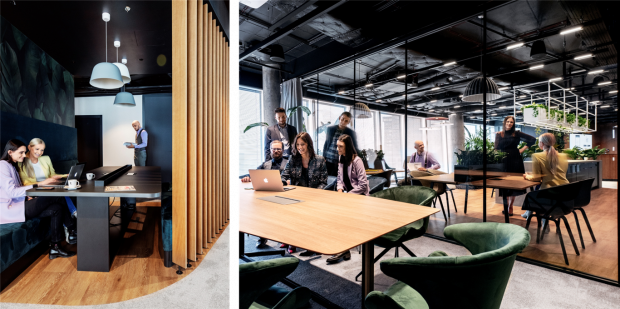 NW: Are the specifics of myhive the same in all of the European countries where the brand is present, or are there any noticeable differences due, for example, to culture, employee needs, etc.?
MK: The brand strategy and its DNA are of course strictly defined. We follow the standards in each country, which does not change the fact that each location has its own specifics. We take this into account and try to adjust our offer accordingly. Some solutions that work well in one country, will not necessarily be popular in another. Therefore, we try to revise our plans on an ongoing basis. Our office community is very eager to take advantage of a wide range of coaching workshops, business courses and training. For example, in Poland, sports initiatives have enjoyed a great deal of interest, with as many as 11 sports teams operating at peak time. Another interesting initiative in Poland is the myhive business club, a series of networking meetings for executives.
NW: How do you spend your free time and where do you get your motivation from?
MK: Sport certainly provides me with a lot of energy and motivation. For many years I did kyokushin karate. I now practice ashtanga – it is a dynamic form of yoga that brings calmness and serves as a source of inspiration. My second passion is travelling. In my free time I try to visit new places and discover destinations which are "off the beaten track".
NW: Thank you very much for the interview and I look forward to the further development of the myhive brand.
MK: Thank you very much.