According to Jones Lang LaSalle's Q2 2011 European Office Clock Report
Performance differentials continue to widen across the region;
Occupier demand for office space was broadly similar to Q1 2011 levels, but new supply pipeline at record lows;
Prime rents continued to grow with Jones Lang LaSalle's aggregated office index witnessing 2.1 percent growth.

London, 2nd September 2011 - Prime office rents across Europe continued to grow modestly in the second quarter of 2011 (Q2 2011) according to Jones Lang LaSalle's latest European Office Clock report. Jones Lang LaSalle's European Office Index revealed a 2.1% increase over Q2 2011 based on rental growth in eight index markets. This was led by a strong performance in Moscow (+20 percent), Warsaw (+13.6 percent) and Lyon (+8.0 percent) with more modest rental growth witnessed in some of the German markets (Munich +3.4 percent, Berlin +2.4 percent, Hamburg +2.2 percent) as well as London's West End (+2.7 percent) and Stockholm (+2.5 percent).
Debt pressures and significant austerity measures continued to place downward pressure on office rents in markets such as Madrid, Barcelona, Dublin, and especially Athens, which saw further rental decline. Utrecht also experienced a rental decrease, whilst other index markets saw stability or growth.
Bill Page, Head of EMEA Office Research at Jones Lang LaSalle, said: "Europe's economic recovery has continued throughout the second quarter but the ongoing, and increasing, uncertainty about the Eurozone debt crisis and potential associated risks have softened the short term economic outlook. This, plus wide national economic variations, is mirrored in Europe's office markets with a two speed market now in place."
The widening performance differential across Europe is clearly visible on Jones Lang LaSalle's Q2 2011 property clock below. Of the 35 cities covered (including Warsaw, excluding Polish regional markets), 17 markets are still before or at 6 o'clock, while five markets are already at or beyond 9 o'clock.

Jones Lang LaSalle's Q2 2011 Office Clock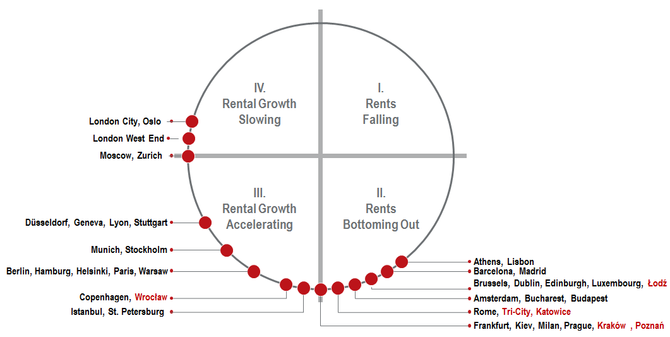 Source: Jones Lang LaSalle IP, July 2011

Around 2.7 million sq m of office space was leased in Q2 2011 across Europe, 2 percent higher than Q1 levels and 4 percent higher compared with the same period last year. Jones Lang LaSalle confirms that leasing activity in Q2 2011 was 8 percent higher than the 10-year average and expects total take-up for 2011 to be at similar levels to last year (circa 10-11 million sq m).
Q2 2011 leasing volumes were stronger in CEE, which saw an increase of 8 percent quarter-on-quarter, driven by improving demand in Moscow and, also significantly, in Warsaw and Prague markets which have shown encouraging activity so far this year. In Western Europe office take-up levels remained practically unchanged. However, the German markets exhibited further growth in leasing volumes (except for Düsseldorf after a strong first quarter). Volumes in London and Paris, two of the most significant drivers in Jones Lang LaSalle's index, remained modest with volumes in Central London so far this year significantly lower than Q2 2010.
Bill Page added: "Office market conditions across Europe continued to vary widely and reflect the underlying economy. The Nordics, Germany and increasingly France support the emergence of expansionary demand, whereas occupiers in Greece, Portugal, Spain and Ireland remained very cautious, with demand in these office markets driven by lease events, consolidation and cost containment."
Net absorption over Q2 2011 was positive but fell by 7 percent (39 percent lower than the 10-year average) and turned slightly negative in the CEE region due to an increase in second hand supply in Moscow. Annual absorption decreased too and now stands at 3.3 million sq m which is only 12 percent below the 10-year average.
European vacancy rates continued their downward trend but fell by just 10bps to 10.2 percent, having remained in the double-digits since Q4 2009. Jones Lang LaSalle highlights that the availability of prime space in some markets, notably London, Paris and Moscow, still remains limited and this has driven rental stabilisation and growth. Much of the supply is second-hand stock released by occupiers who have upgraded over recent months and this grade of space continues to trade at a significant discount to prime. In Q2 2011, only about 670,000 sq m of new office space completed across Europe which is a record low and more than 50 percent below the 10-year average. Completions in the Moscow market dropped below 100,000 sq m; in London only 8,000 sq m of new space was added and in nearly all European markets, volumes were way below long term averages.
Bill Page concluded: "For the full year we expect about 3.9 million sq m of office space to complete which includes pre-lets. This is the lowest volume in more than a decade and this factor is expected to drive rental growth further in many markets and keep absorption healthy."
Tomasz Czuba, Head of Office Agency in Poland commented: "Similar market trends can be observed in Poland. Prime headline rents in Warsaw are growing, while the demand side has improved and the vacancy rate dropped. At the same time, the office completions remain limited. Prime office space in Warsaw City Centre can now be secured from € 22-25 / sq m / month. However, there are some A+ developments quoting rents even higher than this. The best Non-Central locations are being leased at € 15.00-15.50 / sq m / month. The first sub-markets to witness rental growth were the City Centre, Upper-South and South-West. Moderate upward pressures on rents were also observed in Wroclaw. Prime headline rents currently range from €11-13.5 / sq m / month in Łódź to €15.50 / sq m / month in Wrocław. Upward pressures are expected in H2 2011 in some of the regional markets.