The new office of advisory firm JLL in Warsaw Spire has been awarded with the prestigious ecological BREEAM certificate, earning a "Very Good" grade.
"We decided to certify our office due to the fact that caring for the environment and sustainable development are part of JLL"s corporate culture in both Poland and the world", comments Tomasz Trzósło, Managing Director, JLL Poland.
The certification process was begun during the space design works.
"We identified preferred technological solutions during the design works of our new office, establishing details such as the type of floor-covering as well as other finishing materials. Because of the solutions and procedures that were implemented, JLL's office was the first office in Poland to be recognized with a BREEAM Very Good certificate," explains Regina Gul, Senior Project Manager, BREEAM Assessor, BREEAM In-Use Auditor at JLL, responsible for the certification.
Numerous solutions encouraging energy savings and employee comfort have been implemented in JLL's new office. LED spot-lighting was meticulously arranged in the office space along with modern, all fluorescent lamps are fitted with high frequency ballasts. As a result, the artificial light will not be exhausting for employees' eyes.
The lighting installation is zoned to enable switch on /off the lights in a particular zone – separately for routes, office desks located near a window or those farther away. All work stations are located near the glass fasade and, therefore, all employees are provided with access to both natural daylight as well as an excellent view of the city. As a result, employees will find that working on their computers will be less of a tiring experience. More natural daylight encourages a reduction in energy consumption although the office is equipped with electric blinds when the sun becomes too bright.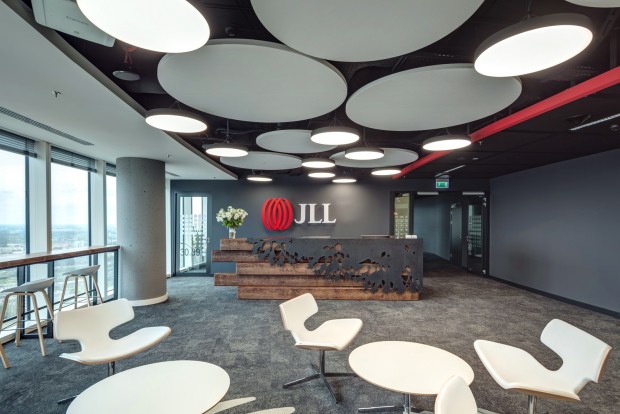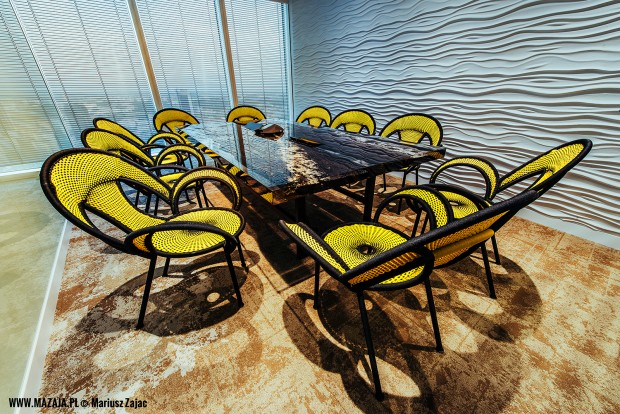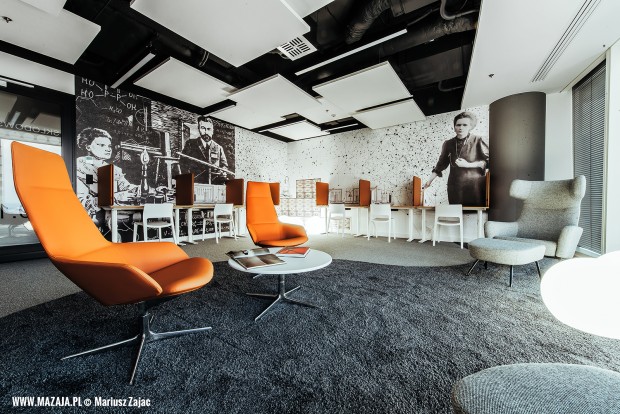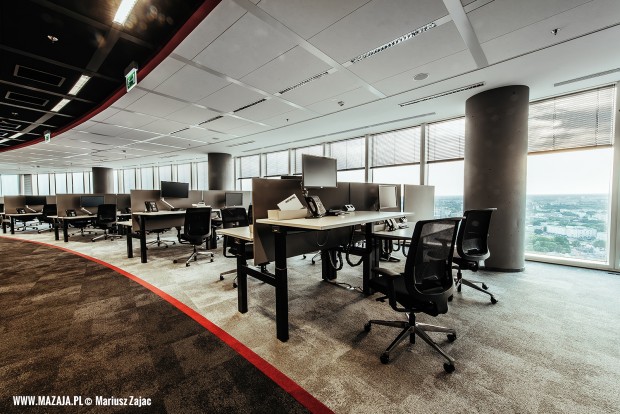 The space leased by JLL has electricity meters located on every floor that the company occupies and are all equipped with automatic meter reading technology enabling ongoing control over usage.
In order to increase user comfort, and in accordance with the principles of BREEAM certification, the air supply volume per person is higher than the requirements of the Polish law. Employees also have the opportunity of temperature regulation in their office zone in order to adjust it to their needs.
Finishing materials used in the offices – including wallpapers, paints, lacquers and glues – have a reduced amount of harmful volatile organic compounds as per EU norms.
Full waste segregation was implemented in the office space and there are no waste bins under the desks. However, there are special containers for different types of waste located in selected parts of the office. Water will not be served in plastic bottles – neither for guests nor employees.
"During the certification process, much focus was put on the specifics of the office space as well as elements linked with the building. Warsaw Spire is characterized by its excellent location which is well-served by public transport, its range of services a number of amenities for cyclists as well as its pro-ecological technological solutions", adds Regina Gul.
Tétris (part of the JLL Group) was responsible for design and build works in JLL new office.