International advisory company JLL has been selected as the sole leasing agent for Warsaw Spire, the biggest office project in Poland.
Warsaw Spire, developed by Ghelamco, is one of the key investments on Warsaw's business map. It is the second highest building in Poland, trailing only the Palace of Culture and Science, and is the largest office complex in the country in terms of space. Warsaw Spire is being developed in Warsaw's new business centre and will be situated at plac Europejski between Grzybowska, Towarowa, Wronia and Łucka Streets. One of Warsaw Spire's major assets is its location. Thanks to close proximity to the city's main arteries and being well-served by public transport, including Warsaw's second metro line, the building's location guarantees excellent communication with other parts of the city, Warsaw Chopin Airport and railway stations.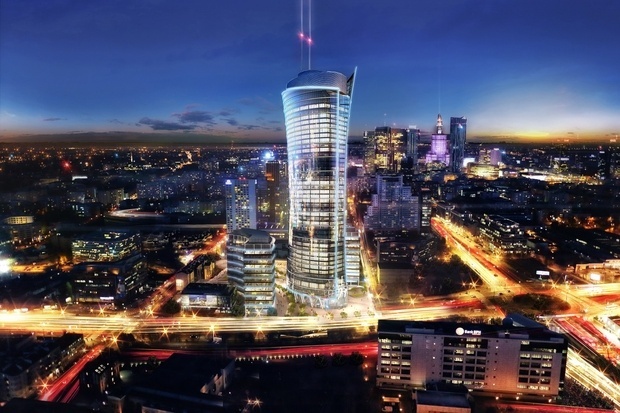 Warsaw Spire is a complex of three buildings: the 49-storey "A" tower building that is 220 meters high and two adjacent 15-storey buildings ("B" and "C"), both measuring 55 meters in height. In total, Warsaw Spire will provide 100,000 sq m of office space equipped with innovative technical solutions including the first double-deck system elevators to be installed in Poland. Ghelamco's flagship investment has been conferred with the prestigious, environmental BREEAM certificate at "Excellent" level. The architectural design of Warsaw Spire was conceived by a team of architects from the Belgian company, M. & J-M. Jaspers – J. Eyers & Partners, in cooperation with Polsko-Belgijska Pracownia Architektury – Projekt.
The investment is being developed in phases. Building "B" was the first to be commissioned in 2014. The completion of building "C" is scheduled for later this year, while construction works on "A" tower building will be completed in April 2016.
Jarosław Zagórski, Commercial and Business Development Director, and Board Member at Ghelamco Poland, comments: "Our decision to select JLL as the sole leasing agent for the Warsaw Spire project was prompted by the company's excellent reputation and great experience in landlord representation. JLL's track record with international and local companies which are tenants of office space, as well as its market knowledge and awareness of our project's position and value were also of great importance to our company".
JLL will be responsible for the implementation of leasing strategy and attracting companies interested in both office and retail/services space.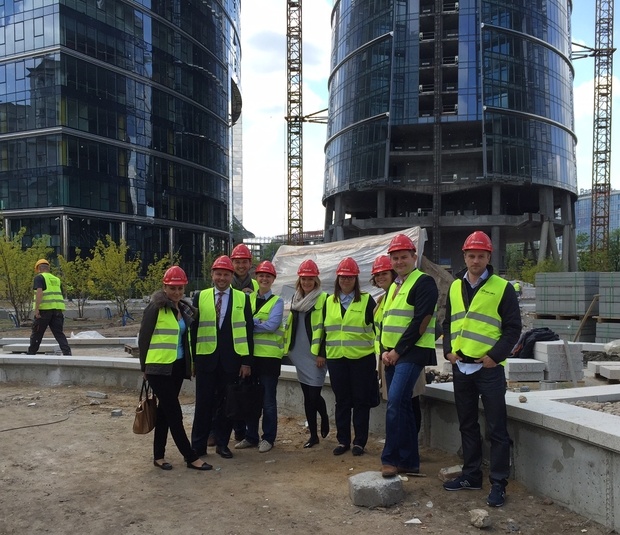 Tomasz Czuba, Head of Office Agency at JLL adds: "The opportunity to cooperate with Ghelamco on one of the most spectacular office investments in recent years is a real honor for us. Warsaw Spire has all the assets necessary to attract the most demanding tenants from different segments of the economy, including the public sector. Location, modern architecture, a focus on finishing quality, top-class technical solutions, highly developed services and gastronomic offer, and unique public space are among the scheme's main advantages."
Warsaw Spire's exceptional format, convenient location and sustainable solutions are not the only aspects that make the project outstanding. The scheme's unique value also lies in an unprecedented concept of creating an open urban space on plac Europejski that will seamlessly combine commercial and public functions. The arrangement of the square was commissioned by Ghelamco to Wirtz International Landscape Architects, a world-renowned Belgian company whose portfolio includes the gardens of the Élysée Palace, Jardin du Carrousel in the Tuileries Garden in Paris, and Jubilee Park in London.
Plac Europejski will be a general-access urban square of an unprecedented scale in Warsaw's modern history. The space will be filled with street furniture, greenery, fountains, restaurants and cafes as well as places for culture and art. With over 4,000 sq m, plac Europejski will be a car-free urban zone offering a great deal of space for pedestrians. The works on plac Europejski project are proceeding in parallel with the construction works on Warsaw Spire, with completion scheduled for April 2016.
"Both the centre-forming potential and innovative functionality of the concept developed within Warsaw Spire and plac Europejski have been well-received by the complex's tenants and Warsaw's inhabitants alike. The project has attracted a lot of interest – the occupancy rate is already almost 60%, which is a big success 12 months before the investment's scheduled completion date"– adds Jarosław Zagórski.
Currently, the tenants of Warsaw Spire include: The European Agency for the Management of Operational Cooperation at the External Borders of the Members States "Frontex", BNP Paribas Securities Services, Benefit Systems, Bilfinger HSG Facility Management, Ghelamco Poland, Samsung as well as The Centre for EU Transport Projects (CEUTP).
About Ghelamco Poland:
Ghelamco Poland is the commercial property market leader in Poland, with a pioneering approach to the shaping of public space.
Over the past 24 years, Ghelamco Poland has built its position as an investor, developer and general contractor by delivering over 600,000 m2 of office and warehouse space. The sales volume has exceeded EUR 1.2 bn. The company has entered the retail property market, as well. Operating under the name of Ghelamco Residential, the developer is also active in the residential sector. Ghelamco's flagship office project, Warsaw Spire, is now underway.
Ghelamco Poland continues to come up with pioneering concepts of buildings which set new market trends. Its reputation as the leader in sustainable construction on the Polish market is evidenced by eight BREEAM certificates granted to Ghelamco projects with a total area of 290,000 m2.
Business goals go hand in hand with involvement in cultural and art events. Last year Ghelamco established Fundacja Sztuka w Mieście [Art in the City Foundation]. Ghelamco has won a lot of distinctions, including seven "Developer of the Year" awards in Poland.
About JLL
JLL (NYSE: JLL) is a professional services and investment management firm offering specialized real estate services to clients seeking increased value by owning, occupying and investing in real estate. With annual fee revenue of $4.7 billion and gross revenue of $5.4 billion, JLL has more than 230 corporate offices, operates in 80 countries and has a global workforce of approximately 58,000.
On behalf of its clients, the firm provides management and real estate outsourcing services for a property portfolio of 316 million square meters, and completed $118 billion in sales, acquisitions and finance transactions in 2014. Its investment management business, LaSalle Investment Management, has $55,3 billion of real estate assets under management. JLL is the brand name, and a registered trademark, of Jones Lang LaSalle Incorporated.
For further information, please visit our website www.jll.pl