A decreasing supply of attractive land parcels combined with growing prices are directing investors' attention to areas with objects that require either demolition or revitalization. Multi-functional projects are still gaining popularity.
Advisory firm JLL summarizes 2018 and highlights trends for land in residential, office, retail and hotel projects in Poland in 2019.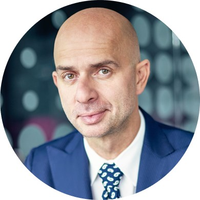 The favorable macroeconomic situation in 2018 led to bullish investor sentiment and encouraged positive decisions regarding the acquisition of land and the commencement of new projects. The limited availability of plots has led to an increase in land prices as well as a greater openness of developers to analyze sites requiring demolition, remediation work and restoration. Multi-functional projects which avoided the division of urban space into mono-cultural zones of housing, work and leisure were highly popular. However, the growing prices of land and costs of building materials and workforce represented a significant challenge to investors
Land for residential development
Developers in the six largest Polish cities[1] sold 65,000 apartments. This was 11% down on 2017 although this was the second-best total in the history of the Polish residential development sector. The industry benefitted from a favourable macro-economic situation, which saw continued low interest rates helping people to decide in favour of taking out mortgage loans. However, 2018 saw developers struggling with workforce issues and a surge in construction and material costs, as well as the diminishing availability of attractive plots.
"In 2018, developers faced great difficulties when trying to expand their land banks, mainly due to stiff competition for plots and the limited accessibility of available sites. The low supply of land has pushed land prices to levels which have prevented many developers from achieving their expected profit margins. This, combined with the increase in development costs, has resulted in double-digit percentage increases in the prices of residential units available on the primary market. Flats on the secondary market have become more expensive as well. As a result, the difference in average prices for the primary and secondary market has been diminishing, with this trend most evident in Warsaw", explains Daniel Puchalski.
Average prices of residential land in 2018
| Area | Price (PLN / sq m PUM*) |
| --- | --- |
| Warsaw, city centre | 3,000 – 5,000 PLN |
| Warsaw – other districts | 1,000 – 2,500 PLN |
| Cities with more than 400,000 residents | 650 – 2,500 PLN |
*PUM – Residential Usable Area
Source: JLL
Difficulties in buying land in previously preferred locations have led developers to become more receptive to regional cities. Many have become interested in objects in need of revitalization. The development of this market segment is, however, limited by the lack of a final resolution regarding the reprivatisation issue. JLL's experts believe that in 2019 developers will build residential projects and sell apartments at levels similar to 2018. The number of units sold will slowly decrease, but apartment prices will remain the same.
The Polish housing market is on the cusp of change - 2019 will be prosperous for the institutional rental market, which should be facilitated even more by work on the adoption of the Act on companies investing in the rental of real estate (FINNs), dubbed Polish REITs. In the long run, the supply of new projects will result in sizeable transactions in this segment.
Land for office development
A favorable macroeconomic situation also had an impact on the record-breaking results experienced in the office sector. In 2018, the office market in Poland expanded by 744,000 sq m of modern office space, with major markets outside Warsaw accounting for over 500,000 sq m. As a result, the total volume of space nationwide now exceeds 10 million sq m.
"In contrast to the residential land sector, the office sector was rather stable. However, there were development space hot spots in cities such as Kraków, Gdańsk and Warsaw, where plots in good locations, with a relatively risk-free legal status, were in such short supply. Due to the robust development of the office segment, and the decreasing supply of land, average land prices for office projects increased in 2018", explains Daniel Puchalski.
Average prices for office land in 2018
| Area | Price (PLN / sq m PUB**) |
| --- | --- |
| Warsaw, CBD* | 3,500 – 4,500 |
| Warsaw, CBD fringe* | 1,300 – 2,300 |
| Warsaw, other |   600 – 1,300 |
| Gdańsk | 1,000 – 1,400 |
| Wrocław | 1,000 – 1,400 |
| Kraków | 1,000 – 1,400 |
*CBD - Central Business District
**PUB – Office Usable Area
Source: JLL
The high level of tenant activity and the falling vacancy rate in 2019 will support the optimism of investors interested in purchasing office plots and older buildings that require revitalization.
"There is significant interest from international co-working networks and serviced office operators in the Polish market, which is further fuelling the development of new office projects. Strong demand for office plots in the next few months will be seen in all major regional cities, with the Tri-City, Kraków and Warsaw leading the way. We believe that these markets in particular may see further increases in land prices in 2019", explains Joanna Kieszczyńska, Senior Consultant, Land Advisory Services, JLL.
Land for retail development - smaller towns and smaller concepts of value
2018 ended with 435,000 sq m of new retail space being added across all retail formats, with shopping centres accounting for 266,000 sq m. Total retail space in Poland now stands at over 14 million sq m of GLA. The majority of purchases were made in shopping centres and retail parks. It is worth noting that the Polish market is still unevenly saturated in terms of such modern retail space formats. On the one hand, there are metropolitan areas such as Wrocław and Poznań which are completely saturated with retail space. On the other, there are cities such as Szczecin that offer good potential for growth in this sector.
"These characteristics of the Polish retail market, have encouraged investors to look for development sites and retail space in multifunctional projects for small concepts of up to 10,000 sq m of leasable area that complement an existing retail offering. One should note that they did not exclude from their analyses cities with fewer than 50,000 residents", says Joanna Kieszczyńska.
Another trend prevailing in 2018 was the consolidation of the retail market with a number of mergers and acquisitions. These included Emperia, the owner of the Stokrotka chain, acquired by Lithuanian company Maxima Grupe, and Eurocash Group which bought the Mila network.
"Taking over the facilities of competitors and re-branding them is an alternative way of gaining space for further expansion. A good example of this is the OBI DIY concept that launched stores in several buildings which used to house Praktiker stores. Furthermore, Jeronimo Martins and Carrefour both took over some of the stores previously operating under the name Piotr i Paweł, as part of that network's restructuring plan. The next few years will bring further consolidation in the retail segment, as well as more purchases of retail locations and plots from competitors", adds Daniel Puchalski.
Average prices of retail land in 2018
| Area | Price (PLN / sq m PUU*) |
| --- | --- |
| Warsaw, land designated for large-scale shopping malls | 2,000 – 5,000 PLN |
| Warsaw, land designated for retail parks and stand-alone stores | 1,500 – 2,000 PLN |
| Cities with more than 400,000 residents |  400 – 1,200 PLN |
*PUU – Retail Usable Area
Source: JLL
JLL's analyses show that in 2019 we can expect further interest in expansion in the retail segment.
"In the case of investment sites, demand will be focused on plots for developing small retail parks ranging between 3,000 and 10,000 sq m of leasable area. This applies in particular to locations where there is a supply gap in terms of retail space. In addition, older retail facilities and those that are surplus to requirements for an investor's portfolio have a chance to find new buyers in 2019. These buyers will modernise or demolish existing buildings in order to develop new projects", summarizes Daniel Puchalski.
Land for hotel development - high potential
2018 unleashed the hidden potential of Poland's hotel sector. The increase in business and leisure tourism has attracted the attention of foreign hotel networks. A wave of new chain hotels has hit not only the largest agglomerations (such as Warsaw, the Tri-City, Poznań and Kraków) but also smaller cities (e.g. Swarzędz, Oświęcim and Kalisz), resorts (such as Świnoujście, Kołobrzeg) and sites near airports (Pyrzowice and Okęcie).
"According to our data, in 2018 more than 30 companies were actively seeking locations in Poland for the construction of hotels. That demand has heightened the expectations of sellers with regard to the prices of properties. As well as greenfield sites, investors were also interested in tenement houses and other buildings suitable for redevelopment into hotels in Poland's major cities. Investor activity is also propelled by the dynamics of the development of the office sector, which generates business traffic in hotels and eliminates the problem of so-called seasonality. In addition, more projects combining office buildings with hotels in a single project, such as the Warsaw Hub, have appeared on the market", explains Daniel Puchalski.
The last two years have been characterized by the popularity of condo projects. There are almost no typical hotels (i.e. with a single entity as the owner) being developed in resorts. These types of investments are made either in the form of classic hotels, with full hotel amenities and functionality, or as apartment buildings.
"The boom in condo developments is a response to the high levels of interest from individual investors in this type of investment. Due to the low interest rates offered for bank deposits as well as market uncertainty, more and more people are looking for alternative ways to invest their capital. At the same time, the rapid development of tourism has led to a situation, where in attractive leisure or business locations, a higher yield is obtained from short- rather than long-term rental", adds Daniel Puchalski.
There is still room for the hotel market in Poland to grow. Experts from JLL predict that in the next three years, the number of beds in the country will increase by 30%. However, the further expansion of the industry will be hindered by higher land prices and more expensive building materials, as well as a deepening shortage in the construction workforce and skilled hotel personnel. Despite these challenges, the experts at JLL predict that 2019 will see a continuing trend of purchasing land and tenement houses in Poland's largest business and tourist centres, with a focus on visibility and location.
Prospects for 2019
"In 2019 we will see continued interest in revitalization and multi-functional projects, which contribute to the establishment of cooperation between investors across various market segments. A further, slight increase in land prices across all segments of the market, especially in Warsaw and Tri-City, is expected. Investor optimism may cool down due to conditions in the construction industry and the tightening of the banks' criteria for granting loans, both in relation to individuals and commercial investors", concludes Daniel Puchalski.
[1] Warsaw, Kraków, Tri-City, Wrocław, Poznań, Łódź