Stuart Jordan expands his current role as head of capital markets, Czech Republic
EMEA, 17 December, 2015 – JLL has announced that Stuart Jordan, head of capital markets Czech Republic, has been appointed to the role of head of capital markets for Central and Eastern Europe (CEE), effective from 1st January 2016.
Stuart will continue his current role as head of capital markets for the Czech Republic alongside his new regional responsibilities, coordinating capital markets and client relationship activities in the region. 
Richard Batten, JLL's EMEA Management Board member for CEE, said: "Stuart's extensive experience of real estate investment markets across Central & Eastern Europe makes him ideally positioned to bring international perspective and insights for our clients in his newly expanded CEE role."
"We expect investment volumes in CEE to exceed €8 billion in 2015, the highest level since the economic downturn, behind only 2007 and 2006 respectively. Whilst volumes in the Czech Republic and Poland will continue to lead the way, we expect to see significant growth in investment volumes, number of transactions and general depth of investor interest in other CEE countries including Hungary, Romania and Slovakia in 2016," added Richard Bloxam, head of capital markets EMEA, JLL. "Stuart will work across the region ensuring that JLL's clients get the benefit of our local experts as well as regional and global specialists in specific sectors as well as corporate finance and debt advisory."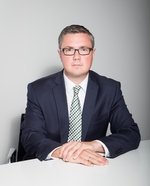 Stuart joined JLL's capital markets team in 2011, and has 10 years' experience specialising in Central and Eastern European real estate. Stuart became a member of the RICS in 2006 and earned a Fellowship in 2013, becoming, at that time, one of the youngest fellows in the world. Stuart graduated with a Bachelor of Science degree with honours in Real Estate Management from Nottingham Trent University.