Gdynia, 17 March 2016 – Loconi Intermodal SA, an intermodal operator, has joined the group of tenants in the Tensor office complex currently under development in Gdynia. The company has leased 430 sq m on the first floor of building X and will relocate into its new office in June 2016. Experts from JLL represented EURO STYL, the project's developer, during the lease transaction.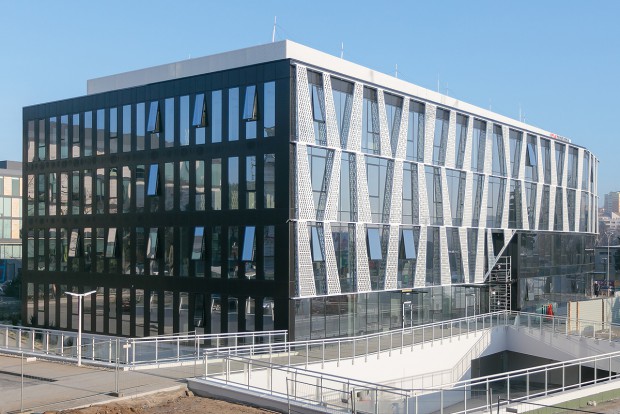 Dariusz Bracik, Managing Director at Loconi Intermodal, says: "The dynamic development of Loconi has resulted in the need to consolidate and provide space appropriate for the company's further development. Tensor suited us extremely well as it is a project compliant with the ideas of modernity and technological development that are dear to us."
"Another lease agreement signed in the Tensor X office complex indicates that the investment meets the expectations of tenants in terms of location, design concept and the highest technical standards. Construction works are slightly ahead schedule. In January 2016, building X received an occupancy permit while the first companies have been relocating to the project since February", comments Mikołaj Konopka, Vice-President at EURO STYL.
Magdalena Reńska, Associate Director at JLL, adds: "The Tri-City office market is very active in terms of both operations by developers and the needs of tenants. Currently, there is approx. 138,000 sq m of office space under development. Tri-City continues to attract a great deal of interest from tenants. Last year, office take-up reached 107,500 sq m, which is the highest result in the market's history and, at the same time, is an adequate answer to the high supply recorded. I am convinced and can assure you that Tri-City is location that is of growing importance on the office map of Poland."
Tensor is being developed in Gdynia at 8 Łużycka Street in close proximity to a Fast City Train station (Redłowo) and the planned station of the Pomeranian Metropolitan Railway (Stadion). The complex will comprise three modern class A office buildings named X, Y and Z. Overall, the complex's leasable space will be 19,750 sq m (X – 4,960 sq m, Y – 8,190 sq m, Z – 6,600 sq m). Furthermore, Tensor will offer 450 parking places and an extensive range of amenities for cyclists (the office buildings are located adjacent to a bicycle route). Another important advantage of Tensor office park is its functionality supported by an energy-efficient façade, BMS installation, UPS emergency power charge as well as power generators, modern HVAC installations along with free-cooling solutions and a number of other pro-ecological solutions (BREEAM Very Good certification is expected). In addition, high quality communal spaces offering free Wi-Fi access and screens showing real time public transportation timetables have been designed. User-friendly places with urban furniture and relaxation zones including a Boules court can be found outside. Further advantages of Tensor are the opportunity of flexible space arrangement and high space efficiency.
International advisory firm JLL acts as the sole leasing agent for Tensor complex.