Developers of commercial buildings more often pay attention to the surroundings of their investments. It is concerned not only with esthetic values but more to do with understanding the history of a particular place and the overall urban context. Activities aimed at creating a new location that will be open to the wider local community also influence the image, and as a result, the success and value of the project.
Krzysztof Witkowski, President of Virako Sp. z o.o. talks about searching and learning about the history of Monopolis, understanding the needs of Łódź's residents, the city-forming role of the project and offices of the future.
Anna Wasilewska-Dąbek, JLL: Monopolis is the third largest revitalization project ever conducted on a commercial object in Łódź after Manufaktura (retail sheme - editorial note) and Scheibler's Spinning Mill (residential object – editorial note). The scale of the project is truly impressive!
Krzysztof Witkowski: This investment is, without a doubt, big. This is the biggest revitalization project since Manufaktura. In Monopolis, we will develop a top-tier class office space. Furthermore, we will use part of the complex for a wide range of city-forming functions. On the one hand, the functions are aimed at improving the quality of work but they will also enhance the lives of Łódź's residents. We approach historic objects with the utmost care and respect when planning the development of new buildings as well as their functionality that requires the implementation of modern technologies. Arriving at the right planning and coordination is the result of hundreds of discussions about the concept as well as countless meetings with each member of the Virako team. We are glad that our hard work was recognized with the obtaining of a construction permit. We forecast that the Monopolis complex will be 100% completed in three years' time.
Therefore, completion will take place in 2020. Monopol Wódczany was built in Łódź in 1902. In the 1970s, it was the most modern distillery in the Polish spirit industry. However, it fell on hard times and was closed. Now, you are restoring it to its former glory by opening up the complex to employees, residents and tourists alike.
Krzysztof Witkowski: It is true that 100 years ago this project was closely guarded and closed to the residents of Łódź. This was a somewhat strategic object protected by high walls and barbed wire. So the first thing we did after purchasing it was to open up the complex to Łódź and the city's people. As a consequence, for the first time in 100 years, residents had the opportunity to use the space in different ways - organizing culinary and artistic events such as concerts, exhibitions and cinematic projections. Hence, we partially unwrapped the mystery surrounding this place. I say partially because in the beginning we did not know much about the place ourselves. So in order to change this, we commenced numerous initiatives aimed at restoring the history of the object.
What initiatives?
Krzysztof Witkowski: For example, we commissioned three scientific researches. One of them, conducted by Professor Bartosz M. Walczak, from the Łódź University of Technology, was aimed at determining the architectural and technological context of the whole complex and recreating its history. It is worth underlining that the object was developed in the times when Łódź was under Russian rule. The decision to build Monopol Wódczany was made by the Russian Tsar. We searched for documents related to its development - the majority of which were in Saint Petersburg. Needless to say, it was a great challenge for us. We were able to recover information about the process and the technology for the production of vodka, the buildings' architecture and the Monopol Wódczany's business profile, which we discovered, was transformed during the inter-war period into a tobacco factory. During WW II, it served as a food storage warehouse for the Wehrmacht. Afterwards, it returned to its original function of producing vodka but with the addition of a laboratory for flavored alcohol beverages. However, our research still lacked information about one vital aspect, Monopol Wódczany's workers. That is why we conducted more research – this time with the Institute of Ethnology and Cultural Anthropology and the Institute of Archeology at the University of Łódź. The project's coordinators were Professor Grażyna Ewa Karpińska, Doctor Aleksandra Krupa-Ławrynowicz and Doctor Olgierd Ławrynowicz. They have conducted some wonderful work on our behalf and a book based on their research is currently under development. The researchers were able to contact some of Polmos' former employees and as a result were able to attain a wide range of memorabilia including photographs, aprons, bottles and stemware. However, the most important part of this research were the interviews that were conducted with the former employees. In order to give you an idea of the scale there are 25 hours of recordings and 577 pages of transcripts. Because of this, it was possible to reconstruct the daily life of the factory as well as events that unfolded there. The third piece of research was aimed at identifying all conservation measures and recording all elements of historic value, as well as secondary elements that were added to the complex some time later.
You conducted a great deal of work in order to breathe new life into this location. A typical developer does not act this way. Rafał Grzelewski, the main designer of Monopolis, said that your engagement encouraged Grupa5 Architekci architectural studio to cooperate with the Łódź-based studio of Jerzy Lutomski so as to develop such a magical place in Łódź.
Krzysztof Witkowski: Virako is not just me – it's the whole team. Monopolis is a project that we are conducting together. I am happy that we were able to achieve a company culture that rather than solely being reliant on things like Excel worksheets is also trying to fulfill Virako's business goals by supporting the environment that we function in.
You are publishing wonderful calendars whose proceeds are being donated to charity. Every year they are co-created by artists that are well-known domestically and internationally. The calendars are of course most popular in December. What are your plans for the upcoming 2018 edition?
Krzysztof Witkowski: We always try to keep the information about who will be involved in the next edition a secret till the very last moment. The work on the current one is already under way and we will disclose information about it in November. In fact, we have always tried to make it a calendar that stands out from the pack. We pay close attention to quality and have cooperated with wonderful artists such as my very close, friend Janusz Kaniewski who sadly passed away in 2015. Other artists that have been involved include Chris Niedenthal, Ryszard Horowitz, Andrzej Pągowski and Arkadiusz Branicki. Each edition of the calendar has been unique and 2018 will be no exception. The photos for the calendar have been taken especially for us. We are delighted by the fact that this has not only been an excellent project but has also created the opportunity to establish fruitful relationships. Nonetheless, it is worth remembering that the primary aim of the project is to support initiatives such as environmental day care centers in Łódź. They provide care for both children and youths that come from dysfunctional families. These institutions together with psychologists, socio-therapists, and trainers help these young people to overcome their personal problems.
As a company, we always want to actively participate in programs that support the talented young residents of Łódź, who distinguish themselves by their unusual skills but cannot afford to further develop their talent for various reasons. In order to support these talented people, we launched a foundation to help them fulfill their potential.
There are companies that do not do much in this respect.
Krzysztof Witkowski: Sometimes this is the case. Nonetheless, I know some firms that do a lot in this matter. We are involved in many different projects because we have a great deal of hope in young people. We are proud of our co-operation with Zuzanna Pietrzak who was the youngest finalist of the Chopin Competition. Virako's Foundation, Happy Backyards, has financed an annual scholarship for Zuzia allowing her to develop her musical passion.
This year, we launched the Monopolis Summertime Scene project. Together with the Polish Theatre in Warsaw and Emilian Kamiński's Kamienica Theatre, we are hosting a series of open, outdoor shows that are held in Źródliska Park in Łódź. The residents of Łódź have already had the opportunity to see "The School of Wives" by Mollier and "The Emigrants" by Mrożek. More shows are being planned.
It seems that you have a certain Midas touch. Virako's first investment – Faktoria – was recognized as the Interior of the Year 2004 in the category of projects that create the identity of Łódź. The second investment – Forum 76 – was recognized as the Office Building of the Year in both 2012 and 2014 at the prestigious Eurobuild Awards competition. How do you do it?
Krzysztof Witkowski: Faktoria was recognized because it helped to create the identity of the city. Forum 76 due to its quality, not only from an architectural aspect - but also thanks to the quality of workplace management and the working environment that the building engenders. We manage both properties ourselves and understand the importance of this role as we gain a great deal of knowledge and experience from doing this. Some solutions that look great in the design and construction phase can prove to be rather disappointing in reality. By managing these buildings, we are able to recognize any potential shortcomings and eliminate them in both existing and future projects. This was the case with Faktoria. We developed the project and managed it for several years. Forum 76 was built in compliance with the experience that we had gained in the past. This resulted in the abovementioned awards. It is worth adding that we won the awards thanks to the votes cast by our tenants in competitions that were run nationwide. We are very proud of this as it underpins the fact that we continue to provide top quality services. However, we don't rest on our laurels and constantly monitor market and social trends. As generations change, habits change as well. For example, solutions that were sufficient at the time when Forum 76 was being developed are different from the workplace expectations of today. They are evolving and Monopolis is an answer to these needs.
How will Monopolis manage to address the needs of the new generation of employees?
Krzysztof Witkowski: On the one hand, Monopolis is a place that is open to the residents. On the other, we are creating modern working places that comply with the needs of different generations of office employees. Nowadays, an office desk equipped with a computer and access to the Internet is not enough. Many firms now organize places where they provide their employees with chill-out zones and areas dedicated to pure entertainment (for example – game rooms). However, this is still not enough. So we have designed a green area that surrounds the office. Employees will be able to either work in the pocket-size park or simply get a breath of fresh air. Furthermore, we have numerous restaurants that will become places for meetings with either clients or friends for lunch or after office hours. We hope that Monopolis will meet these constantly changing expectations. In addition, we are sure that it will be widely accepted by both our tenants and their employees.
There is a saying: "You build your first house for your enemy, the second for your friend and the third one for yourself". I already envy those who will have the opportunity to work at Monopolis!
Krzysztof Witkowski: Thank you. But I must say that Faktoria was never meant to be for the enemy (laughs)!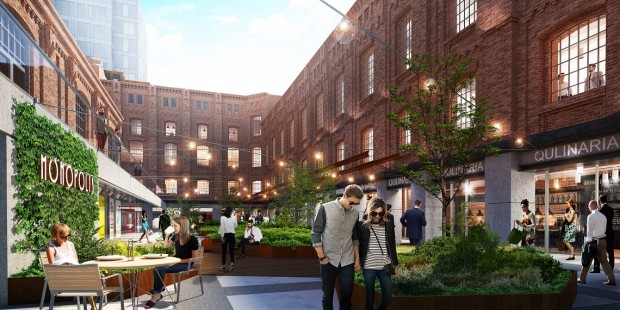 Photo: Monopolis visualization