Coca-Cola HBC Polska business growth in its Warsaw location at Annopol over the last decade reached a point where a change of location and approach to the workplace was inevitable. JLL experts, in a Workplace Strategy Report, also identified the need for transformation. While this is always a difficult and demanding process, the way you work and act improves the results you achieve. Liza Shybanova, HR Manager at Coca-Cola HBC Poland & Baltics, discusses how a new, flexible and smart office brought a new working culture to life.
Anna Wasilewska-Dąbek: After being in Poland for just a few days, you stepped in to oversee a huge relocation project. Why?
Liza Shybanova: Indeed, for me, this story started on my first day of work in Poland. I had just moved to Warsaw and at the very first meeting my colleagues said, "By the way Liza, we have a very nice project, an office relocation." So, going with the flow, I relocated both, my house and our office. Of course, such a big project couldn't have been done alone. Luckily, I met so many amazing people, it took us a year and we did it!
Change management starting with a capital 'C'?
(laughs) As I had just moved with my husband and two children, I know how important it is to understand the different needs of different groups to make the right choices. So, even though I was new in Poland, I tried to do my best by putting myself in the shoes of the people who had worked in the company longer than me.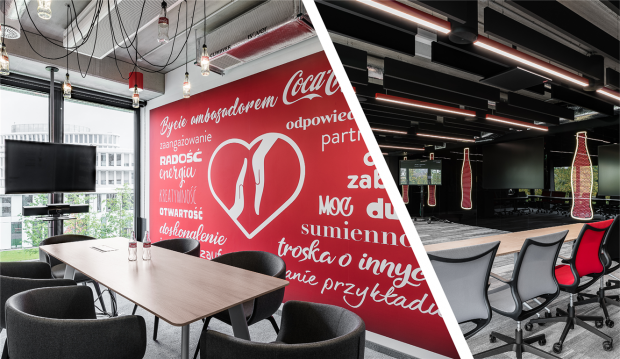 Coca-Cola is a big brand with big opportunities.
I have traveled a lot around various countries and Poland is not my first assignment. My first impression about our previous office was that it didn't support the overall idea, as you said, of a big brand and big opportunities – a lack of quiet places to work, lack of natural light, the layout and equipment – these were just some of the aspects that needed refreshment. Working in such a big organisation provides an opportunity to cooperate with the best experts in the market and with people who are engaged to think out of the box. One of the good and stable elements at that time was having JLL as a partner. For me, the most interesting and valuable aspects were the first resources created by JLL Workplace advisors on what the current office is and what the real need is for transformation. It gave me a thorough review of the 'ins and outs' of the process. But without internal engagement and the belief that it is possible, we would not have been able to proceed so smoothly. We engaged over 70 amazing employees, ambassadors of the transformation, who put a lot of effort, creativity and personal contribution into making our new office really outstanding.
How did you start?
Liza: Our previous management put a lot of trust in the talents at our organization and nominated a few people to lead this project. The project team was very diverse, which was great, and consisted of three Piotr's and a woman, Iwona (laughs). Piotr from finance, Piotr from sales, Piotr from P&C and an Office Manager, Iwona. The combination was very nice, but our feelings on the subject were absolutely different. The finance person said that from the financial point of view we could go ahead, the salesperson said that he didn't have a clue why he was involved in the project, while the Office Manager wanted to just make a decision since the project had been on hold for many months. I was not sure what to do with my holistic plan as well as other important tasks on my list. I started to challenge myself and recommended that the project team read a book entitled Our Iceberg Is Melting by John Kotter.
This book about managing successful change is presented as a fairy tale of an Emperor Penguin colony in Antarctica. I have read it as well.
Indeed! When we started to discuss this book, the ice between us melted and we began to think about how to split the project into stages. The first, basic stage, was to make a decision about whether to move or not. I remember it was a 'wow' moment for us after all of these endless discussions. We finally decided on the relocation. We started to get really excited!
You consolidated three offices into one?
Yes, we used to run the business from three separate offices, the biggest one in Annopol, including a warehouse and production site, another one nearby and a separate sales office. We already had some preselected ideas at this point. As we were all working very hard under fairly stressful conditions, we started to think about what we could change in the working environment to help our people. So, when visiting potential office locations, we had our internal checklist to help us with important elements like well-being, boosting creativity or keeping a healthy lifestyle. We finally decided on the 5 500 m2 at the Business Garden with exclusive access to two spacious terraces and great potential to develop a space that would support our business and personal growth.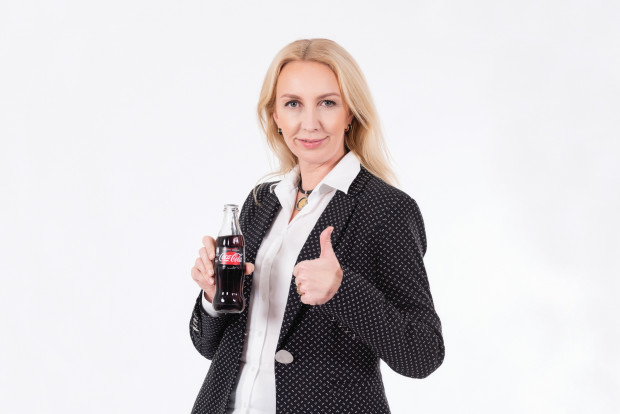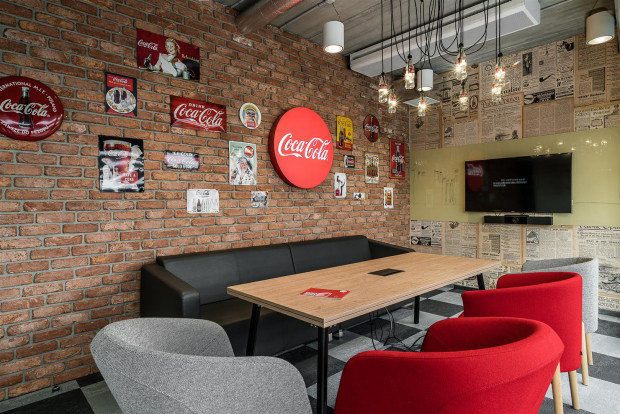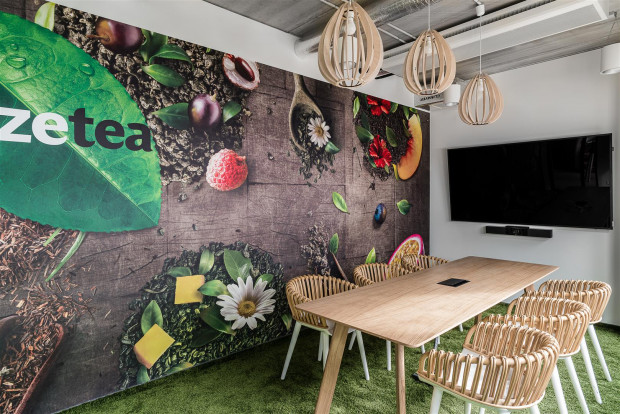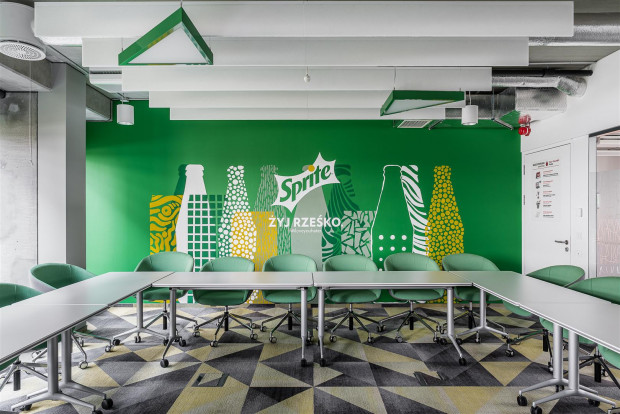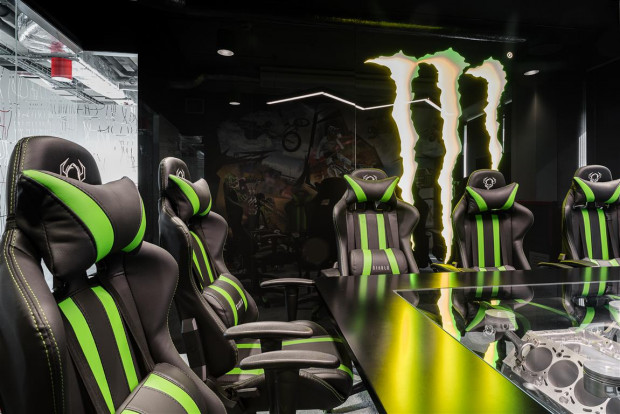 One approach is to pack everything and move. A second is to try to tackle as many issues as possible. You went for a win-win project.
About the same time as the move, we started introducing a new culture into our organization. It was clear that our growth story 2025, our vision about how we see the future, how we try to be agile, attempt to capture all opportunities, both internal and external, required an overhaul of our company culture. Other considerations also include how we work, use our time, and how we respect each other. That's why on top of consolidation and relocation, we started to plan what other benefits we could get out of this change.
Let's step into the employees' shoes. What did the process look like from their perspective?
It wasn't easy at the very beginning and even negative from time to time. And that seems very natural, as for the last 20 years our employees set up their lives near the head office. Some of them made important life decisions based on the location and then… Well, that sometimes happens, but by taking into consideration how difficult it might be for some of them, we made a conscious decision to lead open and transparent dialogue. We announced our plans during a meeting with all the employees and, for a long time, this has been one of the most popular topics of conversation in the corridors. People discussed, for instance, whether to commute by car or use public transport, how long it would take to get to the new office, and how it might affect their existing personal arrangements.
What did you do exactly?
We took a lesson from the Penguin story. We made a stakeholder management map to understand what the scale of this resistance was. We came to an agreement that the project will be built from the bottom up and created an extensive communication plan. We invited all employees during a town hall to join the project team.
Typically, a nomination of 20 ambassadors is enough for a project of this scale, your group had 72.
We had been challenged by the management team as well as JLL Workplace's advisors to reduce the group, as you mentioned, to 20. But the intention and passion of people to join the project was so great that we focused on creating ways to include everyone and exclude no one. We informed JLL advisors that it was crucial for us to work with all 72 people and, as a consequence, JLL recommended splitting these ambassadors into three streams. I can talk for hours and hours about their impact: brainstorming sessions, creative ideas, great decisions, fun and what a huge role they played in terms of communication. We not only started to dream big together, we started a new culture.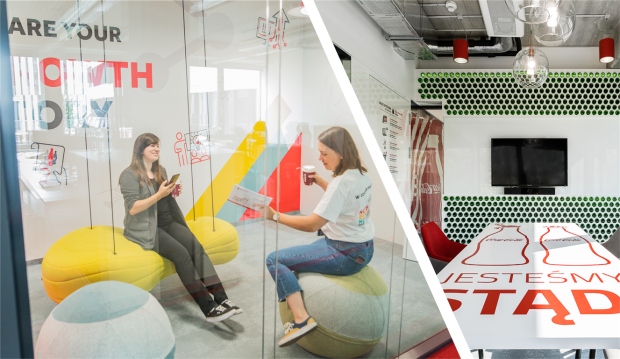 So, a new office brought a new culture to life. What are the major changes?
Definitely. Additionally, we launched flexible working arrangements that respect people's individual schedules. For some, it is better to come to the office early and leave early to avoid rush hour traffic jams. Others prefer to start the day with fitness classes or have breakfast with friends. Working from home on some days is also an option. Meetings can only be organized between 10 a.m. and 3 p.m. from Monday to Thursday, allowing more time for reflection and effective implementation. We are still challenging ourselves to find more improvements in the area of wellbeing. Last but not least, we still have some decisions pending related to the communication campaign. Even though we have settled into our new office, we still meet regularly with my former project team in order to understand what else can be done to make our employees feel at home.
What was the biggest challenge during the relocation?
Surprisingly, the lack of a final decision from the management to go or not to go. It generated some frustration. Additionally, employees' feelings of security were impacted as their future seemed unclear for some time.
Any other surprises?
We realized that we had around 100 personnel offices. We are, of course, aware that there are different companies working in different setups and formats. This setup was a recommendation from our leadership team. It took us some time to come to the conclusion that everyone has to move to an open space, including the senior management team. We lead by example.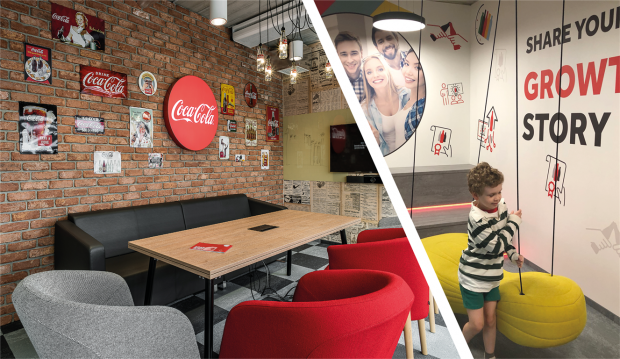 Over 92% of employees said they are satisfied with the change. This is great feedback.
There are, of course, tools that can measure the project's overall success. For me, this result is very close to my heart. Although the project was very demanding, I don't regret a single day or sleepless night. The most important thing is that today we are very proud of the change. It was amazing how many people posted on social media about the relocation and how many tours we organize for our clients, partners, family and friends to show the new space. We now host many meetings and events at Business Garden. We have a very comfortable working environment and are happy here.
Liza, thank you very much and all the best for the future.