Anna Kaźmierska, Senior Consultant at JLL's Office Agency discusses the advantages of leasing a co-working office.
Co-working is an idea based on "cooperative working" and "office sharing". A conventional office is leased according to specific space measurements and is required for a fixed period of at least about a dozen months. Freelancers, start-ups and micro-entrepreneurs do not need such solutions and in many cases cannot afford the costs involved. Therefore, many of them decide to work at home. This solution has many advantages: one does not have to waste time commuting to work and, in the meantime, one can perform numerous household chores. Nevertheless, in the long- term, working at home might not be such a great idea – separating private and professional responsibilities can prove to be difficult and one may quickly miss the company of other colleagues. Co-working offices, which are being increasingly developed, are locations where workers can come in, lease an office desk for several hours, work independently but in a more creative atmosphere and are able to use the office equipment supplied by the office's owner (photocopier, binding machine etc) as well as the coffee machine!
Anna Wasilewska-Dąbek: What are the advantages of a co-working office?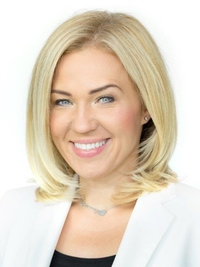 Anna Kaźmierska: Co-working offices have a number of advantages, ranging from incomparably lower rent due to the fact that sharing space is much cheaper than leasing it independently, to not being obliged to pay for the office's fit-out and design. Apart from the economic side, one should also focus on the professional aspects – one does not need to focus on taking care of the space and can fully concentrate on the job. Another major advantage is the opportunity to establish cooperation with other office users. This, in many cases, results in new business ideas. Furthermore, the social advantages provided by the division between house and work spheres cannot be underestimated. Working in a more office-like environment with an encouraging atmosphere as well as  establishing relations and networking opportunities with other 'co-working' colleagues can prove beneficial. All in all, co-working is an excellent solution for small, usually single-person companies, who cannot afford a long-term lease.
It sounds great! It seems that the tenant does not risk much. What about the landlord?
Anna Kaźmierska: In the case of co-working it is common practice that the parties sign an agreement based on a regulation that describes specific rules regarding the use of available office space and equipment by the entrepreneur-tenant. Such regulations secure the interests of both parties.
Apart from co-working, what are the other solutions available to a small company looking to move to a convenient location?
Anna Kaźmierska: A smaller company can consider several options. The first solution is to lease an elegant flat in an apartment building. The flat can then be adapted into an office. However, this solution is rather expensive. The second option is to lease a serviced office. It is an arranged office room (not only a single office desk as in co-working, which means that a serviced office is more expensive). The advantage of this solution is the fact that it provides more privacy and is more silent than a co-working model. Another option is to lease a small module in an office building. It is the least common solution due to the fact that not all owners are willing to issue such space. This model is the most expensive because one not only pays for the leased space but also for the common space within the building. Furthermore, the lease agreement can be for a minimum period of about a dozen months.
In the case of co-working, office desks can be leased in either office buildings, villas with gardens or tenement houses. One is given access to amenities similar to those in serviced offices. For example, the opportunity to register the company under this particular address, access to the Internet, reception services, mail receiving services, secretarial assistance, printing, the booking of conference halls by the hour, use of office equipment such as a photocopier, scanners and binding machines as well as access to a fully-equipped kitchen.
What should one focus on while leasing a co-working office?
Anna Kaźmierska: In many cases one only needs to come in and work. However, as there can be a lack of office desks, one must also remember that there is no guarantee of available free space. The cost models are different – one can come in from the street and pay 5 PLN per hour or buy a subscription (eg. 25 hours of work for 99bPLN) and get access to an office desk as well as the Internet, coffee, tea and the ability to print. The idea of co-working is based on reducing formalities and simplifying the whole process by applying the pay-use-leave-like-come back principle. Therefore, sometimes the parties sign a simple agreement regarding available services, however it is often enough to just accept the abovementioned regulation. Overheads such as electricity and water are already included. The agreement can be signed for several hours , a month or even a year – it depends on the customer's needs. Owners of co-working companies are characterized by a very flexible approach towards their customers.
I hope that with this interview we have inspired some budding entrepreneurs  to start working in a co-working office. Many thanks for the interview.
Anna Kaźmierska: Thank you
---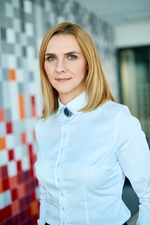 Anna Wasilewska-Dąbek
Communication Manager Poland&CEE, JLL
The interview was conducted by Anna Wasilewska-Dąbek, Editor of Bazabiur.pl. Anna is an expert in B2B communication, CRM and digital marketing. She gained her experience working for corporations such as DHL and King Sturge both in Poland and abroad for over 15 years. Anna works at JLL for 4 years.