Total office take-up in Poland reached over one million sq m in 2014, with 445,000 sq m of office space leased outside Warsaw. Poland's office market expanded by 600,000 sq m in 2014, and is expected to grow by over 700,000 sq m this year.
Warsaw, 27 January 2015 – International advisory company JLL presents its 2014 summary and key trends for Poland's office market.
In 2014 the total office take-up [1] in Poland amounted to one million sq m. 600,000 sq m of new office supply was brought to the market in 2014.
Record demand in Kraków, Wrocław and Łódź, very good results in Warsaw
Tomasz Czuba, Head of Office Agency, JLL, said: "Warsaw still attracts a significant number of tenants and 2014 was a very good year for the city's office market in terms of demand. Total office take-up in Warsaw reached approximately 612,000 sq m in 2014, only slightly below 2013's record -breaking performance. It is worth underlining that the public sector had a 13% share in the total take-up volume in 2014. This clearly indicates that the public sector has become one of the key demand drivers in Warsaw. Going forward, we expect the overall market sentiment in terms of demand to remain positive".
In Q4, demand registered in Warsaw resulted in a total of 191,000 sq m. The largest deals in Q4 were signed by: Agency for Restructuring and Modernisation of Agriculture (renewal for 17,500 sq m in Poleczki Business Park), PKP Group companies (15,000 sq m pre-let in West Station) and Deloitte (10,600 sq m pre-let in Q22). The largest lease agreement in 2014 was signed by Raiffeisen – Polbank (19,500 sq m in Prime Corporate Center).
The largest share (28%) in take-up for 2014 in Warsaw was generated by Mokotów (Upper-South).
2014 proved to be a record-breaking year for regional markets [2] in terms of demand. Take-up levels exceeded 445,000 sq m (23% increase year-on-year). Kraków, Wrocław and Łódź delivered outstanding results of 144,000 sq m, 97,000 sq m and 44,000 sq m respectively. The biggest lease agreements in 2014 were signed by Infosys in Łódź (21,000 sq m renewal and expansion in Green Horizon – which was also 2014's largest deal in Poland's office market including Warsaw), HP GBC in Wrocław (a 16,400 sq m pre-let in Dominikański and renewal of 10,700 sq m in Renoma) and Nokia Networks in Wrocław (a 14,000 sq m pre-let in West Gate).
Stock and supply – 600,000 sq m of new offices in 2014, 700,000 sq m expected in 2015
"Total modern office supply grew by 277,000 sq m in Warsaw last year, hitting close to the 4.4 million sq m mark. Construction activity remains high with 760,000 sq m under development, including 56,000 sq m under refurbishment. We expect approx. 320,000 sq m to be delivered in 2015 and at least as much in 2016", Tomasz Czuba added.
New completions in Q4 in Warsaw totalled only 22,500 sq m - in Konsalnet HQ (9,200 sq m), Nord Point (5,500 sq m), Alto Wilanów (4,600 sq m) and the refurbished Mokotowska 33/35 (3,000 sq m). A number of office projects have been rescheduled for the beginning of 2015. The largest office building brought to market in 2014 was Gdański Business Center.
Office completions (sq m), future supply (sq m) and vacancy rate (%) in Warsaw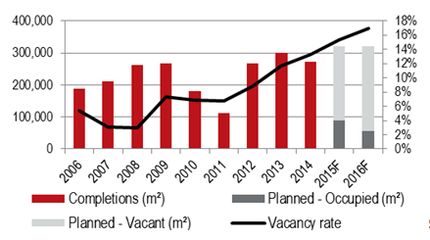 Source: JLL, WRF, Q4 2014, F - forecast
2014 was a very active year on the major office markets outside Warsaw.
Mateusz Polkowski, Associate Director, Research and Consultancy, JLL, commented: "2014 was a very successful year for the regional markets. Over 323,000 sq m was brought to major agglomerations outside Warsaw in 2014 which was more than in the capital city over the same period. Kraków, Tri-City and Katowice accounted for 70% of the new supply. Importantly, a record-breaking year for regional markets in terms of demand was registered, with 2014 take-up levels exceeding 445,000 sq m, which translated into a brief reduction in vacancies. The business services sector continued to play a strategic role in office market development in Poland's regional cities. We expect 2015 to also be active. Development activity remains exceptionally strong - currently more than 630,000 sq m of office space is under active construction outside Warsaw, with over 400,000 sq m scheduled to be completed this year. New supply expected in regional markets for 2015 is again set to exceed that of the capital city".
In 2014, 92,400 sq m was completed in Kraków, 69,200 sq m in the Tri-City and 60,100 sq m in Katowice. The largest projects delivered in 2014 were: Kapelanka A&B (28,700 sq m) in Kraków, Green Day (15,500 sq m) in Wrocław and Neptun Office Centre (15,300 sq m) in Tri-City.
As for the office space under construction it is Wrocław and Kraków which are the frontrunners in this respect (both around 160,000 sq m).
Vacancy rate
Due to the very limited number of new completions in Q4, the vacancy rate in Warsaw decreased slightly to 13.3%, however, the ongoing upward trend in both 2015 and 2016 looks set to continue.
Vacancy rates varied across the country. Most of the major markets outside Warsaw recorded a reduction in vacancies over the course of the year. Only Katowice and Kraków noted a slight increase in unoccupied stock. Despite the changes, Kraków still registers the lowest vacancy rate (6.0%) and Szczecin the highest (15.8%).
Stock (sq m) and vacancy rate (%) in major office markets outside Warsaw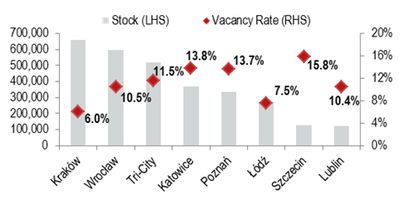 Source: JLL, Q4 2014
Rents
Prime headline office rents in Warsaw remained relatively stable during Q4. However, rents are still on the decline due to the large amount of new office supply to be delivered to the market. Currently, the prime headline rents in the Warsaw City Centre range between €22 - €24 / sq m / month, and non-central locations command rents of between €11 - €18.5 / sq m / month.
Prime headline rents in regional cities currently range between €11 to €12 / sq m / month in Lublin and €14 to €15 / sq m / month in Poznań.
---
[1] Including renewals
[2] Kraków, Wrocław, Tri-City, Katowice, Poznań, Łódź, Szczecin and Lublin