The Wroclaw Agglomeration Real Estate Forum took place on 23 April at the Radisson Blu Hotel and gathered participants representing various business sectors and companies interested in all aspects of the real estate market in and around Wroclaw.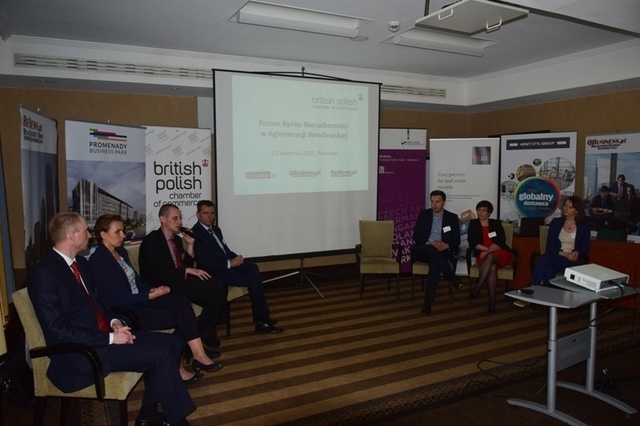 This half-day meeting was organised in partnership with the Wroclaw agglomeration development agency ARAW, JLL, Knight Frank, office furniture manufacturers Nowy Styl Group, Regus, Vantage Development and law firm SDZlegal Schindhelm.
Over 100 representatives of companies from across Lower Silesia took part in the conference, which was opened with introductory remarks from Ilona Chodorowska, director of the BPCC's Wroclaw branch.
Łukasz Czajkowski from ARAW brought participants up to date with the latest market trends and opportunities for developers. He highlighted Wroclaw's central location in the heart of Europe and its connections with the major cities and regions of Europe and its vastly improved transport links within Poland. A well-developed transport infrastructure allows for easy and convenient travel and transportation of goods. In his view, the economic attractiveness of Wroclaw can either include a well-connected greenfield site, or modern production facilities and warehouse or a modern office space meeting the standards of the most advanced business services.
The next speaker was Dorota Kościelniak, branch director and partner at Knight Frank, who described the key characteristics of Wroclaw's office market. She stated that Wroclaw is the second-largest regional office market in Poland, after Krakow. Last year was a record-breaker in terms of office take-up in Wroclaw. Ms Kościelniak mentioned that there are three main areas of concentration of modern office space in the capital of Lower Silesia: the city centre and its immediate surroundings, the Western Business District (the area between ul. Legnicka and ul. Strzegomska Street and the Southern Business Axis (the area along ul. Powstańców Śląskich and ul. Karkonoska.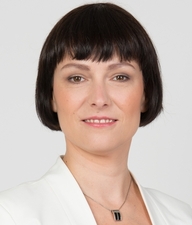 Katarzyna Krokosińska, from Jones Lang LaSalle, was next to take the floor. Ms Krokosińska considered the challenges facing participants of the real estate market and told guests about global corporate real estate trends. She explained that the BPO/SSC sector was responsible for over 81% of office take-up in Wroclaw last year. In the sector, between 9% and 12% of typical operating costs are expenses related to the office space rental, she said.
Łukasz Mazurczak, director Of office operations JLL Property Management gave a presentation about property operating costs,environmental certification and energy-saving technologies. He set out a typical tenant's operating costs in office buildings in reference to green certification. He stated that there are currently 92 office buildings under construction with leasable area of 1.2m m2 in Poland. Certified green office buildings area represented 40% of total office area under construction. Mr Mazurczak explained that some 995,000m2 office area in Poland is presently certified (39% LEED - Leadership in Energy & Environmental Design and 61% BREEAM- Building Research Establishment Environmental Assessment Methodology). He also gave a tip that if you want to compare the green features of one building to another you should compare one LEED-certified building to another or one BREEAM certified building to another.
Maciej Moralewicz form Vantage Development started his presentation by answering the following questions 'Why a Business Park and what about Wroclaw?' Business parks are popular in many locations, where development is cheaper because of the lower building costs for building wider, not necessarily higher. Mr Moralewicz presented examples of business parks in such cities as London, Prague, Munich, Warsaw and obviously Wroclaw.
After a break for coffee and time for swapping business cards, the second panel was opened by Ewelina Adamus, R&D consultant at Nowy Styl Group, who talked about office space optimisation. According to research, the impact of office design on business performance is around 24%; the influence of daylight and a decent window view has an impact on job satisfaction and job stress. Ms Adamus mentioned that Nowy Styl Group offers an excellent interior furnishing service based on in-depth analysis of customers' needs, efficiency, work organisation, ergonomics and acoustics, and invited guests to work with Nowy Styl when fitting out their next office.
Katarzyna Mosoń, general manager at Regus, spoke about flexible office solutions and presented Regus as an answer to changing trends in working habits. She presented the results of Regus Mobile Worker Survey (2011) which shows the importance of workspaces equipped with wi-fi, laptop and the working environment. Short-term access to dedicated workspaces located at petrol stations, airports, underground stations and shopping malls is becoming increasing important for mobile workers.
The last presentation was from Krzysztof Czekaj, tax advisor at Kancelaria Prawna Schampera, Dubis, Zając i Wspólnicy. During his presentation he spoke about tax problems related to the implementation of commercial and housing investments and gave practical advice as to how firms could address these problems.
After all the presentations and a lively, in-depth discussion moderated by Ilona Chodorowska, all the participants were invited to the restaurant for lunch.
Source: BPCC