A record demand generated by business services centres and the largest growth of new supply in the history of the office market in Kraków were registered in 2014. Forecasts for 2015 look promising.
International advisory company JLL has released the "Kraków Office Report". The report covers the office sector in Kraków, as well as the investment attractiveness of the city and the labor market. The material was collated with the support of Hays Poland.
Kraków, with a population of approx. 760,700 inhabitants, is the second largest city in the country and is the economic and administrative centre of the southern Poland, with a strong specialization in business services.
Rafał Oprocha, Head of JLL Office in Kraków, said: "Kraków is a leading location for companies from the modern business services sector. ABSL's data shows that approx. 33,500 people work here in business services centers with foreign capital, which is not only the highest result in Poland, but of the entire CEE region. Over the past few months, Kraków has secured many foreign investors from this sector, the largest number by any market in Poland, including GE Healthcare, Lundbeck, RWE, Getinge Group and Samsung. Companies from this industry are attracted by a combination of assets such as educated professionals with competencies sought by investors, the support of local authorities, public and private institutions, developed transport and office infrastructure as well as a high quality of life."
The strong position of Małopolska's capital is confirmed by global rankings, such as the Top 100 Outsourcing Destinations prepared by Tholons. Kraków – as the only European city - is in the world's top ten of the best locations for business services projects.
Agata Piątek, Regional Manager, Hays Talent Solutions, commented: "The modern business services sector attracts broad, diverse and highly specialized personnel resources to Kraków. Students and graduates make up almost one third of the population, with the city playing a large role in ensuring the needs of foreign investors. The GUS's data shows that in 2013 about 170,500 people studied in Kraków, with 17,600 in the fields of technology and engineering. Students are also characterized by above-average knowledge of foreign languages - more than 95% of them speak English, and almost 37% declared at least a basic knowledge of German.
The Kraków office market – growth driven by business services sector
Gross take-up in 2014 hit an all-time record of 145,000 sq m However, it should be noted that such an unprecedented result is partly a carry-over of unsatisfied take-up from 2013, related to the limited quality choice of large office modules.
"The Kraków market is invariably dominated by large international corporations. In 2014 the market saw more than 40 lease agreements of over 1,000 sq m accounting for some 76% of total take-up volume. Similar to previous years, the business services sector continues to be the driving force behind the development of the city's office market. In total it generated around 69% of all registered take-up in 2014", Rafał Oprocha said.
Around 70% of leasing activity in 2014 (approximately 99,000 sq m) was new leases. The biggest lease agreement in 2014 was signed by HSBC (10,500 sq m in Kapelanka 42).
Kraków office take-up 2010 – 2014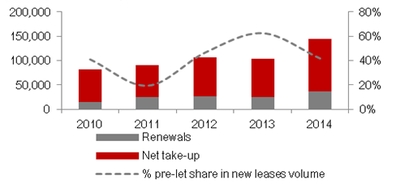 Source: JLL, Q4 2014
"High activity of companies on the market, including some that are considering renting office space excessing 10,000 sq m, suggests a positive leasing prognosis for Kraków in 2015. This will be further supported by the increasing availability of lease options," Rafał Oprocha added.
Developer's activity - on the path of dynamic growth
Karolina Ćwiek, Research Analyst, JLL, said: "Kraków with its total stock amounting to 659,000 sq m is the second largest office market in Poland - after Warsaw. The growing tenant' interest in Kraków resulted in unprecedented construction activity. In 2014 office stock grew by over 92,000 sq m, and a further 154,000 sq m is under construction. We realistically anticipate that new supply in 2015 will be 116,000 sq m. In 2016 the market will be underpinned by a further 90 000 sq m of office space. Interestingly, the office map of Kraków can also be transformed. The city has not developed a major business district in the centre. The surroundings of Rondo Mogilskie and Rondo Grzegórzeckie have a chance to morph into such a business district".
Major office completions in 2014
| | |
| --- | --- |
| Building | Office space (sq m) |
| Kapelanka | 29,000 |
| Enterprise Park II (building C) | 13,600 |
| Quattro Business Park D | 12,000 |
| Avia | 10,900 |
| Alma Tower | 10,400 |
Source: JLL, Q4 2014 r.
Vacancy rates and rents
Kraków saw the pace of absorption speeding up notably. Despite the record level of new supply, the vacancy rate at the end of Q4 2014 averaged 6% - the lowest nationwide. 39,800 sq m across 41 office buildings is not leased.
Kraków is successfully competing with other regional office markets in terms of rents, remaining at a similar level to locations in Wrocław and other non-central locations in Warsaw. Prime headline rents in the city have held firm over 2014 and now vary between €13.9 and €14.5 / sq m/ month. Incentives continue to be important and usually include rent free periods and/or fit-out contribution.
 "We expect the prime headline rents to remain stable as 2015 progresses, with slight downward pressures possible in buildings offering large vacant space. The pressure is, however, more likely to be reflected in more generous incentive levels rather than reductions in headline rents", Rafał Oprocha summarized.