Nowadays, kindergartens are an increasingly common feature in office buildings and serve as part of the range of basic services offered to business park "residents". Karina Trafna, the Founder and President at KIDS&Co. is constantly testing the facilities that she has created. She stays abreast of what parents and children need, even more so as she is the mother of a daughter as from January and two sons.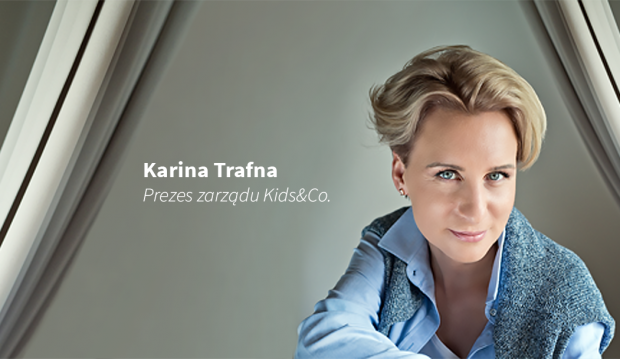 Anna Wasilewska-Dąbek: Having a kindergarten in the office complex is becoming increasingly popular. Why?
Karina Trafna: The current labor market works to the benefit of employees, so nowadays it is difficult to acquire and maintain good staff. So, a conveniently located kindergarten is a welcome benefit for parents. It is a great logistical amenity for those who value time spent with their loved ones. Fortunately, it is no longer necessary to convince the developer that a kindergarten is a good idea as was the case a few years ago. Office parks, which used to be a place where one came to spend eight hours at work, are now extending their operation time by expanding the range of facilities dedicated to their "residents".
Is it easy to select a place intended for a nursery and kindergarten?
Developers now come to us to ask what they can do at the building design stage so that a kindergarten or a nursery can be launched there in the future. This is an ideal situation for all parties. It is a little harder to choose a place for an educational institution when the building has been designed or has already been completed. There is a whole set of parameters which a premises intended for a kindergarten or nursery must meet. However, it is very rare that a kindergarten or a nursery cannot be opened in a building. Sometimes preparing the space might require a little more work and might be more expensive, but as a rule I think that it is possible to open a kindergarten or nursery in 90% of office buildings.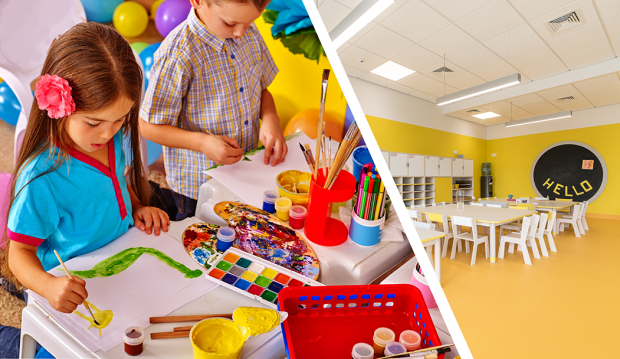 What do you need to open a kindergarten?
First of all, we definitely prefer the ground floor. Office buildings have a different fire code to kindergartens, which means that we have to have shorter evacuation routes. Of course, we have facilities located on the first floor, but these are labor-intensive and expensive projects as often an additional staircase has to be built. A big challenge in the case of office buildings is ensuring the proper lighting. We conduct a daylight analysis for each unit, which we use to check whether daylight standards for educational institutions are met. So we look for properly located elevations. However, it is difficult to adapt to the standards of dense office buildings.
But looking at your kindergarten base, you can see that it is indeed possible.
Assuming that we have at our disposal well-lit premises, located on the ground floor, from which it is possible to organize a proper evacuation route, we are able to adjust to the remaining parameters. Thanks to advanced ceiling-mounted equipment mounted on the ceiling, and state-of-the-art early warning and evacuation systems, it now very easy to arrange nursery and kindergarten facilities in accordance with the highest standards.
What spaces do Kids&Co kindergartens occupy?
Our model facilities occupy between 400 and 500 sq m. We also have smaller units of approx. 300 sq m, while the largest nursery school is nearly 600 sq m. In standalone buildings, our company kindergartens can be up to approx. 1,000 sq m. We design and build such facilities from scratch, so we can afford a much larger area than is the case with office space.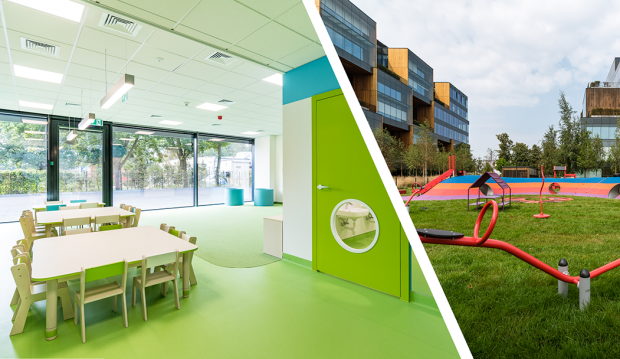 Outdoor playgrounds are extremely important for children. How do you manage to arrange them, especially in office complexes?
The regulations are heterogeneous in this matter, so theoretically you can run a kindergarten without a playground, but that would be unacceptable to us. During the design stage of the building we have a number of options regarding the arrangement of a playground. If we enter an existing building, it usually requires a little more creativity, but we can still manage to create an attractive playground. We have outdoor playgrounds that range from 100 sq m to as much as 500 sq m as is the case with a project located in Warsaw. Playgrounds are always located close to the office building. For very large establishments, such as our kindergarten in Łódź, we have a three-section area: a large, regular playground, which we rent from a nearby school and two smaller ones dedicated to the youngest children, located near the building itself.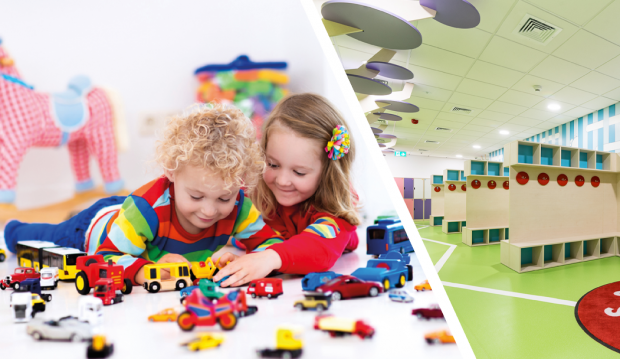 If parents work until 5 or 6 p.m. and the child is in a state kindergarten, they must get a nanny or grandparent to pick up the child before the place closes. How do office building-based private kindergartens operate?
When we were establishing the very first kindergartens for companies, we were afraid that some employees would be worried because the employer would change their expectations and require more availability because the child was "nearby". When talking to the employer about the facility, we talk in great detail about our model of raising and educating children. Each of us has an influence on how the kindergarten operates. We are not open 24 hours a day, but we are able to adapt to the company's operating hours. For example, we open our company's facilities much earlier for parents starting work early in the morning. However, we do not experience situations where children stay for 10 or 11 hours at our kindergartens. Children come to the company's kindergartens at 7.00 a.m., but by 4 p.m. there is almost no one there. The culture of coming to work early and leaving early to spend what's left of the afternoon with the family is definitely on the up. The kindergartens located in office buildings, on the other hand, are open longer than state kindergartens because children usually arrive at 9.00 a.m. and stay until 5.00 p.m. or 6.00 p.m. For parents this is a huge plus as it's also an opportunity to spend more time with their child, while travelling to and from work. It is also important to have the possibility to do things with the child during the day, e.g. visit the doctor without taking half a day off.
I hear you are also planning on opening your first school?
There is an issue with children who finish our kindergartens, go to primary schools, usually state schools, and start learning a foreign language from the alphabet, 2 to 3 times a week for 45 minutes. This is complete contrast to our bilingual kindergarten where children have been in contact with English all day long. This means that the educational work we have done with children in their initial stage of education is to a certain extent negated. I am convinced that during high school a child will manage, but such a strong bilingual model in a primary school would surely be of benefit. This is not a project for next month, or even this year, because one of the conditions is to find a suitable building in an attractive location. In Warsaw, for example, we have a few kindergartens in the vicinity of Rondo Daszyńskiego and a lot of children who would surely like to take advantage of such an education. Unfortunately, it is very difficult to find a building that will meet all of the parameters in such a dense office building environment.
Thank you for the interview and I'll keep my fingers crossed for the project's future success.