It is going to have an edge. Dynamic geometry of interior, sharp angles of illuminated ceiling panels, unusual bending of space. We can finally show the evolution of the concept that won the competition for young architects regarding the new Tétris office in the Warsaw Spire building.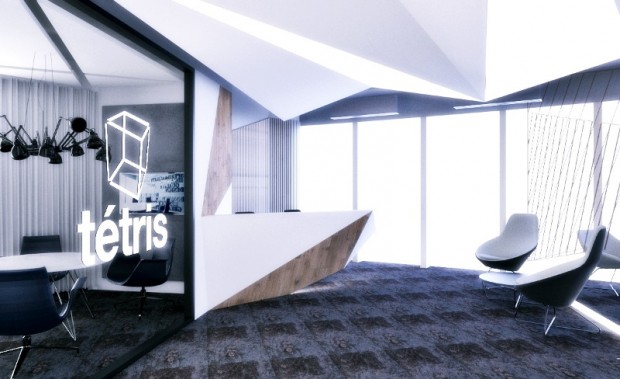 The competition, organized at the end of last year, was won by a small but resilient design studio – Noname Architects. They are passionate young people who come to work not only with imagination, but also with a solid knowledge - says Paweł Brodzik, Managing Director of Tétris. - That is why we proposed the co-design of our office to the 3-people team of Noname Architects.
It is no accident that the design of the new office brings associations with geometry. "We were looking for a form that would emphasize our identity. We are builders, architects and consultants. We are equally interested in the nuances of the construction work and the image that we offer to our clients through our projects - says Danuta Barańska, Creative Director of Tétris.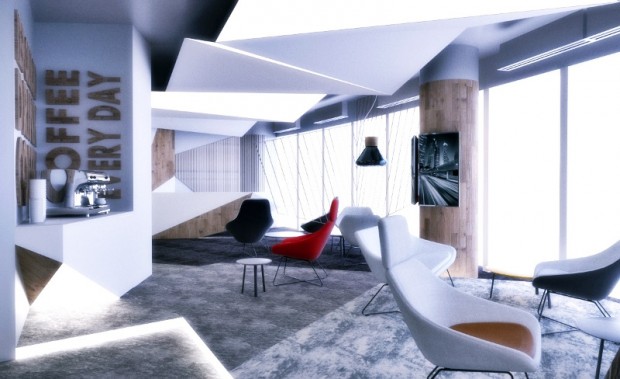 The main part of the new office will be the reception area and a so called 'townhall'. Elegant harshness, sharp angles and lightweight design are the first thing we see upon entering the space. Townhall, or open meeting place, will be built on a platform. The space will be warmed by wooden finishes, like openwork screens and cladding of columns and walls. The whole concept is complemented by cosy armchairs and tables on light metal frames.
The most original element of this interior design will be the custom dynamic ceiling. It will be built with planes of variable geometry with added lightness of a backlight.
- Working with Tétris is great. We deliver the design and executive design, while Tétris acts as a "big brother" who verifies and corrects our assumptions and translates everything into the construction language, - says Grzegorz Zając, the architect and the team leader of Noname Architects. The work is carried out in the Design & Build model, so all ideas and guidelines are constantly confronted with material evaluations and executive expertise.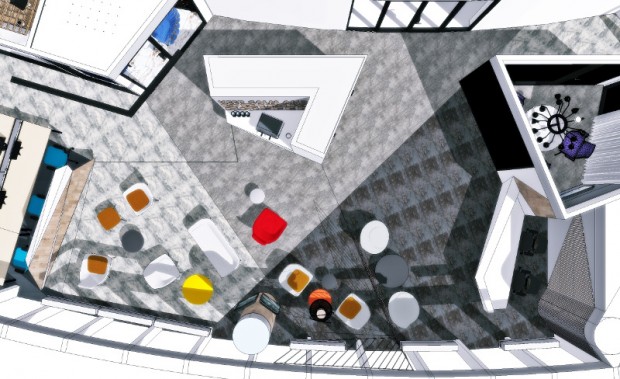 - Cooperation from the very beginning with a construction company is a great comfort. We have complete information, there is no guessing; everything is verified and measured onsite. There is no stress. Very important are also our personal relationships and good communication, which accelerate the delivery of the whole project - adds Grzegorz Zając.
The new Tétris office will occupy 550 sq. m. of space on the 25th floor of Warsaw Spire. The opening of the space is planned for autumn.