Lakeside office project has obtained a building permit. ATENOR, a Belgian developer operating on the international market, has chosen PORR as the general contractor of the project. The completion of the investment is scheduled for the 4Q 2023. The commercialization of the building has been commissioned to the international consulting company JLL.
Lakeside, an office building of approximately 24,000 sqm, will be located in Warsaw's Mokotów district. Its location at the intersection of Puławska and Rzymowskiego Streets is well-served by public transport with a number of bus and tram services as well as the Wilanowska metro station only three tram stops away. As the location is in close proximity to some of Warsaw's main arterial routes, the city centre is also within easy reach by car.
Lakeside, designed by Grupa 5 Architekci, is distinguished by its eye-catching architecture. The development will be attractively located by a lake and surrounded by greenery.
Another of the project's key advantages is that it is BREAAM pre-certified at the Outstanding level, confirming that the investment has been designed in accordance with the highest environmental standards and will be developed in line with the principles of sustainable construction. Furthermore, Lakeside has also been Gold pre-certified by WELL at the design stage. This multi-criteria building certification system from the International WELL Building Institute™ (IWBI), which focuses on the well-being and comfort of users, primarily takes into account the parameters that affect human health and well-being. The use of green certification systems is fully in line with ATENOR's sustainability strategy and the company's commitment to sustainable cities and communities.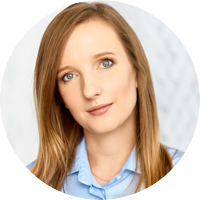 Sustainable office buildings are gaining in importance in the eyes of tenants and investors alike. This is why conscientious developers, such as ATENOR, are putting both environmental issues and those related to employee comfort and well-being at the top of their business agenda. This new approach is also influencing the shaping of the urban tissue, which is increasingly expected to respond to the needs of building users, but at the same time offer a range of amenities for local communities as well. Lakeside is an excellent example of a project that embodies this sustainable trend. We are very pleased to be part of a project that will provide employees with an optimal working environment and comfortable surroundings.