Cherka i Partnerzy, a leading Warsaw law firm specialising in real estate law, is moving its headquarters from Nordic Park to Chmielna 25. The law firm will occupy 220 sq m of office space in the Chmielna 25 building, owned by VIG Fund. During the negotiation process, VIG Fund was represented by JLL Polska.
"Chmielna 25 is a unique location, both because of the office building itself - due to the architectural and interior design aspects, and because of the location in which it is situated. Locating our new office in such a centrally located and exclusive point in Warsaw will provide absolute comfort for our employees, and the new location and new space will perfectly reflect the equally high standards of our company. We believe that with this change, our new office will become a showcase for our law firm," - says Katarzyna Mitelsztedt-Hakenberg , Lawyer and Partner, Cherka i Partnerzy.
The law firm Cherka i Partnerzy Adwokaci i Radcowie prawni sp.p. is one of Poland's leading law firms specialising in providing comprehensive legal services on issues related to real estate law, both in administrative and civil aspects, as well as advisory services in the office, commercial and residential real estate sector for investment funds, developers and other entities.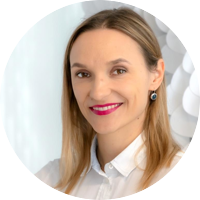 We believe that the location at Chmielna 25 is a perfect fit for a tenant of this stature, and we are pleased to have had the opportunity to represent this development, which is so unique and distinctive. The centre of Warsaw is the most attractive location for tenants, but Chmielna 25 stands out from other centrally located office buildings because of its unique facade and the top-class amenities it has been equipped with.
The Chmielna 25 building is one of the most recognisable points in the landscape of Warsaw's office buildings, with its distinctive wavy glass facade providing constant access to daylight. Located in a prestigious part of the capital, the seven-storey building provides a total office space of 6,260 sqm. The office interiors have been completed using the highest quality materials and designed to provide tenants with full freedom in terms of layout. In addition, the building is surrounded by numerous exclusive shops as well as service and dining facilities and, thanks to its central location, is perfectly communicated, in close proximity to bus and tram stops and two underground stations. In addition, the building has been awarded the LEED environmental certification, at the Gold level.