Coca Cola HBC Polska - the leader of the Polish non-alcoholic beverage market - has leased over 5,500 sq m of office space in the Business Garden complex in Warsaw. Experts from JLL advised Coca-Cola on the selection of the location, during the negotiation of lease terms, as well as preparing the company's long-term lease strategy. The JLL team was also responsible for workplace advisory, change management and technical advisory, including supervising the surface preparation process.
Coca‑Cola HBC Polska, part of the Coca‑Cola Hellenic Bottling Company AG, is responsible for the production, sale and distribution of beverage brands owned by The Coca Cola Company. It is also a leader among socially responsible firms, which is why the selection of the office was influenced not only by the location and a wide range of services, but also by environmentally friendly and high-end ecological solutions. Other important factors included facilities that improve the working environment, and attract people who value an active lifestyle.
The new office is located in the B6 building, which is part of the Business Garden complex, where Coca-Cola occupies the first three floors, and has exclusive access to two spacious terraces. The interior of the office is inspired by brands that Coca-Cola HBC Polska has in its range.
"Creating a friendly workplace is one of the key priorities of our company both at Coca-Cola HBC in Poland and in the Baltic countries, which are now part of a joint business unit. A year ago, we decided to move offices and involved our employees in the process. We chose the Business Garden complex, because it combines interesting architecture with a comfortable, open and inspiring work environment. Changing our headquarters was a challenge for our project team as well as the company's management, and all decisions - from design to modern solutions that would improve work comfort - were initiated by the project team "New Office - New Opportunities" along with 72 ambassadors. This venture has proved that together we are able to do extraordinary things", comments Liza Shybanova, BU HR Manager Poland and Baltics.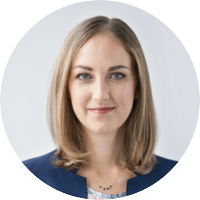 Business Garden is a modern office complex that provides tenants with the opportunity to create comfortable working conditions. It has flexible and very well-lit office areas and access to a range of amenities - restaurants, a fitness club and a wonderful garden, providing space for relaxation or working outdoors
"We are very pleased that Coca-Cola HBC Poland joined other Business Garden tenants in Warsaw. We are glad that such a recognizable brand appreciates the advantages and numerous amenities available in the complex. Due to the adjusted layout of the office space and the location of the building in green surroundings, Business Garden is a comfortable workplace for employees, which, as we know, was a very important element for the customer when choosing a new location", says Karolina Pawłowska, Leasing Manager, Vastint Poland Sp. z o.o.
Business Garden includes seven buildings, which offer over 90,000 sq m of office, hotel, conference, retail and service space. The complex is located on Żwirki i Wigury Street, close to the station of a fast urban railway station which has connections to the airport and Warsaw Central railway station. An additional advantage of the location will be its close proximity to a new express route – NS– linking the southern districts of Warsaw with the Warsaw Ring Road.