Deals worth €2.55 billion finalized on CEE real estate markets in H1 2015
Czech Republic leads the CEE region with €1.2 billion of finalized investment transactions, followed by Poland with a total volume of €813 million. Liquidity increases as an influx of capital hits CEE. Promising perspective for the Polish investment market in the upcoming months as a number of significant deals are ongoing and in fairly advanced stages.

Central and Eastern Europe, 20 July 2015 – According to international advisory firm JLL, the total real estate investment volumes in H1 2015 reached approximately €2.55 billion in Central and Eastern Europe . The Czech Republic led the region in terms of volumes with a share of approximately 47% in CEE (€1.2 billion), followed by Poland (32% - €813 million), Hungary (€280 million - 11%), Romania (7.5%), Slovakia (0.5%), and the SEE - other CEE - markets (2%).
Troy Javaher, Regional Director, Head of CEE Investment at JLL, comments:" As the prime European real estate markets returns become increasingly tight, other investment locations look more attractive. The positive economic news from Central and Eastern Europe coupled with healthy yields, are attracting capital and re-pricing, with investors especially focusing on Poland and the Czech Republic. Other CEE capital cities along with Poland's regional markets will also be highly sought after. The weight of international capital seeking core CEE opportunities has provided increased liquidity for large lot-size properties and portfolios. In addition, attractive and more easily attainable financing has widened the pool of investors who are able to offer more competitive pricing. This is especially the case for sources of capital which previously only looked at opportunistic products".
CEE Investment Volumes 2012 – H1 2015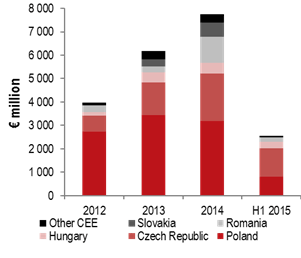 Source: JLL, preliminary fugures
Poland – promising investment prospects for the upcoming months
The volume of investment transactions finalized on the commercial real estate market in Poland in H1 2015 reached €813 million. In H1 2015, investors were the most active in the office segment with closed transactions of around €385 million, while retail came in with €285 million and industrial finished with €143 million.
The most notable deals in H1 2015 included: Enterprise Park, acquired by Tristan Capital Partners in Kraków, Green Horizon, purchased by Griffin in Łódź, a portfolio of offices comprising of Europlex, Wiśniowy A and Irydion in Warsaw and Millenium in Katowice acquired by Lonestar; Sarni Stok in Bielsko Biała and Focus Park Rybnik acquired by Union Investment, Solaris Centre in Opole purchased by Rockcastle as well as the Europolis/CA Immo and FM Logistics industrial portfolios closed by TPG and WP Carey respectively. All of these transactions were medium sized deals ranging between €50 and €100 million.
"Investors are still very active on the biggest office markets outside Warsaw – H1 2015 saw the finalization of the transactions of Enterprise Park and Kazimierz Office Center in Kraków, Green Horizon in Łódź, Baltic Business Center in Gdynia, West Forum in Wrocław and Millenium in Katowice. These transactions helped push the total volume for office deals in regional cities to €234 million. Furthermore, the office market is also witnessing an interesting phenomenon regarding the increased number of sale/purchase transactions of lower values, as well as the extension of the finalization process by up to three months when compared to 2014," says Sławomir Jędrzejewski, National Director, Office and Industrial Investment at JLL Poland.
The volume of investment transactions in H1 was over 40% lower compared to the corresponding period of 2014 with lack of big ticket transactions. Nevertheless, investor interest in Poland remains very high and is visible in almost all sectors of the commercial real estate market as well as product classes. Experts from JLL forecast that several schemes, currently in advanced negotiations, will change owners in Q3 2015.
Tomasz Puch, Regional Director, Head of Office and Industrial Investment at JLL Poland, summarizes: "The overall lower transaction volume in H1 2015 is not the beginning of a trend. It is just that more lower value transactions were closed on the Polish market in H1 this year than in the corresponding period last year. Furthermore, we are observing increased activity among investors searching for interesting products in all segments of the commercial real estate market. Currently, there are numerous transactions whose negotiations are in advanced stages. Taking into consideration the positive approach among investors, ongoing negotiations, as well as transaction awaiting closing, such as Empark in Warsaw or Riviera in Gdynia, we expect that the overall investment volume will reach €3 billion by the end of 2015, with a major increase being particularly felt in the retail segment."
Yields for prime retail schemes are at around 5.5%, offices at 6.0% and industrial expected at or below 7.0%.