Warsaw, 5th January 2011 – Construction of Equator II, the 21,000 sqm second phase development of the Equator Offices complex in Warsaw, is moving forward with 9th floor being constructed currently.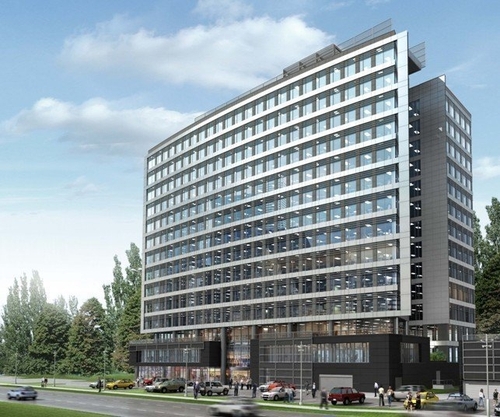 Martin Prokes, representing the Karimpol Group, said: "A few months ago we took a decision to proceed with the construction of Equator II with no pre-lease requirement. This unusual step on the Warsaw and wider CEE market, represented our growing level of confidence in market conditions into 2011 and beyond. Currently we have signed a pre-lease agreement for 6000 sqm what proves that our predictions regarding the office market environment have been accurate."
Ewelina Kałużna, Associate Director at Jones Lang LaSalle, the exclusive leasing agent, added: "Due to global financial crisis Warsaw real estate market was restricted. Most of the investments scheduled to be delivered in 2011 were blocked by banks not willing to grant financing. Despite this, Karimpol decided to commence the construction of Equator II. Today development of the building is ongoing (9th floor is under construction) and delivery date for October 2011 is guaranteed. There is still approximately 15 000 sq m available and I am very positive that the building will be fully let before receiving occupation permit. Let's wait and see if the future once again confirmed that being positive about the improving market conditions calculates".
Equator II will provide 21,000 sqm of modern A class office space on 12 levels. Floor plan design enables efficient and flexible office arrangements for both open plan and cellular space requirements. Additional commercial space located on ground floor can be used for showrooms, retail units or offices. For tenants there will be an underground parking located on four underground levels with over 250 spaces. Excellent location in Al. Jerozolimskie provides easy and quick access to the public transport (buses, trams and trains), Warsaw international airport, shopping centres and other amenities.
Equator II is a development of Zenith Real, a subsidiary of the Karimpol Group. The Polish operation is based in Warsaw and oversees the design and construction of Equator II and manages the leasing and other client related activities.
The building permit has been already obtained and first tenants are planned for October 2011. The general contractor is PORR.