The project obtained occupancy permit
Warsaw, 18 October 2011 – Jones Lang LaSalle is pleased to announce that Equator II has obtained its occupancy permit. The official opening of the project took place on 1 October 2011. The project has proved to be a success story, with approximately 14 000 sq m leased during the construction stage of the development. The first tenants, who will soon move to Equator II, are MEDICOVER/Damian, WSIP, Regus and AON.
Equator II is a second-phase development of the Equator Offices complex in Warsaw. Equator II is a development by Zenith Real, a subsidiary of the Karimpol Group. The Polish operation is based in Warsaw and oversees the design and construction of Equator II in addition to managing leasing and other client-related activities. The general contractor was PORR.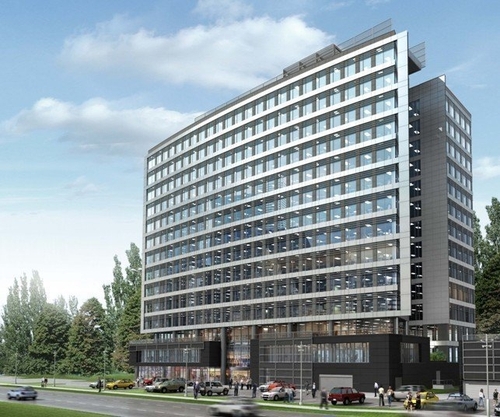 Martin Prokes, representing the Karimpol Group said: "The Karimpol Group is very pleased that the building was completed in time and we were able to deliver the premises to first tenant to move in, namely MEDICOVER. The leasing success, despite difficult market conditions, is owed to the excellent location, the quality of design and build and the fair pricing. Our thanks go to all involved in the planning, construction, and leasing."
Jones Lang LaSalle has been appointed exclusive leasing agent for Equator II.
Ewelina Kałużna, Associate Director at Jones Lang LaSalle added: "Due to global financial crisis, Warsaw's real estate market has been somewhat restricted. Most of the investments scheduled to be delivered in 2011 were blocked by banks who were not willing to grant financing. Despite this, Karimpol decided to take a risk and commence the construction of Equator II. Today we are proud to announce that 67% of the building has been let during the construction stage of the project and there are still a number of potential tenants who are interested in leasing space in the building."
The most recently signed lease sees AON taking approximately 2,160 sq m (the entire 12th floor and part of the 11th floor). AON will move into its new premises in March 2012.
Equator II will provide 21,000 sq m of modern A-class office space on 13 floors. The floor-plan design enables efficient and flexible office arrangements, both open-plan or cellular style.
The project will meet all of the requirements associated with a modern office building, such as ceiling fan-coils, floor to ceiling glazing, state-of-the-art building management and security systems, eight high-speed lifts (seven passenger lifts and one goods lift) with pre-selected access control and underground parking located on four underground levels with more than 250 spaces.
Equator's II excellent location on Al. Jerozolimskie offers easy and quick access to public transport (buses, trams and trains), Warsaw airport, major shopping centres, and other amenities.