Nina Wiater talks to Tomasz Kloskowski, the President of Gdańsk Lech Wałęsa Airport, about the development of Airport City Gdańsk, and creating an alternative office location for the Tri-City as well as his love of the aviation industry.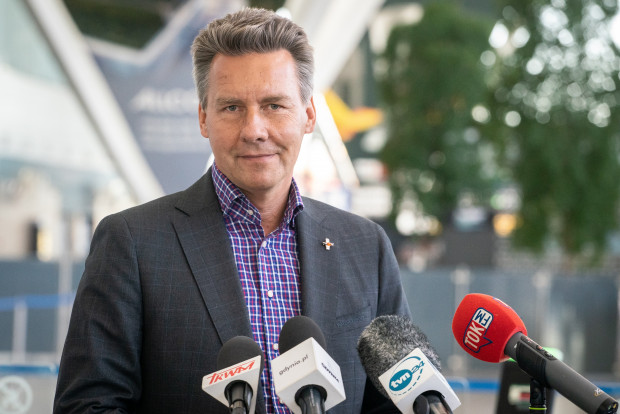 NW: Airport City Gdańsk (ACG) is a truly innovative project and a first for the Polish market. It will be the first airport city in Poland. Where did the idea come from? Were you inspired by any specific foreign investment?
TK: We travel around the world and watch the development of other airports. We can draw inspiration from the best. In other countries, office parks are usually built by the largest and most important ports, which can handle up to 20 - 40 million passengers a year. In the case of Gdańsk, we followed the example of complexes developed in the vicinity of airports such as Dusseldorf, Zurich, Munich, Frankfurt, and Paris. Although we have about five million passengers a year, we decided to join the very best. No other airport in Poland has ever conducted such a project. Why are we doing it? Because, as with any other business, we want to diversify our revenue. At the moment we are 100% dependent on the changing economic situation on the civil aviation market. And non-aviation revenue which makes up half of our income is closely related to air traffic, and generated by parking lots, shops, and restaurants. As you can see, our income is based on passengers even in the case of non-aircraft revenue. However, now we are aiming to create a "second pillar" that will be completely independent of air traffic. Once we complete the Airport City Gdańsk project, our business revenue will be more dependent on the economy as a whole, and not just air traffic. Our goal is to ensure that 33% of the company's revenue will be generated by the project. We also want to plow back the money earned from this project into further development of the airport's infrastructure.
NW: Apart from the office complex, Airport City Gdańsk will also provide both hotel and service areas. Who will the ACG's offer be aimed at? Will it be exclusively for people traveling from abroad or for local communities as well?
TK: Location is undoubtedly one of the great advantages of Airport City Gdańsk.. There is a modern airport, which is very well-served by road and rail. Therefore, any company owner or employee can reach their offices just a few minutes after landing. The area of the airport is becoming increasingly attractive, especially for global companies, for whom the proximity of the airport is all-important. This is especially beneficial for members of a company's management, who can even visit two or three locations across Europe in a single day. We are convinced that there will be a large number of clients for such a large and new office space located in the Tri-City. JLL serves as the exclusive agent responsible for the commercialization of the ACG project. So I am sure that our commercial success is guaranteed. In ACG we intend to accommodate three elements: offices, hotels, and car parks. We also want to create a nucleus of a future district and pave the way for its development. The ACG complex will be built according to the principles of modern urban planning. Currently, there is a Hilton hotel operating at the airport, and an increasing number of service, commercial and accommodation functions. Furthermore, we are also cooperating with the Gdańsk Agglomeration Development Forum in order to create good urban space.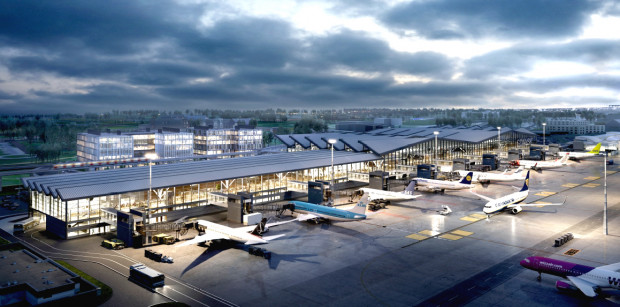 NW: How will the Airport City Gdańsk complex complement Tri-City's office space stock?
TK: Our complex will provide the Tri-City market with 120,000 sq m of usable space as well as about 100,000 sq m of leasable space, most of which will be taken up by offices. This is obviously a plan over many years. Our contribution and position will be important because the entire Tri-City office market currently stands at 800,000 sq m. We are not building a new city centre, rather an alternative commercial office hub. It is aimed at those who do not want to work in the heart of the city yet wish to be well connected with the world. We also do not compete with city centres for high-class hotels. For the time being, we have the 2,5-star Hampton by Hilton Hotel at the airport and it currently meets the needs of our passengers. If we obtain a higher level of traffic, 10-15 million travelers per year, and there is a need for a higher standard, we will proceed with building a four-star hotel at the airport.
NW: What amenities will be available to tenants of Airport City Gdańsk at the airport? How will this system work?
TK: Locating an office building actually at the airport, and not next to it means you can use all the functions that are already available there today. These are facilities and amenities directly associated with air travel, such as catering, shops, ATMs, exchange offices, car rentals, and a large number of parking spaces. In addition, the possibility of using the airport's attractive premium service offer, i.e. facilities at departure and arrival in Gdańsk, will significantly shorten the overall journey time and increase the comfort of travel.
NW: What is the current stage of work on the project? When will the first stage of the investment be launched?
TK: Alpha Port Lotniczy Gdańsk signed a contract for the construction of the first office building with HOCHTIEF Polska on 24th October 2019. The construction is planned to be completed in Q2/Q3 2021. So far, the necessary earthworks have been carried out on the construction site together with ground replacement. The earthworks and the construction of the foundation slab are under construction. Despite the coronavirus pandemic, and with a focus on all sanitary recommendations, our construction works are ongoing and are on schedule.
NW: The entire project reflects the aviation sector. The project's buildings, using the international phonetic alphabet, will be called Alpha, Bravo, Charlie, Delta, Echo, Foxtrot, Golf, Hotel. Moving on, what other solutions will be used? Modern technologies? Green solutions?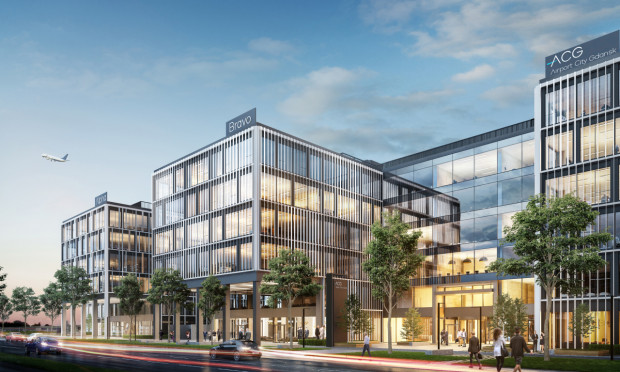 TK: It will absolutely be a modern, innovative, and friendly project. The complex will include charging stations for electric vehicles and Mevo city bikes. A sports and recreation area is planned to be built in the vicinity of the office buildings as well. In cooperation with Pomeranian universities and non-governmental organizations, we are also designing thematic paths: famous Pomeranians, icons of Pomeranian architecture, greenery, and recreation. Gdańsk Lech Wałęsa Airport's new investment is focused on nature. We hope that the green and friendly atmosphere will be the prime asset of ACG. The first two buildings have been designed in such a way that they can apply for LEED Gold certification, so they will be subject to rigorous assessment. In addition to existing trees and areas of grass, it will also include ornamental plants and flowers around the office buildings. Green roofs have been designed and one of the buildings will have a vegetable garden.
NW: What do you do after hours? Are you passionate about aviation? Why did you choose to work in this industry? 
TK: I love this industry and have been involved in it for over 25 years. I started working in the Gdańsk port just after graduating from economic studies at the University of Gdańsk. Today I manage an excellent airport, and I can share my knowledge and experience with students. I love challenges, which the construction of Airport City Gdańsk certainly is. Good management is my thing and challenging or crisis situations motivate me. In my private life, I like sports, especially football and swimming. I love cinema, and I especially appreciate the Polish cinematography.
NW: Thank you very much and I wish you and ACG all the best for the future.