Warsaw, 9 August  2017 – Hargreaves Lansdown, a leading provider of investment management and pension services to private investors and employers in the UK, is opening a new technology centre in Warsaw. This UK's number 1 'investment supermarket' will occupy approximately 3,200 sqm in Warsaw Spire, one of the most prestigious and awarded office buildings in Poland.
Michal Glowinski, General Manager of Hargreaves Lansdown, comments "We are opening a new technology centre in Warsaw, which will expand our software development capabilities. The centre is expected to initially grow to around 50 people and work on specific development projects. Warsaw was chosen for its vibrant business culture, flourishing technology sector, excellent communications infrastructure and the large numbers of English-speaking IT professionals".
"We have a diversified business with an established reputation for using innovative technology to make investing more accessible, easier and cheaper. Currently we are hiring in Warsaw top talents specializing in IT and software development", adds Michal Glowinski.
Hargreaves Lansdown is occupying temporary space of 700 sqm at the moment, and will move to its new premises located on two floors towards the end of 2017. The main reception will be located on 34th floor.
Warsaw Spire, developed by Ghelamco, is one of the most well-known investments on the Warsaw business map. The project consists of a 220-meter-high skyscraper and two 55-meter-high buildings. In total, the complex provides 109,000 sq m of space equipped with the most up-to-date technological solutions. The complex is distinguished by its excellent location (in close proximity to Daszyńskiego Roundabout, near the metro station) as well as plac Europejski, a 1.5 ha urban square, which has a number of bars, restaurants and entertainment venues, including famous Art Walk.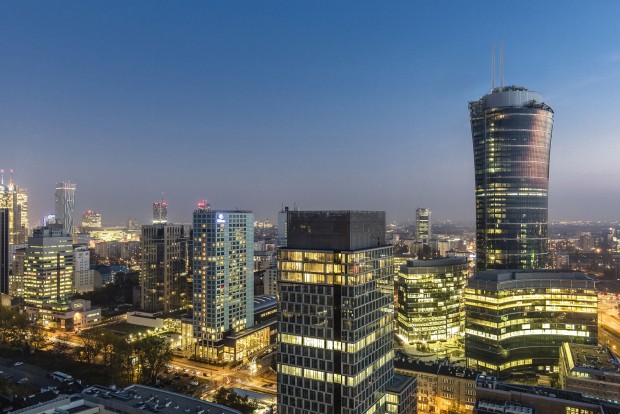 "We are very excited and welcome Hargreaves Lansdown as our new tenant. We are glad that another international company has chosen Warsaw Spire", says Jarosław Zagórski, Commercial and Business Development Director, Ghelamco Poland.
Warsaw Spire was recently awarded the world's best project in the Best Office & Business Development category in a prestigious MIPIM Awards 2017.
Jakub Sylwestrowicz, Head of Tenant Representation, JLL, added: "Hargreaves Lansdown's short and long-term office space requirements were specified in great detail – they were looking for the most modern and state-of-an-art building in Poland, and they were especially fond of Warsaw Spire. Due to the shortages of available space we offered to sublease our own space on 25th floor to fulfill our Client's immediate needs. We have also managed to secure the most suitable target space in the shortest possible time. I believe that thinking ahead and identifying creative approaches to office space was a great way to save our Client's time and money."
JLL is providing to Hargreaves Lansdown full package of Office Occupier Services, including office search and negotiations, technical advisory, project management plus design & build for its new highly specified technology centre. Deloitte provided legal advisory to Hargreaves Lansdown in this transaction.