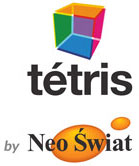 New acquisition further extends JLL's market-leading Tétris design and fit-out business, now in 16 EMEA countries
JLL has announced the acquisition of Neo-Świat, Poland's leading property fit-out providers, to become part of its Tétris design and fit-out business. With the acquisition taking immediate effect, the newly combined operations offer a comprehensive range of fit-out services, including space planning, design, project management and construction, as part of JLL's broader Tétris capability which now extends to 16 EMEA countries.
The acquisition is strongly mutually beneficial, enabling Neo-Świat to access a wider client base and larger scale projects, while giving JLL's Tétris business a new market-leading capability in Poland, in response to growing client demand and consistent with its strategic growth plans. Neo-Świat brings an outstanding 15-year track record of successful projects in the office, retail, industrial, hotel and residential sectors across the country, creating great synergies with JLL's broader real estate services. For an interim period, the business line will operate as Tétris by Neo-Świat, before fully rebranding as Tétris.
Pawel Brodzik, Managing Director of Tétris by Neo-Świat, said: "We are convinced this merger will greatly benefit both companies, enabling us to combine our knowledge and strengths in the Polish market with Tétris' powerful international platform. With this union, we will reinforce our technical capabilities and gain international scale, as well as access to the tools, solutions, knowledge, and, last but not least, clients from across the globe. This will underpin and enhance the already excellent client relations and proactively high standard services that have always been at the heart of our business."
Tomasz Trzósło, Managing Director of JLL Poland, said: "Tétris and Neo-Świat are culturally and strategically aligned, sharing the same core business model based on quality and highly complementary values and methods. Therefore this merger is a logical growth step for both companies. Neo-Świat employs qualified construction specialists, including architects, engineers, cost planners, project managers and construction experts. With this move we will be able to offer a complete range of services to tenants with regards to their space requirements - starting from workplace consultancy, through office search advisory, internal design, project management and project monitoring, to the delivery of full fit-out. In addition, the new company will also provide fit-out and refurbishment construction services to landlords, especially funds owning real estate in Poland, developers and other owners of real estate. We see an increase in demand for such high end workplace consultancy and we meet this demand with the complex offer that is unique on the Polish market".
Neo-Świat's existing team of 68 people will continue to be located at 597 Puławska Street in Warsaw, operating under the Tétris by Neo-Świat brand. The team will be led by Paweł Brodzik and Rajmund Węgrzynek, founders of Neo-Świat, and now joint Managing Directors of Tétris by Neo-Świat.
About Neo-Świat
Neo-Świat, a company operating on the construction and renovation market for15 years, is a specialist in providing interior construction and fit-out services within the office, retail, industrial, hotel and residential sectors. Neo-Świat also provides services for refurbishment projects. The company's fit-out and design expertise has been acknowledged within the industry, which is reflected  in the list of their clients in Poland, such as: AIG/Lincoln, Axel Springer/Onet, Bank BPH, BMW, CA Immo, CBRE, Coca-Cola, Deutsche Bank, Dom Development, Ghelamco, HSBC, Immofinanz, Inteligo, JP Morgan, Kredyt Bank, Liebrecht&wooD, Nordea Bank, PwC, Ronson, Samsung or Tacit Development.
About Tétris
Tétris is the European specialist for the fit-out of business premises, whether they are office, retail, hotels or industrial properties. The range of services we offer as a general contractor cover all phases of a project: advice, design, brand identity, works and aftercare. Since its creation in 2003, the company has taken root in 16 countries in EMEA, with a turnover reaching €192m in 2014. Our 250 collaborators, in 24 branches, are mobilised to meet the needs of our Corporates, Investors, Retailers and Hotel operators customers. Some of our key clients include Booking.com, Astellas pharma, Euronext, Mastercard, Condé Nast, Deloitte, Allianz, Axa, Telmma, IVG, Deka, RREEF, BNP Real Estate, Hilton, Mercure, Sofitel, 7 For All Mankind, Primark, Panerai, Todd's, Burberry, Burger King, and Costa Coffee.