CHICAGO, LONDON and SINGAPORE – May 20, 2015 – In response to a changing world of digital news content and distribution, JLL (NYSE: JLL) today announced the launch of Real Views , its online news site focused on real estate trends, markets and economics. Real Views will make JLL's global real estate knowledge, insights and research easily accessible via desktop, tablet or mobile to a worldwide audience.
"The development and distribution of news content in specialized sectors like real estate is being revolutionized by the web and digital media," said Charles Doyle, JLL's Chief Marketing and Communications Officer. "Real estate plays a critical role in national economies, in business and in people's everyday working lives. By bringing our readers and audiences new forms of news content that is accessible around the clock, and around the world, we hope to share our passion for real estate, its wider purpose and role, and also to generate debates that are both informative and entertaining."
Unique in the commercial real estate market, Real Views will feature news stories that are written by JLL staff and draw on analysis, expert opinion and research both from JLL, the real estate sector and the wider business community. Real Views will provide its readers with customized content shaped to their own interests and views.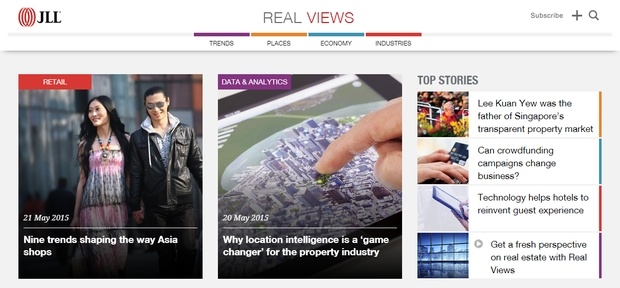 With Real Views, audiences can access a wealth of stories, videos, information, dynamic charts and slideshows that explore real estate's impact on:
Industries such as retail, hospitality, technology, banking, pharmaceuticals and healthcare;
Places around the world such as cities, regions and countries;
Trends in real estate such as sustainable offices, smart workplaces, mass urbanization and global logistics;
Economics such as trade, investment flow into real estate,
real estate financial instruments, assets and returns.
Charles Doyle concluded: "In the digital world, with changing expectations of news, and with multiple ways of creating and consuming news content, JLL's Real Views will deliver real estate business news to its audiences flexibly and directly, with customized content, formats and access media of their choice."
A weekly round-up of top stories from Real Views will be available soon. To subscribe, please visit: http://www.jllrealviews.com.
For more news, research and information from JLL, please visit: www.jll.com.