Warsaw, 12 January 2016 – Effective from December 2015, international advisory firm JLL is the Property Manager for buildings B & C of the prestigious Warsaw Spire office complex. Furthermore, JLL is scheduled to take over the management of tower building A in April 2016. 
The company's prime asset property management scope of work include smooth takeover of the building, maintaining excellent relationships with tenants, and the implementation of innovative solutions to foster co-operation with companies occupying space in Warsaw Spire and local communities. Furthermore, JLL will also be responsible for overseeing the scheme's technical, operational, administrative and financial aspects.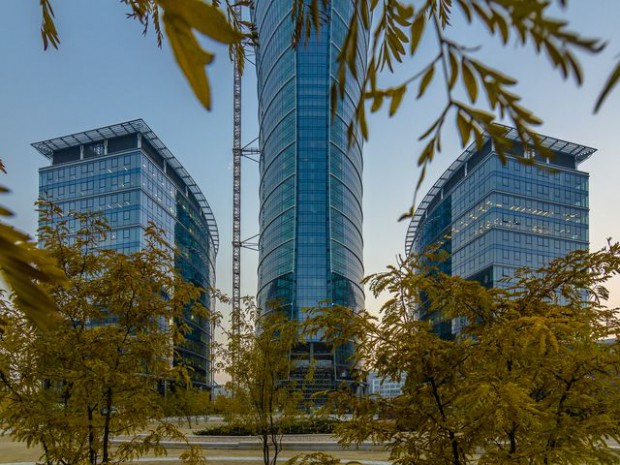 Warsaw Spire is Ghelamco's flagship office investment which is being developed at plac Europejski square, close to Daszyńskiego Roundabout. This unique project, now emerging on Warsaw's city skyline, is based on a vision of seamlessly combining office function with new, urban space.
The complex is located in the Wola district, one of the most rapidly developing parts of the city. Its location provides excellent transport links including the second metro line, numerous tram and bus routes as well as an urban bicycle route network. The complex comprises a 220-meter high tower building and two 55-meter high buildings, offering in total 109,000 sq m of space equipped with state-of-the-art technical solutions. The five-floor underground parking lot will provide 1,200 parking spaces available to both tenants and their guests. Warsaw's residents will be able to visit restaurants and coffee shops which will be situated on the ground floor of building C, the third floor of the tower building as well as in detached pavilions. This will allow Warsaw Spire to continue to be part of Warsaw's social life long after office hours.
An integral part and distinguishing trait of Warsaw Spire is the space design plan of the adjacent plac Europejski. The surrounding area of nearly 1.5 ha will be composed of an oasis of greenery complete with water installations, modern urban furniture and an Art Walk passage dedicated to art exhibitions. The concept of plac Europejski, unique in terms of both scale and size, combines commercial and public functions as well as helping to create a new, attractive place for meetings and leisure time for both residents of Warsaw and tourists.
"Warsaw Spire is a unique scheme. The project has defined a new business hub in Poland's capital city. With its added value it has transformed the surrounding urban space. It has also achieved commercial success, finding recognition among the most demanding companies and institutions. We are glad that we can entrust JLL with the management of our flagship property and to utilize JLL's experience in providing the highest quality service for our tenants" - comments Jarosław Zagórski, Commercial & Business Development Director at Ghelamco Poland.
"We are delighted that Ghelamco has selected JLL as the Property Manager for the Warsaw Spire complex. This project is more than just modern office space. Unlike any other business complex in Warsaw, it is also about offering urban areas that will be accessible to all of Warsaw's residents. Warsaw Spire is the second high rise building managed by JLL. We are sure that JLL's experience will contribute to the scheme's success" - adds Tomasz Trzósło, Managing Director at JLL Poland.