International advisory firm, JLL, has been selected as the Property Manager for the Rondo 1 office building in Warsaw.
JLL took over the building's full management at the beginning of January 2015. JLL Property Management will be responsible for maintaining relationships with the tenants, as well as the extensive administrative, financial, operational and technical management that such a large and prestigious office building demands. In addition, JLL will supervise subcontractors and the scheme's maintenance costs, enhancing, optimizing and implementing a green program, as well as providing recommendations towards improvements and investment strategies for Rondo 1.
Virginie de-Baere, Head of Property Management Poland, JLL, commented: "Rondo 1 is a truly unique property and brand. This iconic building is not only the most well-known office scheme in Poland, it holds one of the most prestigious business addresses in Central and Eastern Europe. We are proud of the fact that JLL has been chosen for the day-to-day management of such a high profile asset. Furthermore, the building management instruction tops off an exceptional year for JLL's Property Management team. In 2014, the portfolio managed by our company increased by 17 new schemes."
The Rondo 1 office building is located in the very heart of Warsaw, on the junction of Świętokrzyska St. and Jana Pawła II Av. Such a location guarantees convenient access to the rest of the city, with excellent public transport links, including the Rondo ONZ metro station - soon to be commissioned for use, several tram and bus lines, and the Warsaw Central railway station. Furthermore, Złote Tarasy shopping centre with its wide range of shopping, services and entertainment amenities is, quite literally, 'just down the road'.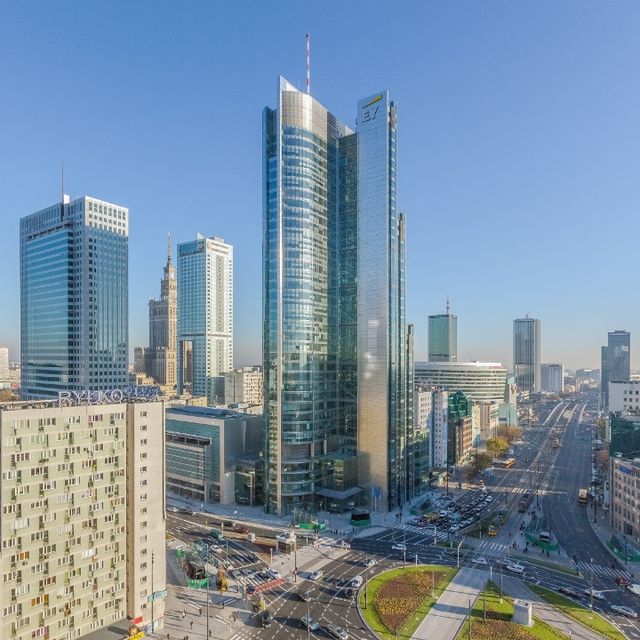 Rondo 1 comprises an impressive 40-floor (192 meters high) glass tower located on Jana Pawła II Av. and a 10-floor building on Świętokrzyska St. The scheme offers ca 60,000 sq m of office space and 5,000 sq m of retail space. Tenants and guests have 500 parking spaces at their disposal.
The scheme is LEED Gold certified in the Existing Buildings category.