JLL once again wins CEE Shared Services and Outsourcing Award dedicated to recognizing excellence in the sector
Warsaw, 10 February 2015 – JLL was named The Best Real Estate Advisory Services Firm of the Year during CEE Shared Services and Outsourcing Awards, that took place on February 6 in the Intercontinental Hotel in Warsaw.
JLL's Office Agency and Tenant Representation Team won in the real estate category for the second consecutive year.
Anna Młyniec, Head of Office Agency and Tenant Representation, JLL commented: "Clients from the business services sector that we provided advisory services in 2014, included Amazon, Credit Suisse, Getinge, Hitachi Data Systems, Lionbridge, Lundbeck, Raya Holding, Stream International or Teleperformance. Currently, the JLL team advises on lease agreements totalling 150,000 sq m".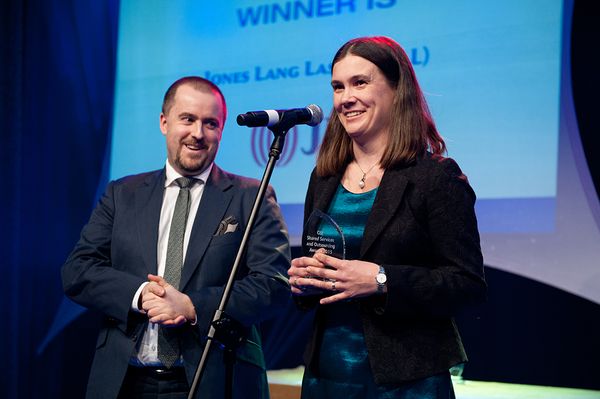 In 2014, foreign companies from the business services sector leased ca 268,000 sq m of office space on the major office markets in Poland (excluding Warsaw), with 28 deals signed with JLL's advisory, making the company the market leader in this area of real estate expertise.
JLL also has very strong research expertise in the BPO/SSC sector. In 2014 the JLL Research and Consultancy Team released a number of reports dedicated to the business services sector including: Poland: Offices for Modern Business Services, Wrocław Office and Labour Market, Poland: New Office Locations and many others. The company also cooperated with ABSL on its flagship sector's analyses. All the research papers and other information about the office market are available at www.officefinder.pl.
JLL was the first real estate advisory firm to understand the potential of business services as a leading sector of the Polish economy and as a key tenant of office space in markets outside Warsaw. The company provides the highest quality advisory services for companies both entering and expanding in the Polish market.
More information on CEE Shared Services and Outsourcing Awards can be found here.