Warsaw, Gdańsk, 10 January 2012 – Jones Lang LaSalle is pleased to announce that in Q4 2011 KPMG signed a lease agreement with EURO STYL, the owner of the OPERA Office building. KPMG Poland is a part of global network of professional services firms providing audit, tax and advisory services. In Poland KPMG has offices in Warsaw, Kraków, Poznań, Wrocław, Gdańsk and Katowice.
KPMG will occupy 395 sq m on the third floor of the building. KPMG's office will be located in Part A of the prestigious office building, protruding toward the main road, Aleja Zwyciestwa. They will move into the new office in August 2012.
OPERA Office, an A-class office building located in Gdansk, will offer approximately 7,300 sq m of office accommodation. The building consists of two wings: four-storey part A (with an average floorplate of approximately 700 sq m) and three-storey part B (with an average floorplate of approximately 1,000 sq m). The building has a distinctive patio covered by old trees that harmonizes with the nearby Steffens park.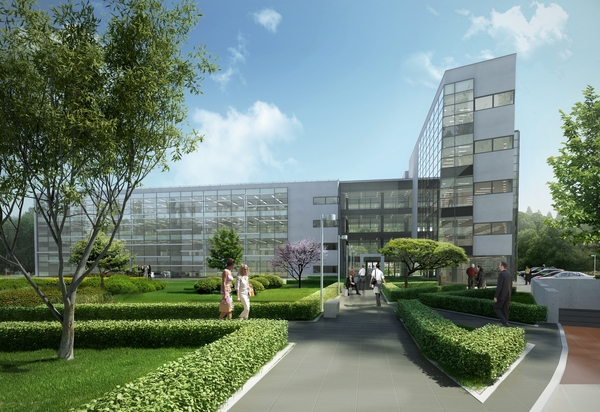 OPERA Office is equipped with state-of-the-art technical solutions available for A-class office buildings including air conditioning with humidification, dual power supply, BMS, raised floors, suspended ceilings, electrical and IT cabling, floor-boxes, as well as openable windows. Tenants and visitors will have access to 122 underground parking spaces. Additionally, the property will offer 79 on-site parking spaces. At the -1 level will be both bicycle parking and showers for cyclists.
Mikołaj Konopka, Vice President, EURO STYL said: "We are delighted that the renowned consultancy firm, KPMG, have placed their confidence in us and joined the group of tenants of OPERA Office. We believe that both KPMG and the other tenants who have chosen or will choose OPERA Office in the future will appreciate the solutions it offers. The building was designed to meet the continuously increasing demands of office space users, who want space that is not only comfortable, but also keeps pace with developing technology. We will certainly make all efforts to provide our tenants with modern office space in prime locations."
Magdalena Renska, Head of Office Agency, Gdansk, at Jones Lang LaSalle added: "I am convinced that KPMG have made a good decision. The organization of the workplace in a modern, high-class interior with easy access to parking space is an important factor in facilitating daily functioning. Currently, the office space market in Tri-City is characterized by oversupply of modern space to let, which gives tenants freedom of choice and a very strong negotiating position."