KPMG has decided to renew its lease agreement at the Gdański Business Center complex in Warsaw, managed by Savills Investment Management, where it occupies approximately 12,000 sqm of space. Experts from JLL once again advised KPMG on the entire contract negotiation process. The complex offering 101,000 sq m of commercial space was acquired by Savills Investment Management on behalf of a global pension fund.
KPMG is a global organization of independent professional services firms providing audit, tax, and business advisory services, employing over 219,000 people in 147 countries worldwide. It has been operating in Poland for more than 30 years and currently employs nearly 2,000 people in seven offices across Poland.
KPMG faced the decision of whether to relocate its office to new premises or remain at Gdański Business Center. After comparing available lease options and conducting a detailed market analysis, the company decided to stay in its current location.
KPMG has been one of the main tenants of Gdański Business Center for five years. The contract renewal provides for flexible adaptation of the space and adjustment of the lease period to the company's business needs in Poland as well as the market situation in the next few years.
"Our research shows that working in an office facilitates knowledge exchange, learning and mentoring. Gdański Business Center is a multi-purpose complex, which  – to the satisfaction of its users – provides an extensive range of retail and service facilities and amenities. Another very important advantage, which is highly appreciated by the center's tenants, is its excellent location. I am glad that KPMG has positively assessed our cooperation and has decided to continue this mutually beneficial relationship", says Julia Racewicz, Senior Asset Manager, Savills Investment Management.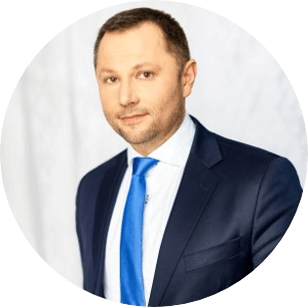 There has been a lot of talks lately about the changing structure of office demand, with lease renewals being predominant. The reason for this is the pandemic, which is holding up the expansion plans of many companies. In the case of KPMG, however, we are dealing with a different situation. Our client started the "stay vs. go" process back in 2019, which allowed for a very thorough analysis of the Warsaw market. The decision to stay in Gdański Business Center was not influenced by COVID-19 but was dictated by the needs of the employees. Moreover, during the renegotiation process we managed to introduce very important additional provisions to the lease which will allow our customers to adjust the office space to their needs.
Gdański Business Center is a state-of-the-art complex of four class A office buildings located in the centre of Warsaw. The investment was developed in 2014 (phase I) and 2016 (phase II). In addition to the office spaces, Gdański Business Center also includes restaurants, a café, a beauty salon, a kindergarten, a medical center, a Zdrofit fitness club and a public courtyard with greenery and elements of small architecture. The complex also offers its tenants terraces located on the upper floors of the buildings. Gdański Business Center also provides 1,379 underground and 76 surface-level parking spaces as well as 416 bicycle racks, locker rooms and shower cubicles for cyclists.
The complex is located next to the Dworzec Gdański metro station and the Warszawa Dworzec Gdański railroad station. There are also many bus and tram stops as well as city bike rental points in the vicinity of the investment, which in turn guarantees excellent communication with other districts of Warsaw. The proximity of the Gdański Bridge also means that the' right bank' of Warsaw is also within easy reach. Furthermore, there is also a wide range of restaurants, cafes and shops, including the Westfield Arkadia shopping centre, in the vicinity of the complex.