Warsaw, 12 June 2015 – Małgorzata Żółtowska has been appointed Chief Operating Officer CEE at JLL. Her responsibilities will include taking care of the company's increase in effectiveness in the region and supervision of areas such as HR, marketing and corporate social responsibility.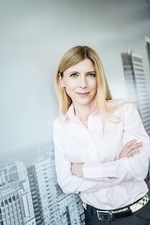 In her new position, Małgorzata Żółtowska will also be responsible for the legal department, policy compliance and procurement. She combines this new COO duties and responsibilities with her existing position as Head of Valuations, CEE. In addition to her new role, she will continue her commitment to lead a team of over 40 valuers that provides strategic complex services across the CEE region.
Małgorzata has 20 years' experience in the CEE real estate markets and has conducted and led appraisals for major corporations, ranging from private assets to large investment portfolios for institutional clients. She is a Member of the RICS (the Royal Institution of Chartered Surveyors).
Małgorzata replaces Joanna Gajewska - Sokołowska as Operations Manager CEE, who has been appointed Director of EMEA Lease Administration and Corporate Solutions Centre of Excellence at JLL.