Bilfinger Tebodin, a leading provider of consulting and design services in Poland, will lease over 1,200 sq m in Building IV in Business Garden Warsaw. The company will move to its new headquarters this spring. In the process of searching for a new office and negotiating the lease terms, Bilfinger Tebodin was advised by JLL experts.
"The key assumption in a search for new headquarters, was to find an office that is well connected to both the city centre and Chopin Airport. Communication and teamwork are very important in our business – a new office arrangement and access to green spaces outside the building will help to achieve this. The Business Garden complex has definitely met our expectations", comments Michał Barański, Engineering Director, Bilfinger Tebodin.
Bilfinger Tebodin Poland Sp. z o.o. is a leading consulting and design services company in Poland, employing over 240 engineers in offices located in Warsaw, Gdańsk, Wrocław, Kraków and Poznań. The company's team includes project managers, consultants, engineers (in all disciplines, including process technology) as well as construction managers. Due to its extensive network of offices, Bilfinger Tebodin offers its clients integrated engineering consulting and practical expert knowledge combined with the understanding of local markets, international work standards and an individual approach to every client.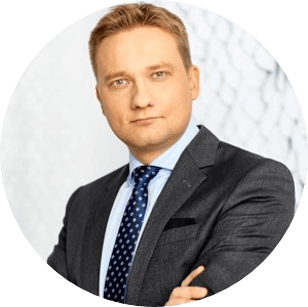 The popularity of multifunctional complexes in Poland is constantly growing. Tenants want their headquarters to provide not only office space but other services and amenities as well. It was no different in the case of Bilfinger Tebodin. Business Garden offers, apart from offices, a hotel, restaurant, bank and a conference centre
Business Garden Warsaw is a complex of seven mixed-use buildings with a total leasable area of 90,000 sq m. They provide not only offices but also a hotel, conference centre, restaurant and a fitness club. The complex is surrounded by a large garden with relaxation areas and sports facilities. The B4 building, selected by the tenant, offers 14,200 sq m of office space on seven functionally designed levels. Business Garden is the first large scale project in Warsaw to be awarded the LEED Platinum certificate. The uniqueness of the project determines the above-average share of green areas with energy-saving systems and solutions ensuring comfortable working conditions.