Total office space volume in Wrocław now totals 800,000 sq m and developers are maintaining their high market activity. By the end of Q3 2016, another 215,850 sq m of office space remained under construction in the Lower Silesia's capital city. Over 62,000 sqm, located in eight buildings, was delivered to market in 2016. The largest objects included: Pegaz (18,500 sq m), Kaufland HQ (building for the tenant's own use; 16,000 sq m) and Nicolas Business Center (9,300 sq m). Major projects currently under construction include Business Garden Wrocław I (Vastint), Sagittarius Business House I&II (Echo Investment), Nobilis Business House (Echo Investment) and Green2Day (Skanska Property Poland). In addition 37,000 sq m of new office space is likely to be delivered to Wrocław's market by the end of 2016.
Similarly to other markets in Poland, Wrocław has recorded a great deal of activity among international  developers for example, Skanska, and Vastint as well as national developers including Echo, LC Corp. Furthermore, local developers such as Archicom and Vantage Development are increasingly making their presence felt in the commercial real estate sector.
The highest monthly transactional rents per sqm in Wrocław are between 14 and 14.5 EUR per month while the average ranges from 12 to 13 EUR. Wrocław offers favorable conditions for tenants who can expect attractive incentive packages from property owners, especially in the case of pre-let agreements.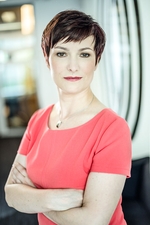 "Today, Wrocław is the third office market in Poland in terms of size, after Warsaw and Kraków with the city being one of the most dynamically developing economic centres in Poland. In recent years, the capital city of the Lower Silesia region has established a strong position as a location for projects from the business services sector. The key advantages of Wrocław include access to linguistically proficient and qualified staff, a developed office infrastructure, strong local economy as well as urban institutions and universities open to cooperation with business. Another advantage is the city's strategic location – between Prague, Warsaw and Berlin as well as a developed transport infrastructure including a network of international airline connections, direct access to A4 motorway, the Wrocław Bypass and S8 expressway" – comments Katarzyna Krokosińska, Head of JLL Office Agency in Wrocław.
The first modern office buildings in Wrocław were developed approx. 10 years ago (Centrum Biurowe Globis, Grunwaldzki Center, Bema Plaza, West House) and since then, the market has undergone rapid development. We expect that the amount of modern office space may exceed 830,000 sq m this year.
Wrocław is one of the key locations in Poland for companies from the business services sector. According to ABSL, there are 111 business services centres in Wrocław employing 34,200 specialists. In the Tholons Top 100 Outsourcing Destinations 2016 ranking, the city occupies 58th position in the world in terms of attractiveness for investments from the BPO/SSC sector. International brands, such as BNY Mellon, Credit Suisse, EY, IBM, HP and Nokia, have launched their centers here along with Polish companies including Work Service, Hicron, Selena, Kruk and Netia. The city also continues to attract new investments, for example 3M, DataArt, Ocado Technology, Red Embedded, Ryanair and UBS. New brands entering the market and development of companies already operating in Wrocław has resulted in the dramatic growth of the office sector. In 2015, office space demand reached a record-breaking level of 127,600 sq m as a result of several significant transactions. Furthermore, one of the most important deals was signed by global financial company UBS, which entered the Wrocław market last year. In 2015 alone, business services centers in Wrocław signed lease agreements for 92,000 sq m which contributed to a 72% market share in yearly demand. The biggest transaction concluded last year was the lease extension totaling 20,000 sq m by IBM Global Services Delivery Centre Polska in Wojdyła Business Park. Between Q1 and Q3 2016 demand was also high with 78,850 sq m of leased space. Traditionally, companies from the business services sector accounted for the highest market share in terms of demand.
In Q3 2016 the vacancy rate amounted to 10.2%, which accounted for approx. 80,000 sq m of space ready to let. It is worth mentioning that, in the short-term, finding a vacant office offering 2,000-3,000 sq m for lease (average transaction amount in the last 1.5 years was 1,600 sq m) and meeting all the conditions expected by demanding tenants is not easy due to an increasingly limited number of available projects. Many companies conduct consolidations and relocate from older buildings to newer ones, from worse locations to better. The amount of vacant space is not high and the amount of high-standard space insufficient.
"Companies from the business services sector continue to expand with new players also entering the Polish market. What is needed is high-quality office space in convenient locations that have good transportation links. The western part of the city, between the city centre and the airport and along Legnicka and Strzegomska Streets, is thriving. There is a great deal of space for modern business parks to develop. The Central Business Area is being developed in Wrocław as well. It will be located on the border of the Old Town and the southern part of Wrocław approx. 300 meters from the Dworzec Główny PKP railway station and 15 minutes' walk from the Old Market. What is important is to remember that infrastructural and communication amenities should be developed on a par with office investments. In this matter, there is a lot of work to do in Wrocław which is a city with high aspirations" – adds Katarzyna Krokosińska Head of JLL Office Agency in Wrocław.