First tenants to move in July 2012
Warsaw, Gdańsk, 26 October 2011 – Acting on behalf of Euro Styl, Jones Lang LaSalle is pleased to announce that on 14 October the OPERA Office building in Gdańsk was completed to 'shell and core' stage. The office investment will be delivered in July 2012.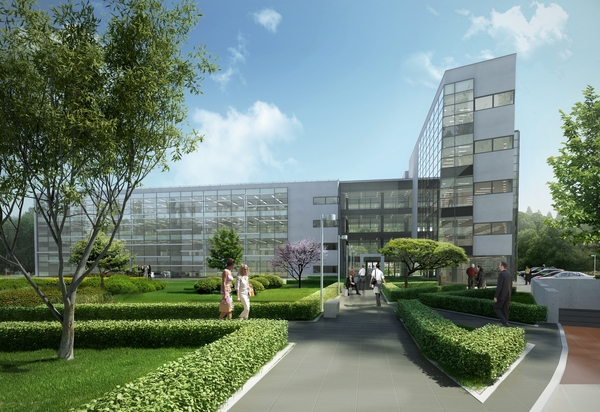 Radosław Serocki, Project Manager of OPERA Office commented "I am very pleased to confirm that the construction works of OPERA Office are being carried out in accordance with the investment schedule. Currently we are assembling the aluminium and glass façade. We have also started work on the internal plumbing, and the electrical, ventilation and air-conditioning systems, as well as greenery and urban furnishing. The installed heating system will enable us to carry out fit-out work even in adverse weather conditions."
Jones Lang LaSalle has been appointed exclusive agent for OPERA Office. Magdalena Reńska, Head of Office Agency, Gdansk, at Jones Lang LaSalle added "The topping out of OPERA Office is good news for a number of potential clients who are interested in leasing space in the building. The first pre-lease agreements have already been concluded and a couple of other lease negotiations processes are still in progress."
OPERA Office, an A-class office building located in Gdansk will offer approximately 7,300 sq m of office accommodation. The building consists of two wings: four-storey part A (with an average floorplate of approximately 700 sq m) and three-storey part B (with an average floorplate of approximately 1,000 sq m).
OPERA Office will be equipped with state-of-the-art technical solutions available for A-class office buildings including, inter alia, air conditioning with humidification, dual power supply, HVAC, raised floors, suspended ceilings, electrical and IT cabling, as well as floor-boxes. Such solution provides for maximum efficiency and flexibility of office accommodation allowing the creation of open plan as well as cellular offices. Tenants and visitors will benefit from 122 underground parking spaces. Additionally, the property will offer 79 on-site parking spaces.
OPERA Office is conveniently located at Aleja Zwyciestwa in Gdansk, next door to Politechnika Gdanska (the Gdansk University of Technology) and near to the "Politechnika" urban train station. Its location at the main artery of Gdansk (on the border between Gdansk Główny and Gdansk Wrzeszcz) allows for fast and easy commuting from all parts of Tri-City as well as to and from satellite cities. Tenants of OPERA Office will have the opportunity to work in a very friendly environment benefiting from the neighbouring Steffensa Park and taking advantage of the adjacent Multikino and Baltic Opera as well as a sports complex which has a swimming pool and tennis courts.