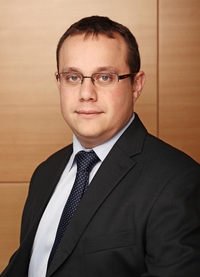 Piotr Piasecki has been appointed to the position of Head of Corporate Finance CEE at JLL.
JLL Corporate Finance team provides strategic advisory services in the field of financing for companies operating in the commercial real estate markets of the CEE region. The team focuses its efforts on the debt market, including obtaining loans for developers and investors, re-financing debt, as well as representation and consultation for banking entities. The team also offers services in the area of real estate value creation, in collaboration with JLL's capital markets and property management teams.
Piotr Piasecki, a graduate of the University of Kent in Canterbury, has 10 years of experience in the commercial real estate sector with JLL. He co-founded the Corporate Finance Department for the CEE region in 2011. His recently finalized projects include the €100 million re-financing process of Galeria Słoneczna in Radom with Helaba Bank, on behalf of AIG/Lincoln; and the €30 million development financing for the construction of the Hermes Business Campus in Bucharest.
During his career, Piotr has advised in such activities as the joint-venture partner sourcing for the PHN office tower project in Warsaw and the re-financing of a nine property portfolio located in Warsaw, Poznań and Bydgoszcz on behalf of Tritax.