Lease agreements for over 1 million sq m have been signed in Poland since the beginning of 2015, a result comparable with the record-breaking demand recorded in 2014. 2015 set to have the highest annual take-up in the Polish office market's history.
Warsaw, 2 November 2015 – International advisory firm JLL summarizes the situation on the office market in Warsaw and other biggest office markets across Poland [1] at the end of Q3 2015. Furthermore, the company provides forecasts for the sector's further development in the upcoming months.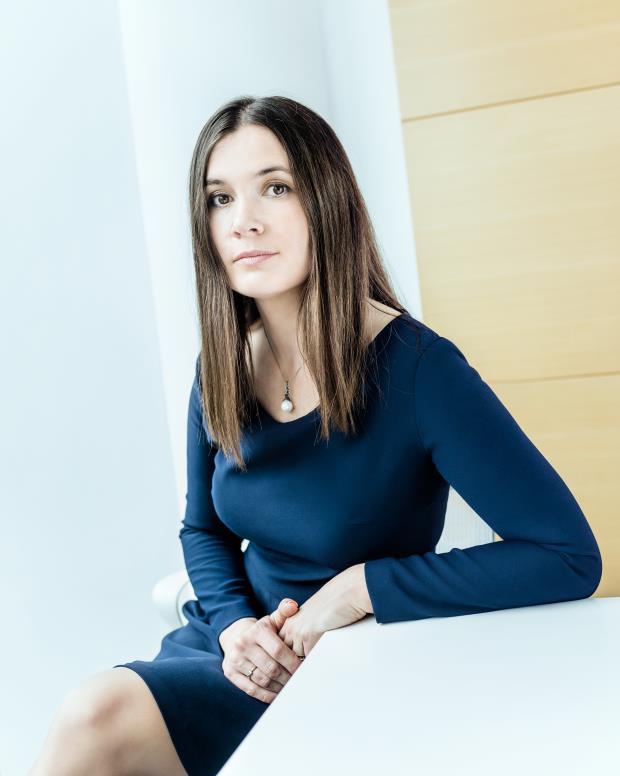 Anna Młyniec, Head of Office Agency and Tenant Representation at JLL, says: "Lease agreements for over 1 million sq m were signed in Poland in the period between the beginning of 2015 and the end of the third quarter. So far, this year's result is comparable to the record-breaking demand recorded in 2014 with 2015 looking set to have the highest tenant activity in Polish office market history. Since the beginning of the year, 612,800 sq m of office space were leased in Warsaw along with 472,200 sq m on the country's major regional markets. The services sector including consulting, law, media and HR firms, dominates the office market in Warsaw accounting for 27% of demand followed by IT and telecom companies with 22%. The business services sector maintains its domination in regional cities as it accounted for approximately 50% of take-up registered in 2015 on major office markets outside Warsaw."
The occupier structure in Warsaw – Q3 2015 (excluding confidential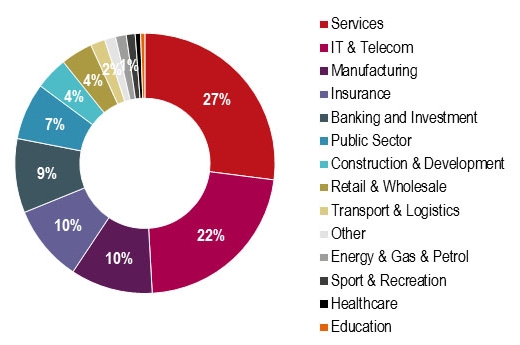 Source: JLL, PORF, Q3 2015
Between Q1 and Q3 2015, the office take-up in Warsaw reached 612,800 sq m (including 222,600 sq m in Q3 alone). Mokotów led the way, with 174,700 sq m leased but the largest deals were for properties in the City Centre Fringe, which saw an exceptional burst of activity (155,500 sq m let this year). The city's central districts [2] accounted for more than 36% of total leasing volume. The most notable leasing transactions concluded in Q3 were an owner-occupier deal in Powiśle Park for 11,500 sq m, the renewal of 11,000 sq m by an international bank in Focus, a 9,800 sq m renewal by Orange in Renaissance Plaza, a 9,200 sq m renewal and expansion by Gaz-System in Cristal Park and a 7,000 sq m new lease by AstraZeneca in Postępu 14.
"We expect the positive sentiment in the leasing market to continue to the end of 2015 and into 2016," adds Anna Młyniec. 
Office take-up in eight major office markets in Poland (outside Warsaw) totalled approximately 190,000 sq m in Q3 (up 27% q-o-q and 66% y-o-y) and 472,200 sq m since the beginning of the year, which is already 6% above the strong figures registered for the whole of 2014.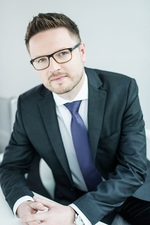 Mateusz Polkowski, Associate Director, Research and Consulting at JLL, comments: "The good market situation and tenant activity were recorded on all of the analyzed regional markets. Kraków, the Tri-City and Wrocław put in particularly strong performances with a 27%, 17% and 16% share respectively of all demand this year. Furthermore, Poznań improved its results with 56,500 sq m leased since the beginning of the year - as compared to 18,800 sq m in the whole of 2014. We expect that the high take-up on major office markets outside Warsaw will also be maintained in Q4."
Among the most notable transactions closed in Q3 outside Warsaw are: two deals for a total of over 24,000 sq m by BZ WBK in Poznań Financial Centre and Business Garden Poznań; a 15,000 sq m pre-let by State Street in Alchemia II; and a 10,000 sq m deal by a confidential tenant in Katowice Business Point.
Supply – 1.3 million sq m under development
In Q1–Q3 2015, approximately 238,300 sq m of modern office space entered the market in Warsaw, almost 91,400 sq m of which came in Q3 alone. The largest Q3 openings included: Royal Wilanów (29,800 sq m), Domaniewska Office Hub (27,000 sq m) and Multimedialny Dom Plusa (22,700 sq m). In Q3, 39,200 sq m of new office space came onto the market outside of Warsaw, of which 55% was delivered in Wrocław in a single office building: Dominikański B (21,600 sq m).
"Developers have answered the tenants' huge interest in office space. Approximately 1.3 million sq m of modern office space is currently under construction. Warsaw accounts for 612,600 sq m while 680,000 sq m is being developed across major Polish cities. Kraków and Wrocław are the undisputed leaders of office stock under construction outside Warsaw," enumerates Mateusz Polkowski.
A drop in the vacancy rate
Q3 saw a slight drop in the vacancy rate, which stood at 12.9% (16.4% in the CBD, 12.4% in the City Centre Fringe and 12.5% in Non-Central locations). Outside Warsaw, the lowest vacancy rate was recorded in Kraków (4.1%) and Łódź (7.0%), and the highest in Poznań (19.3%). The vacancy rate in Poland is likely to grow due to new office projects entering the market (up to 178,000 sq m of stock is expected to be delivered during Q4 outside Warsaw).
Rent
Prime headline rents in Warsaw remained stable over the course of Q3, with rents in Warsaw City Centre ranging between €21 and €23.5 / sq m / month and non-central locations commanding rents of €11-18 / sq m / month.
Currently, prime headline rents range between €11 to €12 / sq m / month in Lublin and €14 to €14.5 / sq m / month in Poznań and Wrocław (13,8 – 14,5 euro in Kraków).
Prime headline rents outside Warsaw (€ / sq m / month)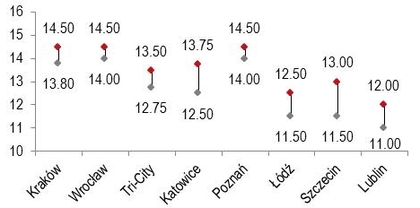 Source: JLL, Q3 2015
---
[1] Kraków, Wrocław, Tri-City, Katowice, Poznań, Łódź, Szczecin, Lublin
[2] CBD and City Centre Fringe