Wrocław, 12 July 2017 – Komandorska 12, an office building in Wrocław, has recently gained a new tenant. SYSTRA – the Polish division of a global leader on the markets of railway and public transport infrastructure - has decided to lease space in the scheme.
Komandorska 12 was designed by Group 5 Architekci studio. The PZU Investment Fund is both the investor and property owner of the building. JLL is responsible for the commercialization of the project.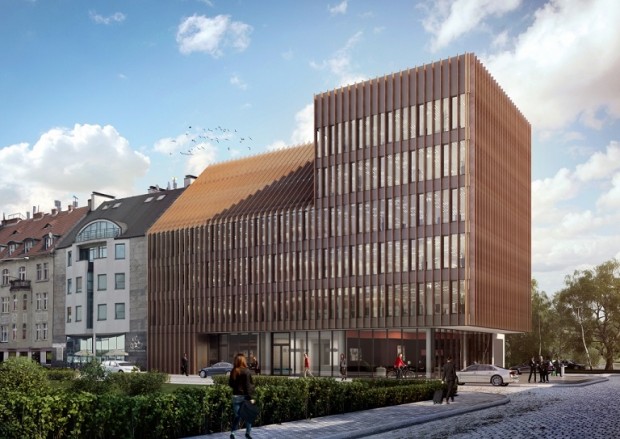 "The history of SYSTRA started over 60 years ago. The company specializes in designing infrastructure solutions for public transport. This is a market which continuously develops and evolves and therefore SYSTRA does the same. We provide our services for both Polish and foreign clients, and so we needed a modern office that would encourage creative work and help us cope with even the most ambitious of tasks. Furthermore, what is also important for a company such as ours, is the fact that the office scheme is located in close proximity to PKP Wrocław Główny railway station. Above all, Komandorska 12 is a certified green building. This fact fits in well with the strategy of responsible and sustainable development that SYSTRA adheres to while providing services", says Małgorzata Nowakowska-Cicio, Director of SYSTRA in Poland.
"Komandorska 12 is a building which complies with the highest standards. Its development included the most modern solutions with the aim of minimizing its impact on the environment. As a result, the investment was recognized, and rightly so, with an LEED Gold certificate. This fact – besides the building's excellent location and its comfortable and flexible space – constitutes an interesting offer for tenants who value office buildings that are constructed to a high standard", comments Katarzyna Krokosińska, Head of Wrocław Office, JLL.
SYSTRA is yet another company which has decided to lease office space in Komandorska 12. Previously, the building became the new office address for EPIQ Systems– an American company in the areas of technology and legal services - as well as Randstad – a Dutch company which provides recruitment and HR outsourcing services.
Komandorska 12 was delivered to market in February 2017. The building offers approx. 4,000 sq m of modern office space and consists of six floors above ground and one below which serves as a parking lot. Komandorska 12 is located just five minutes from Dworzec Główny PKP station and the new Dworzec PKS station as well as being in close proximity to numerous tram and bus lines. Furthermore, there are numerous recognizable retail and cultural schemes of Wrocław nearby, such as the Renoma department store, the Capitol Music Theatre, the Polish Theatre and the National Forum of Music.