1.5 million sg m of office space leased in 2015 – the best result in the history of Poland's office market
Warsaw, 28 January 2016 – International advisory firm JLL summarizes the situation on the office markets in Warsaw and major Polish cities at the end of 2015[1].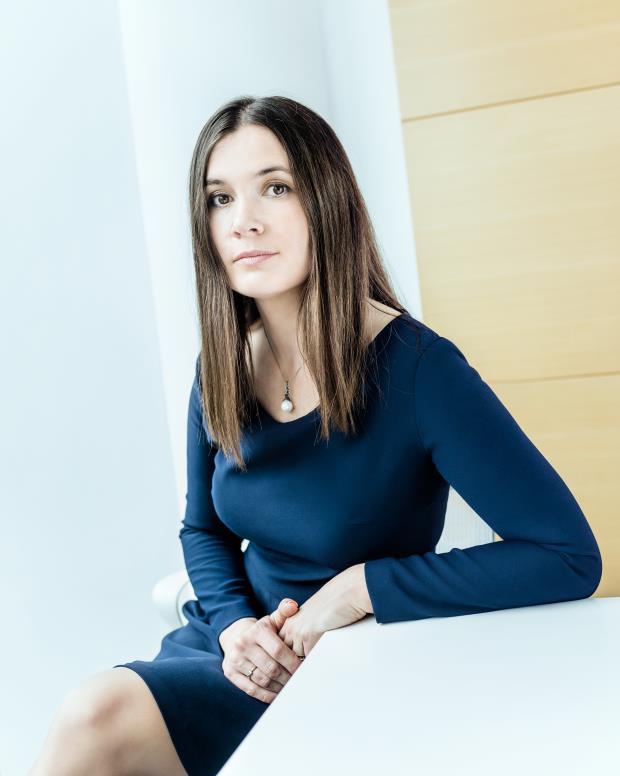 Anna Młyniec, Head of Office Agency and Tenant Representation at JLL says: "2015 proved to be an exceptional year, recording the highest tenant activity in the history of Poland's office market. Nationally, lease agreements for approx. 1.5 million sq m were signed with Warsaw accounting for 834,000 sq m of this total. In the capital city, the services sector lead the way with 24% share of demand, while IT & telecom companies accounted for 19%. Outside Warsaw, the modern business services sector continues to propel market development with a 56% share of overall take-up registered in 2015 on major regional markets".
Warsaw – the largest office market in Poland
Mokotów (229,300 sq m) and the City Centre Fringe (227,000 sq m) proved to be particularly popular with tenants looking to locate in Warsaw. Last year, the biggest lease agreements were: over 21,000 sq m in Warsaw Spire, PZU (17,500 sq m in Konstruktorska Business Center), mBank (17,500 sq m in Pałac Jabłonowskich), EY (13,500 sq m in Rondo 1) and Aviva (12,000 sq m in Gdański Business Center).
"In our opinion, this robust occupier activity in Warsaw will likely continue in 2016 and 2017", adds Anna Młyniec.
Occupier structure in 2015 (excluding confidential transactions) - Warsaw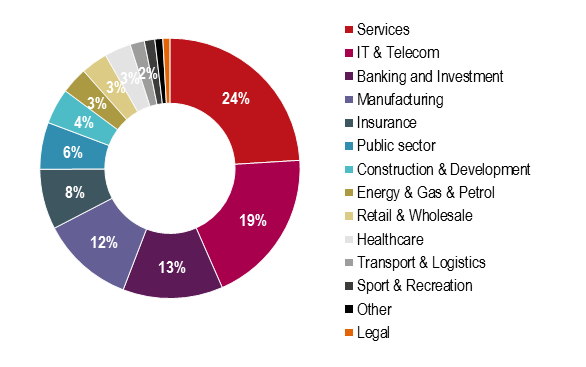 Source: PORF, JLL, Q4 2015
Regional markets on the rise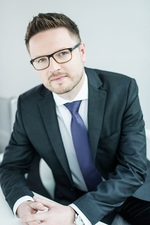 "Full-year take-up hit 682,900 sq m outside Warsaw with Kraków accounting for 226,000 sq m of this total. One market that has seen a particular turnaround in fortunes is Poznań, which recorded take-up of around 65,000 sq m, more than triple the level achieved in 2014. Numerous companies – both already operating in Poland and newcomers – leased modern space in the Tri-City, Łódź, Wrocław and Katowice, where take up grew by 61%, 53%, 34% and 29% y-o-y, respectively. Volumes in 2015 were boosted by exceptionally large lettings - 13 deals of over 10,000 sq m were registered last year outside Warsaw", explains Mateusz Polkowski, Associate Director, Research and Consulting, JLL.
In 2015, the biggest lease transactions on major office markets outside Warsaw were signed by: mBank in Łódź (24,000 sq m in Przystanek mBank), Shell in Kraków (22,000 sq m in Dot Office), IBM in Wrocław (20,000 sq m in Wojdyła Business Park), Capgemini in Kraków (17,100 sq m in Quattro Business Park) as well as State Street in Gdańsk (15,000 sq m in Alchemia II).
Supply
Last year 277,600 sq m of office space entered the market in Warsaw through projects such as Postępu 14 (34,300 sq m) and Royal Wilanów (29,800 sq m).
Furthermore, around 365,000 sq m of new office space was brought to the major markets outside Warsaw. The largest completed projects included Business Garden in Poznań (40,500 sq m), Dominikański in Wrocław (35, 700 sq m) and Alchemia II in Gdańsk (21,500 sq m).
"Currently, nearly 1.5 million sq m of modern office space is under construction in Poland. Warsaw accounts for 700,000 sq m of this sum followed by Wrocław with 184,000 sq m and Kraków with 183,000 sq m. If developers' plans for 2016 are on schedule, Polish office market may increase by 900,000 sq m in 2016, including 400,000 sq m in Warsaw and 500,000 sq m in other major cities", says Mateusz Polkowski.
The largest developments scheduled for 2016 are Warsaw Spire A (59,100 sq m) and Q22 (48,000 sq m) in Warsaw.
Vacancy rate
By the end of 2015, the vacancy rate in Warsaw stood at 12.3% (15.8% in the CBD, 11.9% in the City Centre Fringe and 11.8% in Non-Central locations).
Outside Warsaw, the highest vacancy rate was registered in Szczecin (18.4%), Poznań (15.9%) and Katowice (13.2%), while the lowest rates were seen in Kraków (5.5%), Łódź (6.9%) and Wrocław (8.6%).
Stock (sq m) and vacancy rate in major office markets outside Warsaw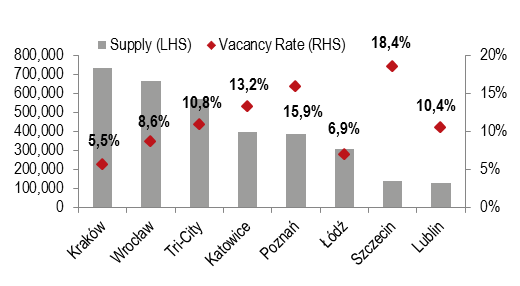 Source: JLL, Q4 2015, www.officefinder.pl
Rents
According to the www.officefinder.pl Internet portal, prime headline rents in Warsaw edged down over the course of 2015, with City Centre rents declining from €22–24 / sq m / month to €21–23.5 / sq m / month and Non-Central locations commanding rents of €11–18 / sq m / month. Downward pressures are applicable to effective rents, which are on average 15–20% below headline rents (even higher levels of incentives in terms of strategic occupiers may be expected).
Rental levels across core regional office markets leveled off in 2015. Currently, prime headline rents range between €11 to €12 / sq m / month in Lublin and €14 to €14.5 / sq m / month in Poznań, Wrocław and Kraków. Looking ahead, slight reductions in prime headline rents can be expected in 2016.
In 2015, JLL advised in office lease transactions totaling 285,000 sq m in. This accounts for a 25% share in overall volume of transactions signed with participation from advisory firms.
[1] Major office markets outside Warsaw include Kraków, Wrocław, Tri-City, Poznań, Katowice, Łódź, Lublin, Szczecin