Building X is already 60% leased over six months before its scheduled opening, an excellent result on the competitive Tri-City office market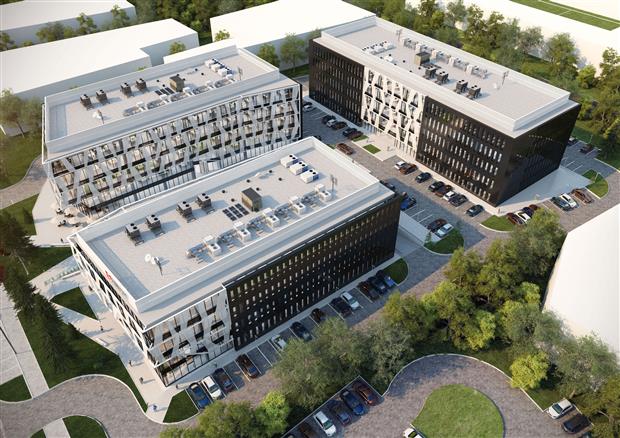 Gdynia, 13 August 2015 – Thai Union Poland has signed a lease agreement for over 250 sq m in Tensor X office building on the scheme's third floor. Experts from international advisory company JLL represented the building's developer – EURO STYL – in the lease transaction.
Thai Union Poland is a producer of high-quality canned fish and preserved fish available in Poland under the brand names of "King Oscar", "Laguna," 'Koga Maris" and "Aakerman". It is part of Thai Union Frozen Products , an international concern, recognized as one of the world's foremost producers of canned tuna. Furthermore, it has a significant market share in the sardine, mackerel and shrimp market in Asia, Europe and the United States.
"Thai Union Poland is another company that has selected Gdynia Redłowo and the Tensor complex as its office location. Companies such as BEST S.A. and Maersk Polska have signed lease agreements with Tensor X, which is currently 60% leased over half a year before being commissioned for use. This is an excellent result for a building located on the very competitive Tri-City office market. Another phase of the complex – building Y - is currently under development. Its commission for use is scheduled for June 2016 with a forecast lease level of 80-90%. Furthermore, for building Z, whose completion is scheduled on 2017, negotiations are currently being carried out," says Magdalena Reńska, Head of Tri-City Office at JLL.
"A coherent lease strategy based on a transparent and open approach towards clients during negotiations that comply with the value program We are Fair implemented in EURO STYL as well as JLL's professional support, have resulted in swiftly signed lease agreements. The concept of Tensor complex in Gdynia has proved to be a great success," adds Mikołaj Konopka, Vice-President at EURO STYL.
Tensor is being developed in Gdynia at Łużycka 8 Street in close proximity to a Fast Urban Railway station (Redłowo) as well as the Pomeranian Metropolitan Railway (Stadion) planned for 2016. It will comprise three modern, class A office buildings named X, Y and Z respectively and offer in total 19,750 sq m of leasable area (X – 4,960 sq m, Y – 8,190 sq m, Z – 6,600 sq m). Furthermore, the Tensor complex will provide 450 parking bays and a wide range of amenities available for cyclists as the office buildings are located in the vicinity of a bicycle route. In addition, a significant quality of Tensor office park is its excellent functionality supported by an energy-efficient façade, BMS installations, UPS emergency power system along with a power generator, modern HVAC installation and free-cooling type systems as well as a significant number of pro-ecological solutions (minimum BREEAM certification expected to be "Very Good" level).
Furthermore, the buildings will provide high-quality common spaces with free Wi-Fi available, while their surrounding areas will comprise user-friendly places with attractive street furniture and relaxation areas for employees, including boule courts. Another crucial aspect is the possibility of flexible office space arrangement and the vast architectural support from the scheme's developer.
International advisory company JLL acts as the sole commercialization agent for Tensor complex.