ADVA Optical Networking to lease 4,000 sq m in the newly-developed office complex in Gdynia
Gdynia, 15 December 2015 – ADVA Optical Networking, an international manufacturer of innovative telecommunication devices, has signed a lease agreement for 4,000 sq m of office space in Tensor Y, Gdynia. The company will relocate to its new office in June 2016 immediately after the building's completion and will occupy space located on the building's second, third and fourth floors. Experts from JLL represented EURO STYL, the developer of Tensor Y, in the lease transaction.
Przemysław Ceglarek, Facility Manager at ADVA Optical Networking, comments: "We chose Gdynia due to preferences expressed by the majority of our employees. Taking into account our plans to increase the workforce, ADVA considered a number of office projects. However, due to its proximity to a Fast City Train station and the soon-to-be opened "Stadion" station of the Pomeranian Metropolitan Railway with its direct link to the airport, Tensor proved to be the best location. Furthermore, we appreciate Tensor's interesting architecture as well as the business district that is beginning to take shape in the Redłowo area of Gdynia".
Magdalena Reńska, Associate Director, JLL, adds: "Tensor is the most modern office park in Gdynia and is tailored to the needs of companies who operate globally. Its location combined with the professionalism and flexibility of its owner along with the innovative solutions applied during the construction works meet the expectations of the most demanding tenants."
"As a provider of advanced technologies, ADVA expected the office space to be adjusted to the company's non-standard technical requirements. For example, in order to transfer the heavy laboratory equipment load, the capacity of floor slabs in building Y was increased along with the carrying capacity of posts and continuous footings. The electricity capacity in the space dedicated to the tenant resulted in a doubling of the standard power level that an office building of this class and size usually has. The precision air-conditioning applied in the laboratories will be based on a free-cooling system. Another interesting technical aspect enabling the delivery of large electrical equipment used by ADVA in the future is a façade that can be opened. For us, these technical aspects posed an interesting engineering challenge. We are proud to have met this challenge and hope that it will enable ADVA to successfully develop their innovative projects," says Mikołaj Konopka, Vice-President at EURO STYL.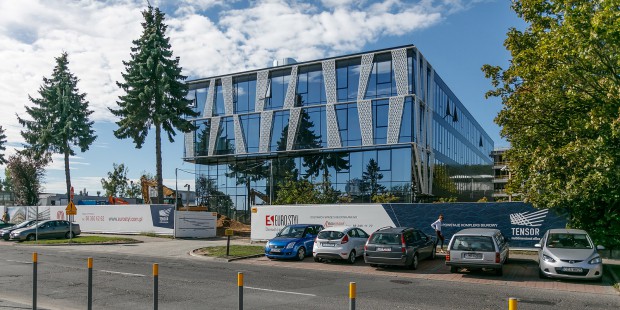 Tensor is being developed in Gdynia at 8 Łużycka Street in close proximity to a Fast City Train (Redłowo) station and the Pomeranian Metropolitan Railway station (Stadion) whose completion is scheduled for 2016. The complex will comprise three modern class A office buildings named X, Y and Z. Overall the complex's leasable space will be19,750 sq m (X – 4,960 sq m, Y – 8,190 sq m, Z – 6,600 sq m).