Warsaw, 24 February 2016 – The trade office of Velux Polska - a unit of the Danish holding company VKR, a leading manufacturer and exporter of windows in Poland - will move to the B2 building of The Park Warsaw complex by the end of May 2016.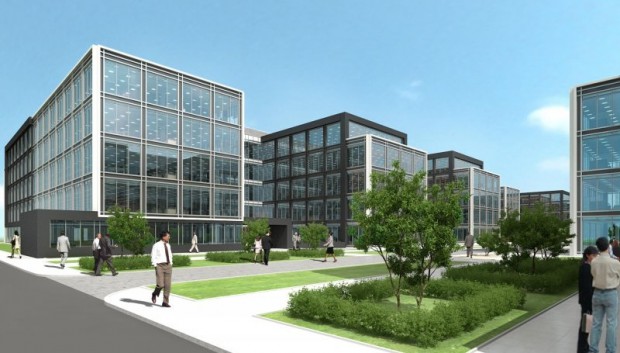 The Park Warsaw office complex
The company will occupy nearly 1,700 sq m of modern office space on the building's first floor. Experts from JLL represented Velux Polska in the process of selecting the location and negotiation of lease terms.
Jarosław Obszarski, Financial Director at Velux Polska, comments: "Our decision to select The Park Warsaw as the new location of our sales company was encouraged by the scheme's character and convenient location. Furthermore, we were also attracted by factors such as flexibility of space arrangement and the high standard of office space, which can be adjusted to our needs".
The Park Warsaw office campus is located in the Włochy district of Warsaw, in close proximity to the junction of Aleja Krakowska and Łopuszańska Streets. The complex provides excellent communication with the city centre as well as other parts of Warsaw by both car and public transportation. Ultimately, ten high-quality, class A office buildings with space totaling up to 110,000 sq m will be developed at The Park Warsaw. For tenants' comfort, numerous restaurants, cafes, retail and services points as well as a fitness club and kindergarten are planned on the complex's premises.
Bartosz Prytuła, Head of Office Development and Leasing at White Star Real Estate, adds: "We are glad that Velux Polska has joined the group of tenants in The Park Warsaw, which consists of a number of well-known Polish and international companies. As a developer and Property Manager, we have put a great deal of focus on creating a friendly working environment. In addition, a significant advantage for companies deciding to establish their offices in The Park Warsaw is the project's scale allowing tenants to expand within one location. Further lease agreements prove that The Park Warsaw is one of the leading office campuses in Warsaw."