VMLY&R has signed a lease agreement in Zabłocie Business Park B office building in Kraków. Experts from JLL represented the tenant during the lease negotiation process.
VMLY&R Poland is part of a global brand & customer experience agency. The company employs over 12,000 people worldwide, including approximately 350 in Warsaw and Kraków.
"Due to our company's growth and the subsequent evolution of our office needs, we decided to move to a modern office that provides us with excellent flexibility and suits our changing approach towards work. The Zabłocie Business Park B office building fully meets our requirements and will surely be an excellent place for our team to work. We are pleased with the decision to select this location", says Piotr Friedberg, Head of VMLY&R's Kraków office.
Zabłocie Business Park B is the second stage of the office complex, which will ultimately consist of three buildings (A, B and C) offering 11,000, 14,500 and 10,000 sq m of leasable space, respectively. A significant advantage of the office complex is its location in the very popular Zabłocie district. The location is well served by public transport, meaning it is within easy reach of Kraków's city center as well as the city's other districts.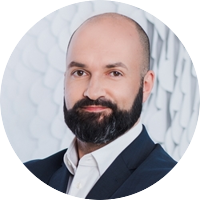 VMLY&R has leased nearly 600 sqm with the aim of creating a coworking zone with a wide range of interesting amenities that will provide variety during the day-to-day work of our customer's team. Moreover, VMLY&R's new office has a modern design and the space itself has been arranged with a view to both project work and tasks requiring focus and concentration.