Warsaw Spire, the flagship project of Ghelamco Poland, has welcomed a new tenant. The complex at Plac Europejski (European Square) will become home to MasterCard. The company will occupy 1505 sq m of space on the 31st floor of Warsaw Spire's tower building.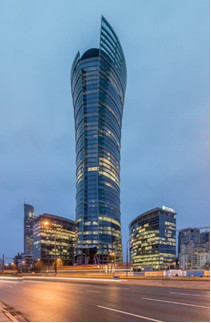 MasterCard is a technology company in the global payments industry, operating the world's fastest payments processing network, in more than 210 countries and territories. This year in June the company is moving into its new office in Warsaw Spire and will occupy 1505 sq m of space on the 31st floor of the 220-metre high tower building.
"It is our pleasure to welcome another prestigious tenant in Warsaw Spire. We are very excited about the fact that the complex at Plac Europejski attracts such reputable and innovative companies. The agreement with MasterCard is yet another proof that even the most demanding tenants appreciate the quality of our project and the visionary concept of combining office functions with valuable urban space," said Jarosław Zagórski, Commercial and Business Development Director, Ghelamco Poland.
"We are looking forward to moving to Warsaw Spire. This modern building in terms of construction and infrastructure as well as architecture and sustainability fits very well to MasterCard's innovative culture. Moreover, the building is well communicated with all the Warsaw districts, located in the area which is becoming the new business center of the Polish capital city" – says Bartosz Ciołkowski, General Manager Poland at MasterCard Europe.
In the process of seeking the location and negotiating the agreement, the tenant was represented by JLL, a global consultancy.
Warsaw Spire is a landmark investment on the business map of Warsaw and Poland's largest office building.  The complex includes three buildings: the 220-metre high tower and two 55-metre high adjacent buildings, providing in total 109,000 sq m of office space. An excellent location at Rondo Daszyńskiego, right next to the second line of Warsaw's underground, will provide the people working in Warsaw Spire with convenient and quick access to public transport, connecting them with all parts of the city, including train stations and the airport. The developer also ensured cycling infrastructure (a separate platform, showers, parking lots, a Veturilo station) as well as a large underground parking lot for 1300 cars.
Warsaw Spire was designed by a team of architects from a Belgian studio M. & J-M. Jaspers – J. Eyers & Partners in association with Polsko-Belgijska Pracownia Architektury Projekt. The building is a showcase of sustainable construction. It will provide tenants with top standards while being environmentally friendly. The project meets the requirements of the BREEAM certificate with Excellent rating as well as of the certificate confirming the use of renewable energy awarded by STX Services.
Warsaw Spire will be perfectly aligned with the development of Warsaw's modern urban landscape thanks to the arrangement of Plac Europejski. It will be an area unavailable for vehicular traffic and filled with landscape architecture elements, modern street furniture, lush greenery (in total 14 000 plants, including 160 tall trees), and water installations such as pond, cascading stream, and various types of fountains. This unique microclimate will also feature numerous restaurants and cafes as well as an exhibition walkway (Art Walk) for art lovers. The square will harmoniously combine commercial and public functions and will be a perfect meeting place for Warsaw residents, vibrant even after working hours.
Nearly 80 percent of the available office space in Warsaw Spire is already leased.  The building will be home to international organisations, including global leaders in technology and services. The space in Warsaw Spire will be occupied by MasterCard, Samsung, JLL, Frontex, BNP Paribas Securities Services, Centre for EU Transport Projects, Benefit Systems, Bilfinger HSG Facility Management, Adecco Poland, Daftcode, and Ghelamco Poland.
The grand opening of Warsaw Spire and Plac Europejski is scheduled for May 2016!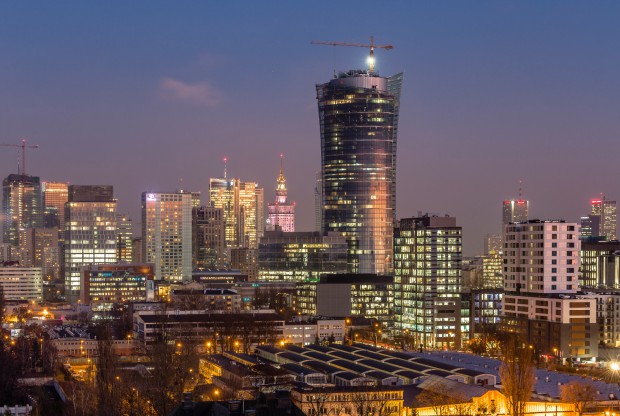 About Ghelamco Poland
Ghelamco Poland is the leader of the commercial property market in Poland and a pioneer in sustainable construction and public space design.
Over the past 25 years the company has built its leading position as an investor, developer and general contractor by delivering over 1,000,000 sq m of best-in-class office, residential, commercial, and warehouse space. The sales volume has exceeded EUR 1.3 bn. The company has entered the commercial property market, too. Operating under the name of Ghelamco Residential, the developer is also active in the residential sector. Warsaw Spire, Ghelamco's flagship office project, is scheduled to open in May 2016.
Ghelamco Poland continues to come up with pioneering concepts of innovative, technologically advanced buildings which set new market trends. Its reputation as the leader in sustainable construction on the Polish market is evidenced by eight BREEAM certificates granted to Ghelamco projects with a total area of 290,000 sq m. 
For years the company's business activity has gone hand in hand with involvement in cultural and art events. Last year Ghelamco established Fundacja Sztuka w Mieście (Art in the City Foundation). Ghelamco has won a lot of distinctions, including seven "Developer of the Year" awards in Poland.